Key findings 2021/22
ALT's Annual Survey has run each year since 2014, with a number of the core questions remaining unchanged. We think it provides a unique insight into how learning technology is used across sectors as well as identifying emerging trends in current and future practice. Explore key findings from this year's survey:
Trends in Learning Technology 
This report focuses on how the Learning Technology landscape is changing through a focus on tools and technologies and also professional practice. Our findings provide insight into how blended and hybrid models are becoming the main mode of learning, for 66% of our Members and that student engagement continues to be the number one drive behind the adoption of learning technology.
How our profession is changing
This report explores one of the key questions we ask in the survey: how are institutions investing in Technology-Enhanced Learning? We continue to see an increase in investment of over 30% overall, although smaller than the previous year, when 45% of Members reported an increase in their budgets. From 2020 to 2021, investment in permanent posts has increased from 32% to 54%, and for fixed term posts from 34% to 50%, emphasizing the continued and growing demands for Learning Technology professionals in the long term.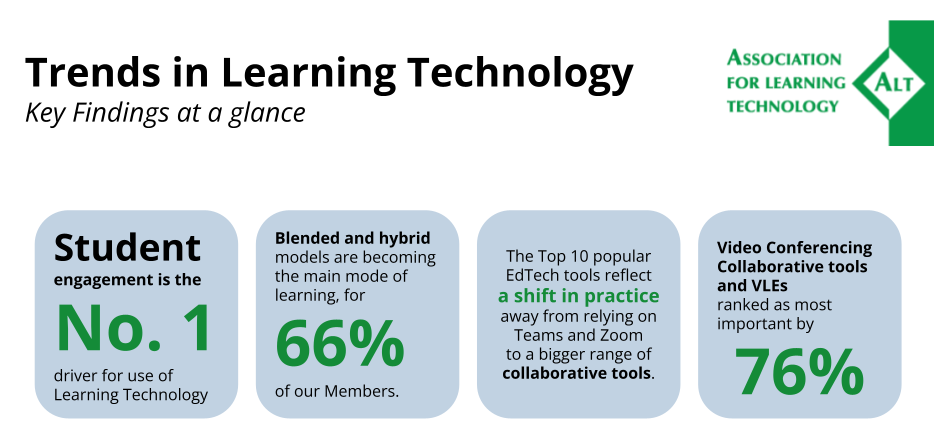 About ALT's  Annual Survey
Our Annual Survey was established in 2014 in order to:
Help map professional practice and development in Learning Technology;
Chart how Learning Technology is used across sectors;
Understand current practice to better meet the needs of and represent our Members.
The survey is open to all ALT Members, both individuals and organisations. We also welcome responses from all with an interest in Learning Technology.
What happens to the data we collect?
Results of the survey are openly published each year in spring. The survey forms the basis of important strategic insights for Members. Both the ALT Annual Survey and anonymised survey responses are shared openly in the ALT Repository. 
All data submitted via this survey is analysed and shared openly as part of the Open Covid Pledge for Education in anonymised form and handled in accordance with the ALT Privacy Policy.