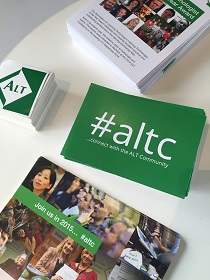 There are a number of ways you can stay in touch with ALT and ALT Member Activity.
Mailing List
Joining ALT means you'll be added to the ALT-MEMBERS mailing list (if you've already joined as a member you can see the list archive).
Community tag
See it, altc it - add '#altc' to your tweets about learning technology and we will retweet your post to ALT followers.
Social media
#ALTC Blog (formerly ALT Online Newsletter)
The #ALTC contains stories and information from ALT members. You can
Weekly Digest
Special Interest Groups
Join open Special Interest Groups around topics such as Open Educational Resources, Video in Education, Games and MOOCs.
Annual conference
Journal
Videos
Subscribe to ALT's YouTube channel and watch live streamed or recorded conference and webinar presentations.
Repository
To find out why our members join ALT, see our video with Inside Views from our Members. If you would like to become a member of ALT, here's how you can Join ALT.