Previous conference websites are retained for 18 months following the event. Important details about the events are archived here.
---
OER23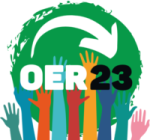 Date: 4-6 April 2023
Location: University of the Highlands and Islands, Inverness, Scotland
Co-Chairs: GO-GN Global OER Graduate Network
Themes: Advancing open education practices
Celebrating the impact of Open Education and OER;
Open Education research and policy around the globe;
Open Education in Scotland – celebrating 10 years of the Scottish Open Education Declaration;
Embedding and supporting Open Education through curriculum design.
Visit the 2023 OER conference website.
---
OER22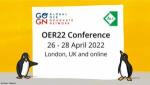 Date: 26-28 April 2022
Location: London, UK and online
Co-Chairs: GO-GN Global OER Graduate Network
Themes: 
Theme 1 – Pedagogy in a time of crisis: what does an 'open' response look like? How has the word of open education changed since we last convened in person in 2019? What role do open approaches play in shaping a (post) pandemic pedagogy?
Theme 2 – Open textbooks: with the crisis for students and institutions deepening in the UK and across the globe, and renewed calls for new policies for open textbooks being issued, this theme is for research, practice and policy submission exploring their potential and impact;
Theme 3 – Open in Action: exploring open teaching, educational practises and resources, we are looking for submissions that show openness in action in different contexts and from a range of perspectives.
Theme 4 – Open research: this theme focuses on the importance of open scholarship or research around any aspect of open education;
Visit 2022 OER conference website.
---
OERxDomains21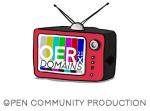 Date: 21-22 April 2021
Location: Online
Co-Chairs: Jim Groom, Lauren Hanks, Louise Drumm, Joe Wilson and Lou Mycroft
Themes:
Theme 1: Openness, care, and joy in the times of pandemic;
Theme 2: Open Education responses to surveillance technologies and data ownership in education;
Theme 3: Open in Action: open teaching, educational practices and resources, how you might be using Domains and other tools;
Theme 4: Shifts in agency and creativity as empowerment of learners and educators;
Theme 5: Open Source Tools: infrastructure, cloud environments, targeted teaching tools.
Visit 2021 OER conference website.
---
OER20 - The Care in Openness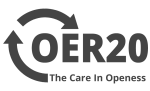 Date: 1-2 April 2020
Location: Online
Co-Chairs: Mia Zamora, Daniel Villar-Onrubia and Jonathan Shaw
PDF Programme: 2020 day 1, 2020 day 2
Themes: The Care In Openness
Theme 1: Openness in the age of surveillance
Theme 2: Sustainable open education communities
Theme 3: Open education for civic engagement and democracy
Theme 4: Criticality and care in open education
Theme 5: Caring pedagogies and designing for diverse communities of inclusion
Visit the OER Conference website.
---
OER19: Recentering Open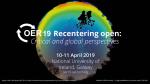 Date: 10-11 April 2019
Location: National University of Ireland, Galway
Co-Chairs: Laura Czerniewicz and Catherine Cronin
Themes:
Back to basics – asking difficult questions about open education:

Why open?
Open for whom?
Whose interests are served?
In what ways has the open agenda been appropriated, and what are the implications of this?

The geopolitics of open education, bringing open in from the periphery
The open ecosystem: How is open education part of the broader ecosystem of "opens"?
What does it mean to illuminate open by considering context?
How can historical perspectives contribute to understanding the issues faced in the open education movement today?
Links between critical digital literacies, critical data literacies, and openness
What open business models are emerging? What are the paths to sustainability?
What are the risks and challenges to the open education agenda?
Visit the 2019 OER Conference archive.
---
OER18: Open to All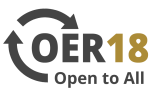 Date: 18 – 19 April 2018
Location: Bristol, UK
Co-Chairs: Vivien Rolfe and David Kernohan
Themes: Open to All
How can open practice and research support learner success?
How does Open Education foster learner diversity and support inclusivity?
What skills do learners need and develop in experiencing open learning?
Politics in action – (following up from #OER17) – what are your latest initiatives in support of learning and growth?
How is OER learning from, and contributing to, other open activities, e.g. open science, open source, open data, open access etc.?
Visit the 2018 OER Conference archive.
---
OER17: The Politics of Open

Date: 5-6 April 2017
Location: London, UK
Co-Chairs: Josie Fraser, and Alek Tarkowski
Themes: The Politics of Open
Local, national, and international policy and practice
Institutional/organisational politics
Participation & social equality
Open Party
Visit the 2017 OER Conference archive.
---
OER16: Open Culture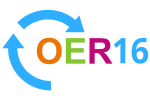 Date: 19th-20th April 2015
Location: Edinburgh, UK
Co-Chairs: Lorna Campbell and Melissa Highton
Themes:
Strategic and reputational advantages of openness (including, but not restricted to, outreach, public engagement and return on investment).
Converging or diverging cultures of openness (including open data, open science, open GLAM, open knowledge, open source, open content, open access).
Hacking, making and sharing.
Innovative approaches to opening up cultural heritage collections for education.
Visit the OER Conference archive.
---
OER15: Mainstreaming open education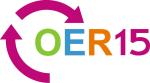 Date: 14-15 April 2015
Location: Cardiff, UK
Co-Chairs: Haydn Blackey and Professor Martin Weller
Themes: Mainstreaming Open Education
Visit the 2015 OER Conference archive.
---
OER14: Building communities of open practice
Date: 28-29 April 2014
Location: Newcastle, UK
Co-Chairs: Megan Quentin-Baxter and Simon Thomson
Themes:
Building and linking communities of open practice
MOOCs and open courses
Academic practice, development and pedagogy
Open policy, research, scholarship and access
Students as users and co-creators
Visit the 2014 OER Conference archive.
---
OER13: Creating a Virtuous Circle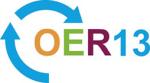 Date: 26-27 March 2013
Location: Nottingham, UK
Co-Chairs: Dr Jackie Carter and Dr Chris Pegler
Themes: Creating a virtuous circle
Evidence
Experience
Expectation
 
Visit the 2013 OER Conference archive.
---
OER12: Innovation and Impact - Openly Collaborating to Enhance Education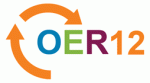 Date: 16-18 April 2012
Location: Cambridge, UK
PDF Programme: 2021 pre-conference, 2012 day 1, 2012 day 2, 2012 day 3
Themes: Innovation and Impact - Openly Collaborating to Enhance Education
Innovation
Impact
Collaboration
Visit the 2012 OER Conference archive.
---
OER11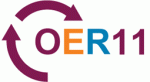 Date: 11-13 May 2011
Location: Manchester, UK
Chair: Jonathan Darby
Themes:
OER strategy and sustainability
Academic practice and digital scholarship
Collaboration and communities
Visit the 2011 OER Conference archive.
---
OER10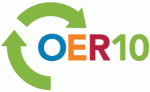 Date: 22-24 March 2010
Location: Cambridge, UK
Chair: Tom Boyle
Themes:
Open educational content
OER design
Open educational communities
Visit the 2010 OER Conference archive.
---