Open call to get involved in ALT: vacancies now available
Each year we issue an open call for Members to become more involved in the work of ALT. Taking an active part in the work of the Association ensures that all activities are shaped by Members' priorities and also offer valuable opportunities for professional development and recognition.
We seek expressions of interest from Members from:
all sectors of education and training including schools, vocational education, Higher Education and work-based learning

people in research, practitioner, management, technical and policy roles as well as learners who have a special interest in Learning Technology

the private and public sectors

within and outside the UK (subject to reaching agreement on an effective method of participation).

Help shape ALT's events and conference
2019 OER Conference Committee:

OER19: Recentering Open - Critical and global perspectives,

10-11 April 2019, National University of Ireland, Galway.

This year we are offering all volunteers an opportunity to sign up for what you are particularly interested in helping with in the run-up to and during OER19. We would like the conference to reflect the diverse and growing OER19 community across the UK and beyond. The work of the Committee will start in late September 2018 as the Call for Proposals is issued and continues up to the conference in April 2019. Apply (we continue to accept late expressions of interest).

2019 Annual Conference Committee:

The next Annual Conference will take place 3-5 September 2019, at the University of Edinburgh in Scotland. We are looking for Committee Members who wish to take an active part in the peer review of submitted proposals, chairing sessions during the event and help shape the social programme for the conference.

Call opening soon.

Webinars

:

All ALT Members can suggest topics for webinars or lead webinars as part of our year-round CPD activities. Please

contact us

with your ideas or to organise a session.

Network and collaborate with other Members
ALT Special Interest (SIGs) and Members Groups bring together individuals or organisations within ALT around a common theme. Member groups are open to all Members and cover the UK in geographic areas (see map).
Active Members Groups: M25, East Midlands, West Midlands, White Rose, North West England, Wales, Northern Ireland, Scotland, South West, South East, North East
Members Groups to be established: East England
There are Special Interest Groups (SIGs) are open to all and are currently active  in the following subject areas:
In addition, we continue to support a mailing and discussion list for Members working in Further Education established by the FELTAG SIG.
You can see updates on Member and Special Interest group activity on the blog https://altc.alt.ac.uk/blog/category/reports/sig-updates/

Get involved in ALT's Open Access Publications to increase the

impact of research & practice in Learning Technology
Editors: Research in Learning Technology: We are seeking to appoint up to two new Editors to join the Editorial Team and strengthen the expertise of the team across all areas of Learning Technology. The Editorial Team handles all submissions to the journal.  Papers submitted to RLT are broad-based in their focus, so being a 'technological expert' might be good, but not essential. We are however looking for individuals with a strong research background and good command of the scholarship that underpins Learning Technology as well as a deep commitment to the role and responsibilities of an editor and to the principles of open access publishing. Editors are usually Members of ALT who volunteer their time and effort and are supported by ALT staff and our publishing partner Open Academia in the work to: 

- Manage the editorial process for all manuscripts assigned to them, to include: assigning reviewers, providing a final decision on manuscripts based on reviewer comments and their own opinion, writing the decision letter with peer review feedback;

- Attend editorial board meetings virtually;

- Actively promote the journal within their networks;

- Solicit appropriate manuscripts for special issues or regular issues from within their networks; 

- commit to the role for a minimum of 3 years, with a possibility of renewal for a further 3 years.
If you would like to express an interest in becoming an Editor for Research in Learning Technology, please send a covering letter and CV to ALT's chief executive, Dr Maren Deepwell, maren.deepwell@alt.ac.uk. Closing date is 31 October 2018.

#altc blog:

There are currently no vacancies to join the Editorial Team of the #altc blog. However we are always seeking for new contributors! Find out

to write for the blog

.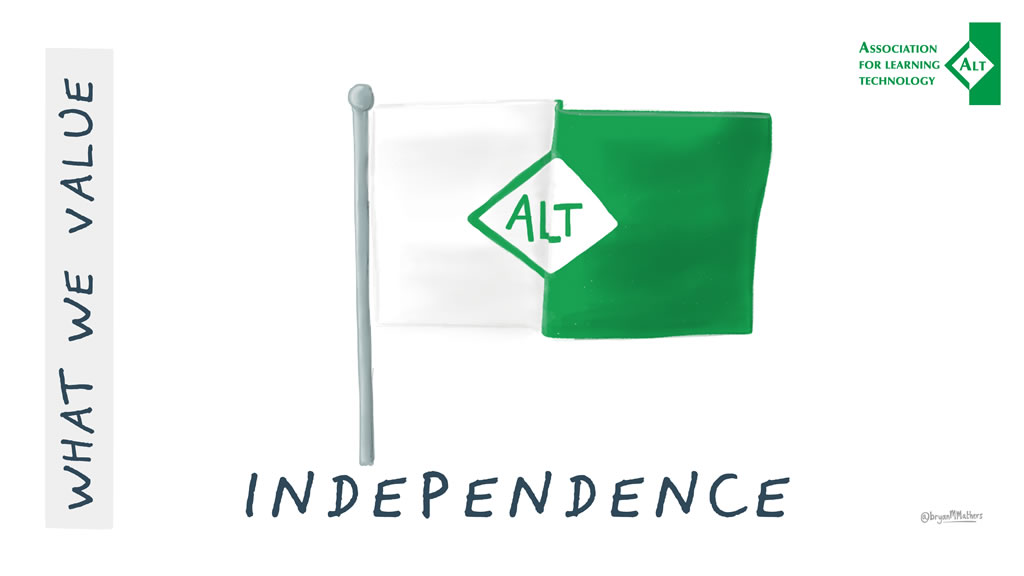 Take an active part in the governance of ALT
Become a Trustee of ALT
There are no vacancies on the Board of Trustees this year. The Trustees of ALT have been reviewing our current governance structure in order to ensure:
It is in line with best practice recommended by the Charity Commission

It supports ALT's strategic aims and values

It is fit for purpose as the Association grows
Find out more on the AGM page.
Join the ALT Assembly
This year ALT is improving its governance structure to ensure Members are better represented and to make it easier for Members to get involved. The changes, which are being voted on at the AGM on 12 September, will involve the establishment of a new overarching committee advising the Board of Trustees - the ALT Assembly. ALT Assembly will bring together member representatives from across ALT's networks and activities, allowing for greater cohesion, collaboration, and cross-fertilization across the Association's operations. Over the next year, operational committees, working groups across ALT's activities, and Members and Special Interest Groups will come together to form ALT Assembly. If you are part of an ALT Members or Special Interest Group, a CMALT Lead Assessor, on an ALT Conference Committee, or involved with ALT's journal RLT or the #ALTC Blog, you will be part of the ALT Assembly and help to shape the work and direction of the Association.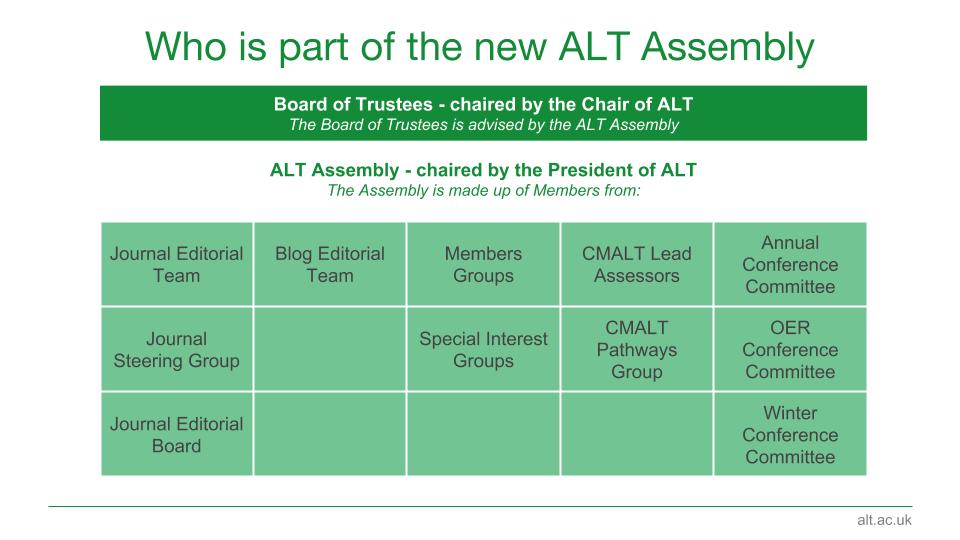 Other ways to get connected
Whether you are new to ALT or have been a Member for a while, have a look at different ways to connect with the community https://www.alt.ac.uk/get-connected.