At the 2018 AGM Members have voted for changes to ALT's Constitution in order to ensure that:
It is in line with best practice recommended by the Charity Commission

It supports ALT's strategic aims and values

It is fit for purpose as the Association grows
The Assembly was set up as the new overarching committee advising the Board of Trustees. The Assembly is chaired by the President and provide greater representation of Members and in particular Member groups. Over the next year, the existing groups and the Operational Committees will thus come together to form the new ALT Assembly, allowing for a greater degree of cohesion, collaboration and cross-fertilization across ALT's operations.
Please see below for forthcoming meeting dates; these are also listed on the events page.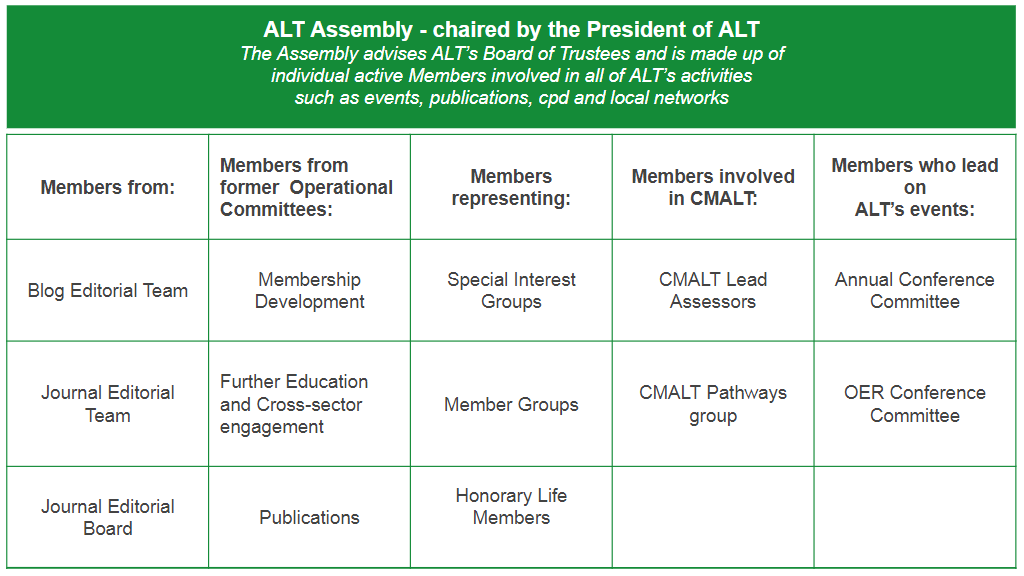 Participation is welcomed from Members currently involved in: 
You can read more about the changes Members have voted for at http://go.alt.ac.uk/ALTAGM and if you have any questions or concerns please contact us at enquiries@alt.ac.uk
Committee Meetings
Online meetings take place online via Blackboard Collaboratre Ultra, with two meetings a year being face to face. The Committee meeting room is always open and available. Here is the Link to join the meeting.
The ALT Assembly is chaired by the President of ALT. Chairs for online meetings may vary.
The Assembly works openly and collaboratively, and is supported by a shared Notes and Agenda document: https://go.alt.ac.uk/AssemblyFeb19Notes
12:30 (UK local time), Thursday 9 January
Link to shared Notes and Agenda: https://go.alt.ac.uk/AssemblyFeb19Note
12:30 (UK local time), Thursday 13 February
Link to shared Notes and Agenda: https://go.alt.ac.uk/AssemblyFeb19Notes
12:30 (UK local time), Wednesday 4 March 
Link to shared Notes and Agenda: https://go.alt.ac.uk/AssemblyFeb19Notes
April 2020 meeting (replaced by Drop in Session)
12:30 (UK local time), Wednesday 8 April
Link to shared Notes and Agenda: https://go.alt.ac.uk/AssemblyFeb19Notes
May 2020 meeting (replaced by Drop in Session)
12:30 (UK local time), Thursday 7 May
Link to shared Notes and Agenda: https://go.alt.ac.uk/AssemblyFeb19Notes
12:30 (UK local time), Wednesday 10 June
Link to shared Notes and Agenda: https://go.alt.ac.uk/AssemblyFeb19Notes
12:30 (UK local time), Thursday 9 July
Link to shared Notes and Agenda: https://go.alt.ac.uk/AssemblyFeb19Notes
12:30 (UK local time), Wednesday 5 August 
Link to shared Notes and Agenda: https://go.alt.ac.uk/AssemblyFeb19Notes
Wednesday 9 September
The September meeting takes place at the ALT Annual Conference, and is one of two annual face-to-face meetings of the ALT Assembly
Link to shared Notes and Agenda: https://go.alt.ac.uk/AssemblyFeb19Notes
12:30 (UK local time), Thursday 1 October
Link to shared Notes and Agenda: https://go.alt.ac.uk/AssemblyFeb19Notes
12:30 (UK local time), Wednesday 4 November
Link to shared Notes and Agenda: https://go.alt.ac.uk/AssemblyFeb19Notes
12:30 (UK local time), Wednesday 2 December
Link to shared Notes and Agenda: https://go.alt.ac.uk/AssemblyFeb19Notes
12:30 (UK local time), Thursday 7 January 2021
Link to shared Notes and Agenda: https://go.alt.ac.uk/AssemblyFeb19Notes