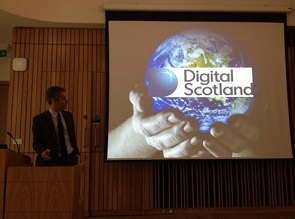 ALT's Scotland SIG was established in September 2012 and had its inaugural meeting at our Annual Conference in 2012.
Remit
ALT-Scotland is a national SIG for practitioners and researchers in learning technology based in Scotland. Its remit is to:
further the aims of ALT in Scotland;
promote the technology agenda in all sectors of Scottish education;
encourage sharing of expertise, resources and best practice in learning technology within the context of Scottish education;
influence relevant policy and strategy;
develop constructive relationships with related organisations and committees.
Officers
The SIG officers are:
Joe Wilson, Independent Consultant/Glasgow City College (Co-Chair)
Louise Jones, ThingLink (Co-Chair) 
Vicki Dale, University of Glasgow (Co-Chair)
Suzanne Faulkner, University of Strathclyde
Lorna Campbell, University of Edinburgh
Robin McGregor, North East Scotland College
Natalie Lafferty, University of Dundee
Lee Ballantyne, University of the West of Scotland
Kenji Lamb, College Development Network
Toni Gibson, Robert Gordon University
Martin Hawksey, Association for Learning Technology
Keith Smyth, University of Highlands and Islands (UHI)
Sheila MacNeill, Independent Consultant
Get Involved
To join the SIG please join the ALT-SCOTLAND mailing list.
Follow #ALTScotland on Twitter to join in the conversation.