Previous conference websites are retained for 18 months following the event. Important details about the events are archived here.
---

2022
Date: 6-8 September 2022
Location: University of Manchester, UK and online
Co-Chairs: Trustees of ALT
PDF Programme: 2022 Online pre-conference, 2022 in-person and 2022 online.
Conference themes
Digital transformation beyond the crisis: what is your vision for learning, teaching and assessment? This theme is focused on how we are transforming education and training through digital practices in a post-pandemic world.

Co-creation with learners: this theme explores how to use digital technology in partnership with learners to design sustainable approaches that work for everyone. How can we co-create student engagement and enjoyment and make the learning experience more open, inclusive and equitable? 
Emerging leadership for a new strategic vision: we are seeing a growth in more strategic responsibilities in roles with a focus on digital education and training. This theme is dedicated to the work and vision of both emerging and established leaders in both institutional and community roles seeking to share their expertise and learn from like-minded colleagues in a dedicated leadership strand of this year's event. 
Developing Digital Fluency: there has been a big shift in the digital skills and capabilities that we need to develop and recognise in both students and staff: from digital citizenship to critical data literacy and ethical considerations, what does it mean to develop digital fluency? 
AmplifyFE: this conference strand is dedicated to proposals from the FE and Vocational Education sector, and we encourage submissions that share expertise around digital tools and technologies, skills development and collaboration (not competition). 
Creativity wildcard: if your work doesn't fit into the traditional research or practice themes, then this theme enables you to submit research, practice or policy proposals from any sector including Further Education, schools, vocational learning and training, lifelong learning and work-based learning.
---

2021
Date: 7-9 September 2021
Location: Online
Co-Chairs: Roger Emery, Farzana Latif and Matt Lingard
Themes: Shared Experience, Different Perspectives
Leadership in learning technology
Inclusive practice
Digital well-being
Digital and physical spaces
---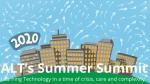 2020
Due to the global pandemic, ALT held an Online Summer Summit instead of an annual conference.
Date: 26-27 August 2020
Location: Online
Co-Chairs: N/A
PDF Programme: 26 August 2020, 27 August 2020 and Asynchronous 2020.
Theme: Learning Technology in a time of crisis, care and complexity
Visit the 2020 conference site.
---

2019
Date: 3–5 September 2019
Location: University of Edinburgh
Co-Chairs: Melissa Highton, Louise Jones and Keith Smyth
PDF Programme: 2019 day 1, 2019 day 2, 2019 day 3
Theme: Data, Dialogue, Doing
Student data and learning analytics
Creativity across the curriculum
Critical frames of reference
Learning Technology for wider impact
 
Visit the 2019 conference archive.
---

2018
Date: 11-13 September 2018
Location: University of Manchester, UK
Co-Chairs: N/A
Themes: 
Participation through Learning Technology: including how to use technology to work in partnership with learners, how to create engagement and built informed consent, critical digital literacy, accessibility and equity;
Collaboration for Learning Technology: such as working together on projects, scaling up innovation, the role of staff empowerment and leadership, collaboration or across institutions and countries, how learning technology can enhance (a)synchronous collaboration;
Critical perspectives in Learning Technology: critical, historical and political perspectives, research and analysis that question the purpose or impact of technology used for learning, teaching or assessment; learner driven education;
Openness and Learning Technology: for example open education practice, resources, policy for openness in education, open data and open governance;
View the 2018 conference archive.
---

2017
Beyond islands of innovation – how Learning Technology became the new norm(al). 5 – 7 September 2017, University of Liverpool, UK.
---

2016
Connect, Collaborate, Create. 6 - 8 September 2016 at the University of Warwick, UK.
---

2015
Shaping the Future of Learning Together. 8–10 September 2015, University of Manchester, UK.
---
2014
Riding Giants: How to innovate and educate ahead of the wave. 1–3 September 2014, in Warwick, UK.
---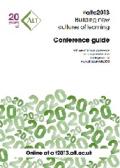 2013
Building new cultures of learning. 10–12 September 2013, Nottingham, UK.
---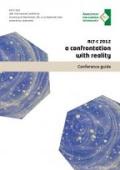 2012
A confrontation with reality. 11-13 September 2012, university of Manchester, UK.
---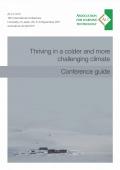 2011
Thriving in a colder and more challenging climate. 6-8 September 2011, University of Leeds, UK.
---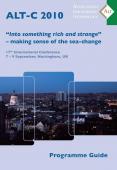 2010
"Into something rich and strange" - making sense of the sea-change. 7-9 September 2010, University of Nottingham, UK.
---
2009
"In dreams begins responsibility" - choice, evidence, and change. 8-10 September 2009, University of Manchester, UK.