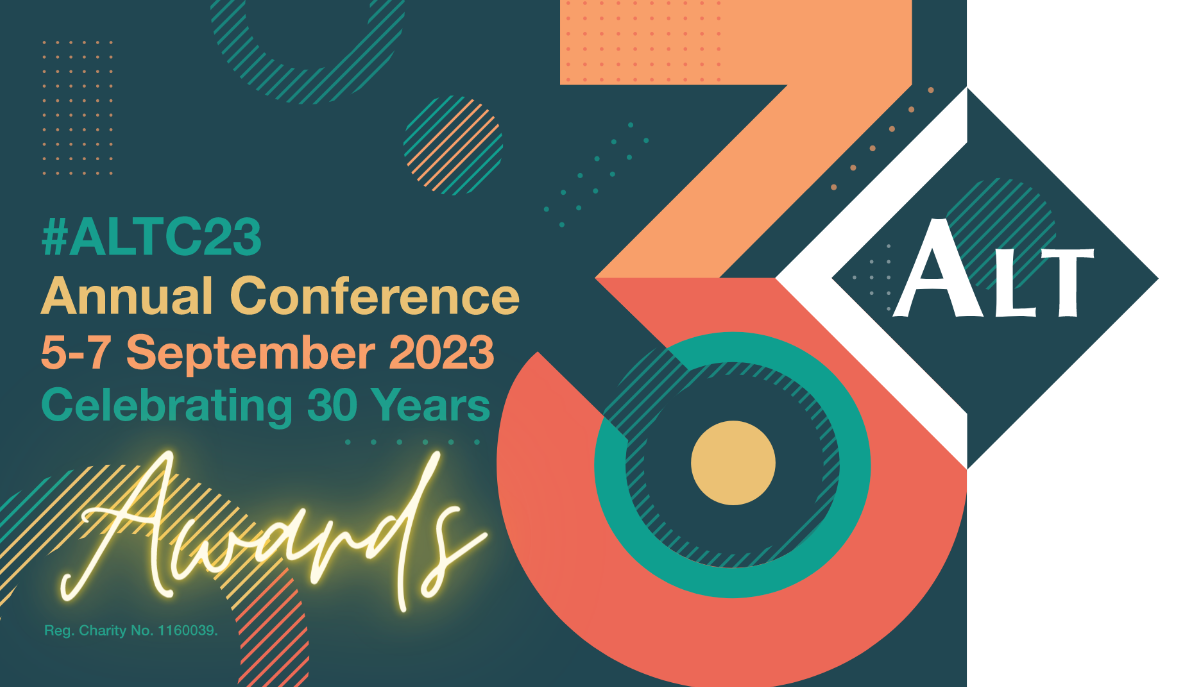 The ALT Awards celebrate and reward outstanding research, practice and achievement in the field of Learning Technology. Now in their 16th year, the Awards have set a benchmark for outstanding achievement in Learning Technology on a national scale and attract competitive entries from the UK and internationally. All entries are reviewed by an independent judging panel chaired by the President of ALT.  This year's Awards Ceremony took place at the ALT Annual Conference 30th Anniversary Gala Dinner at the University of Warwick on 6 September 2023. Read about our award winners and watch their showcase videos on our Awards Showcase page. 
"This year we received a bumper crop of entries to the awards which reflected the diversity of work and level of energy across the profession. It was good to see how teams and individuals have developed after the Covid lockdown years, responding to an ongoing level of demand for Digital Education and Learning Technologies. I congratulate the winners on their well-earned success as we celebrate the work of the ALT community.", David White, President of ALT and Chair of the Judging Panel for 2023.
Meet the Award winners for 2023:
Award for Individuals
Winner: Johnny Lee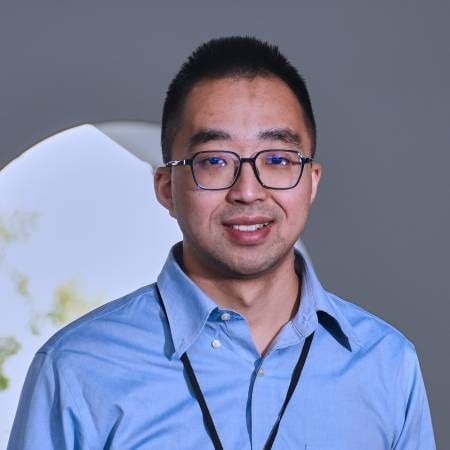 "In Ravensbourne University London, LinkedIn Learning was integrated into the curriculum to bolster students' academic pursuits. Facilitation of LinkedIn Learning implementation was achieved through coordination with IT, senior management and course teams. This included regular meetings to identify pain points along journeys of students and academics while using LinkedIn Learning, offering self-paced and live coaching sessions, and engaging senior academics from different schools to foster the exchange of best practices. Garnering support involved showcasing LiL's potential through organising the LinkedIn Learning Showcase Day, an event where departments shared experiences in incorporating LinkedIn Learning into their curriculum in different ways and different times. Diverse digital capabilities of LinkedIn Learning were presented to academic staff, highlighting its role in fostering cross-course collaboration, developing soft and technical skills, preparing students for industry exam, etc. Positive feedback from academics, students, and the integration of student input further consolidated the academics' confidence in using LinkedIn Learning. Documentation of best practices was encouraged, with academics contributing summaries of successful implementations to the staff-facing learning and teaching community site. Through the implementation, the passion in using TEL tools is ignited and an institutional professional dialogue on enhancing the digital capability of students and academics is high on the agenda, ensuring sustainable innovation in digital education in the institution."
Learn more about Johnny's award winning work.
Award for Teams/Institutions
Winner: City's Digital Education Team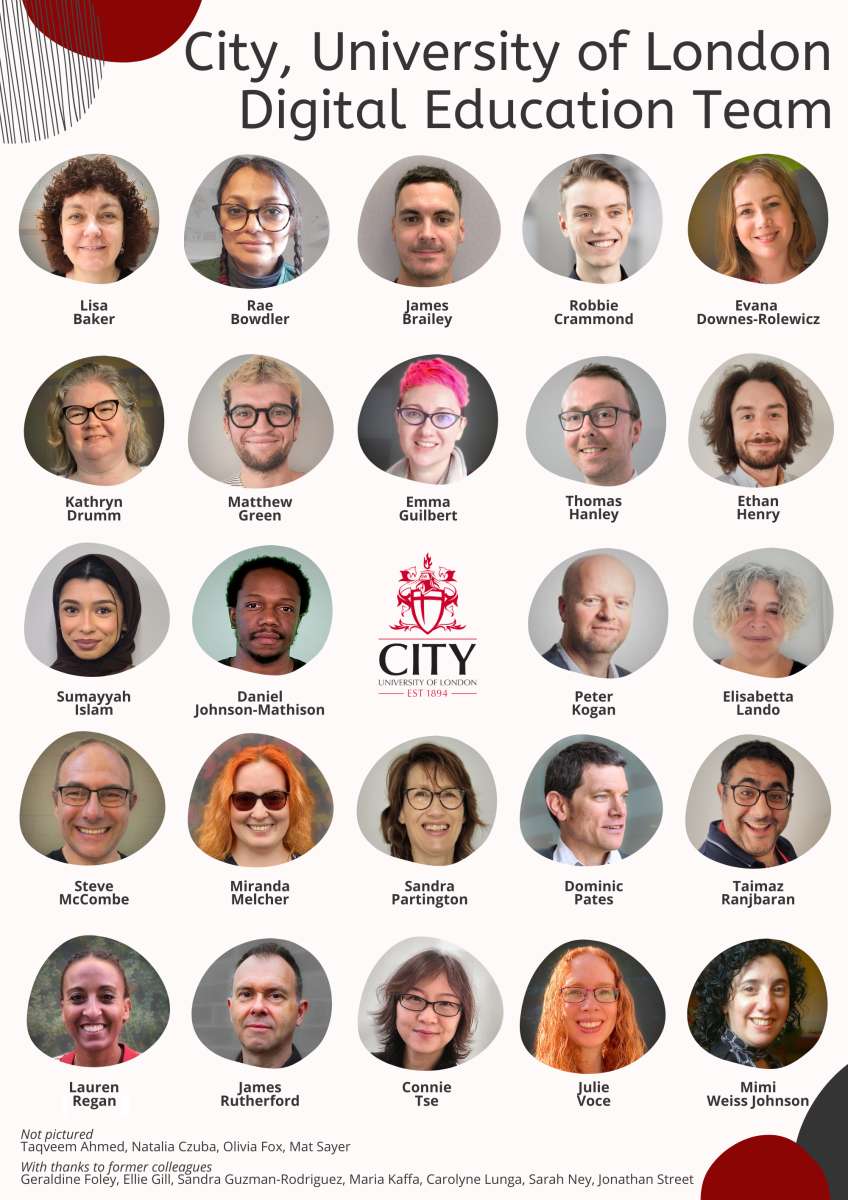 "City's Digital Education team is a highly collaborative team working with staff and students on a range of strategic initiatives alongside operational activities to provide an excellent educational experience. 2023 marks the culmination of several key initiatives that have successfully advanced City's educational support and are currently being moved into 'business-as-usual'. 
Our Digital Accessibility Project has championed an 'accessibility-first' approach. Through collaborative working with key stakeholders, we've made a demonstrable difference through provision of auto-captioning and caption correction and an increase in Moodle materials' accessibility score.
In response to feedback from students, we launched the Student Digital Skills team to raise awareness of digital skills and provide support for LinkedIn Learning, which has had over 5,700 students activate their accounts. 
We launched our Digital Learning Design service, which offers a collaborative, flexible process for designing, developing and delivering blended and online learning activities. Projects include redesigning engineering and nursing programmes and supporting the STEM Digital Academy's MSc Computer Science. We installed two DIY TV studios to enable academics to create high-quality educational videos in addition to working with staff on innovative multimedia.
The COVID-19 pandemic accelerated our exploratory work in learning analytics, leading to rapid implementation. Our collaboration with Student Welfare Officers and the Student Success and Inclusion team ensured timely data for identifying at-risk students and offering support.
We introduced hybrid teaching facilities into 40 spaces, allowing seamless on-campus and online learning experiences. Provision of these facilities has resulted in the development of fully hybrid programs and modules."
Learn more about the award winning work of City's Digital Education Team.
Highly commended: Arden University Digital Learning Team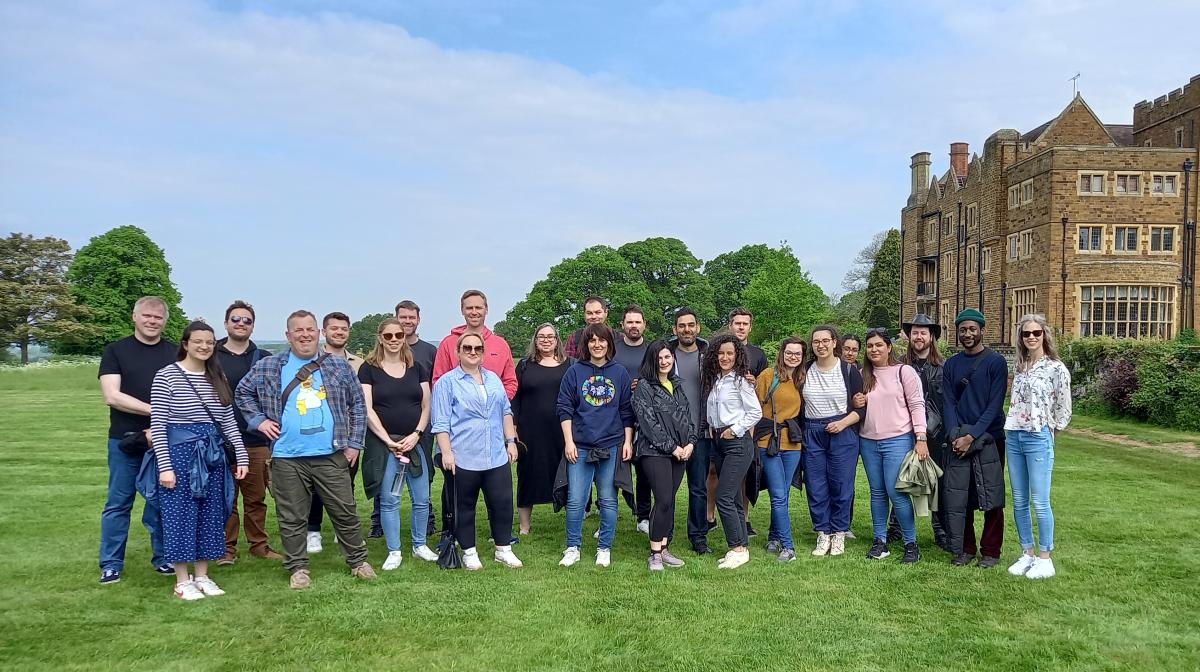 Arden University is focused on removing barriers to education and enhancing employability. Our university has grown rapidly since 2015, and now has over 23,000 students enrolled on over 200 academic programmes from apprenticeship to postgraduate levels. 
The digital learning team have played a key role in the rapid development of Arden's academic portfolio, developing 130 new, fully online modules and contributing to 18 new programme launches over the last 12 months as well as rolling out a robust new process to enhance existing modules. Each year we deliver over 2.5 million words of new learning content, 3,500 graphics and 1,000 digital media resources using packages such as Vyond, Adobe Creative Suite, H5P and Articulate 360. Reflecting the growth of our institution as a whole, the digital learning team at Arden has doubled in size (to over 30) in the last 12 months.
Throughout storyboarding, development and maintenance we give our academic colleagues extensive guidance and individual feedback, providing specialist expertise in online pedagogy, video production, learning technology and graphic design. We're also embedding WCAG compliance and universal design for learning across all our workflows, templates and quality standards, enabling us to create complex activities that are fully accessible via screen readers and open to adjustments as required.  
We aim to create accessible, inclusive and high-quality digital learning experiences for our students, while nurturing creativity, sustainability and professional development within our team. 
Learn more about the award winning work of Arden University's Digital Learning Team.
Award for Leadership in Digital Education
Winner: Julie Voce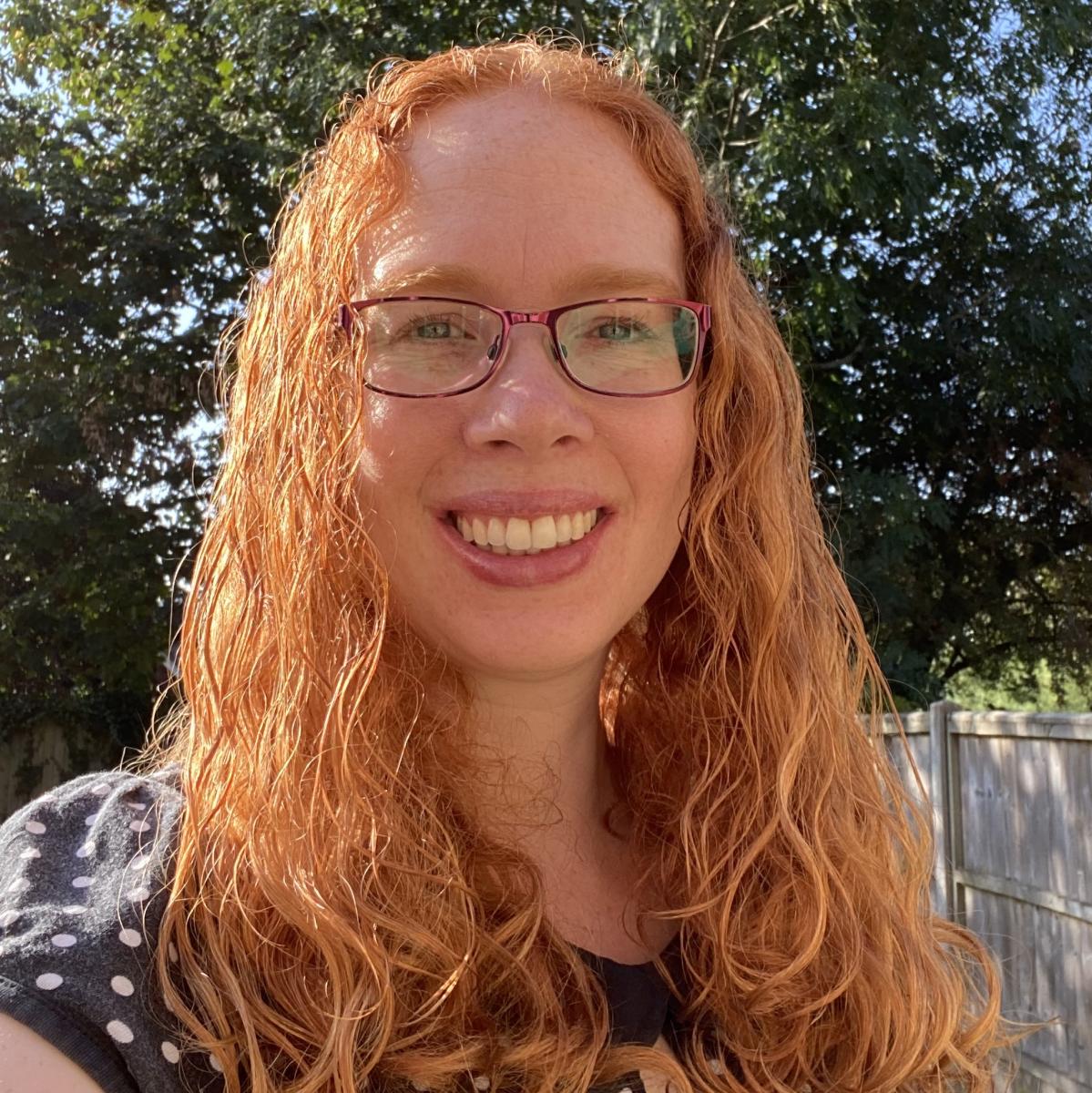 "I have worked in the learning technology sector for 20 years and have been an active leader in all of my roles. Since 2017 I have been Head of Digital Education at City, University of London leading a team of educational technologists working on a range of strategic initiatives alongside operational activities to support City to provide an excellent educational experience. 
At City I have led successful projects on digital accessibility and digital literacies and been a driving force on projects related to lecture capture, hybrid learning, learning analytics, and learning design. As a result of my leadership these initiatives have matured and are moving to business as usual, expanding the remit of my team and adding value to the staff and student experience.
For me the real value of my leadership is empowering, supporting and developing others. I take an inclusive approach and work with my team and colleagues outside of City to help them achieve their best. I actively promote the profession and support others to progress to more senior roles.
I am well-connected and actively lead through working with sector organisations, such as chairing the ALT M25-Learning Technology group and leading the past two UCISA Technology Enhanced Learning surveys. In the last 18 months I have achieved both PFHEA and SCMALT and am an active CMALT assessor. I align my leadership values with CMALT principles and the Framework for Ethical Learning Technology by being actively inclusive and collaborative, whilst taking a professional approach and acting with integrity."
Learn more about Julie Voce's award winning work.
Highly commended: Chris Morrison & Jane Secker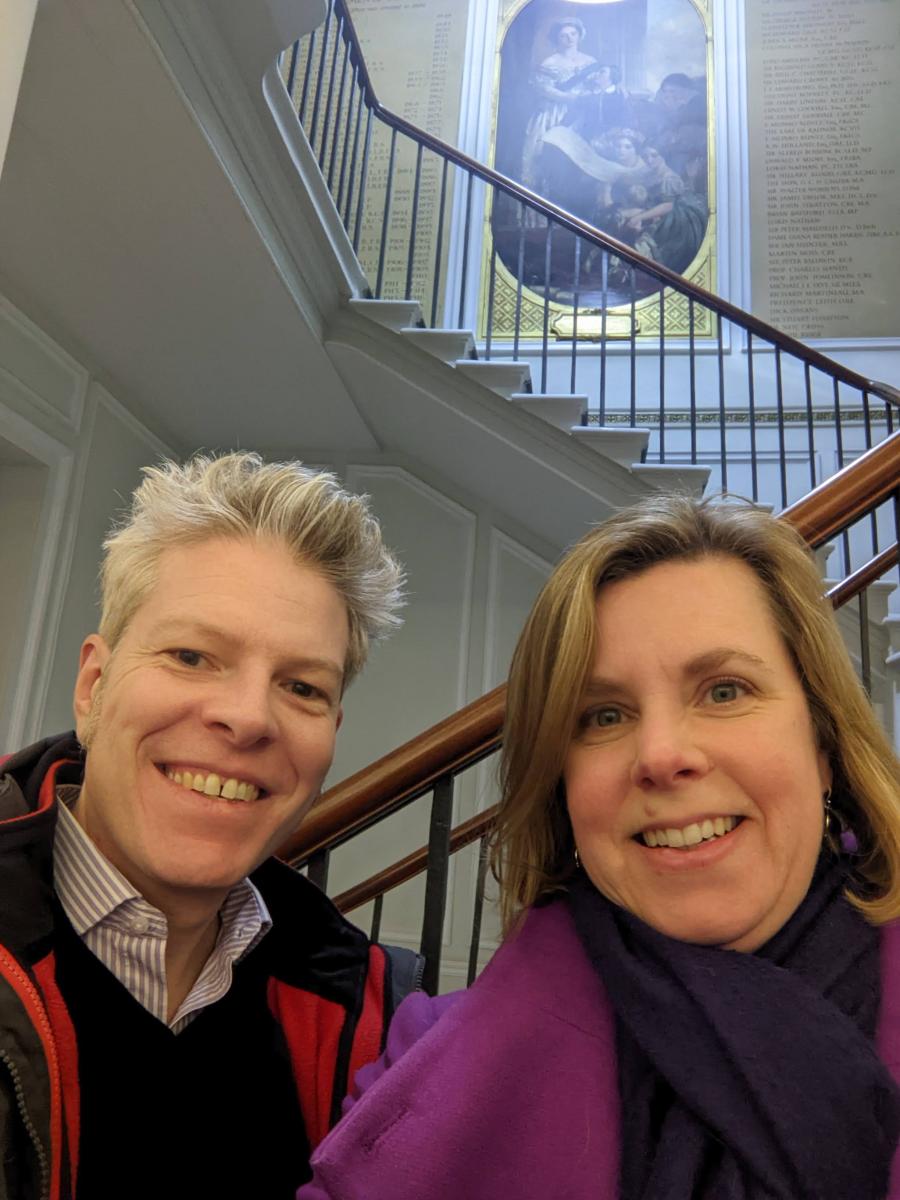 Jane Secker and Chris Morrison are co-Chairs of the ALT Copyright and Online Learning Special Interest Group (CoOL SIG) which was established during the pandemic to support the education sector. The group has over 140 members and plays an important role in bringing together copyright specialists and learning technologists. 
Utilising their expertise from the book Copyright and E-learning, (published by Facet in 2016) Jane and Chris have run over 60 free webinars since March 2020, bringing together national and international copyright experts. The webinars are hosted by ALT and made available from their YouTube channel attracting a regular audience. They also run a website (copyrightliteracy.org) and a podcast, Copyright Waffle, making their work accessible and freely available. 
Jane and Chris's leadership ensures copyright is not a barrier to online learning. They are experts in the interpretation of copyright exceptions and how these apply to educational technologies. They have developed internationally recognised educational games (Copyright the Card Game and The Publishing Trap) to enliven copyright teaching, releasing these as open educational resources so they can be adapted and used throughout the world. During the pandemic both games were adapted for use online and reached new audiences. Jane and Chris also worked with Learning on Screen to provide support to film educators who found the shift to online learning particularly challenging, due to copyright concerns. In June 2023 they published a Code of Fair Practice for Film Educators, which offers clarity and guidance to this community about how to teach online. 
Learn more about Chris & Jane's work. 
Award for Case Studies of Ethical EdTech
Winner: Hull College for Translating Equality - Transforming Lives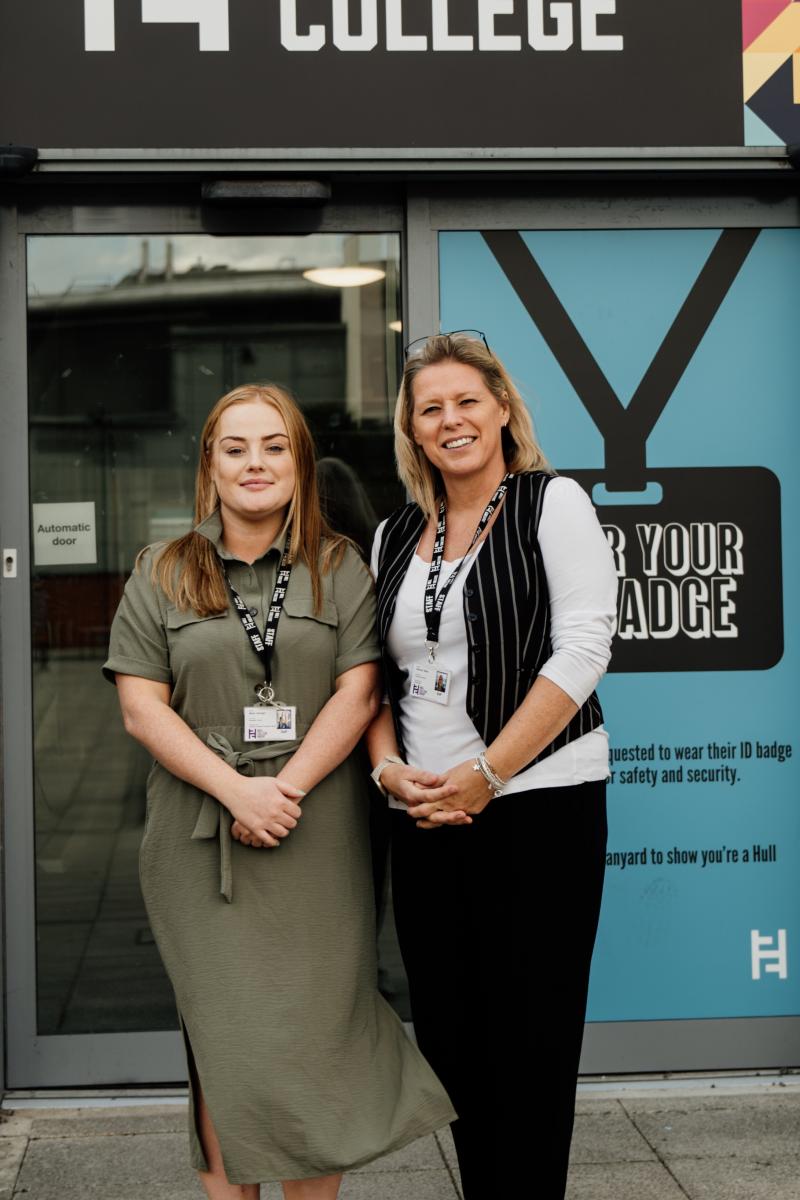 "The City of Hull prides itself on being a City of Sanctuary for refugees who arrive in the UK as asylum seekers. As the largest College serving the City, Hull College has been at the forefront of supporting these individuals to adapt and acclimatise using our English for Speakers of Other Language (ESOL) programmes.
Implementing this widely available, simple and free technology proved transformative in dismantling language barriers and facilitating vulnerable students' engagement and progression despite adversity. The project demonstrated Translate's power to fundamentally improve ESOL teacher workload and empower over 1000 displaced, non-English speaking students to continue their education and work toward a better future."
Learn more about Hull College's award winning work.
Award for Digital Transformation 
Winner: School of Engineering Remote Laboratories, University of Edinburgh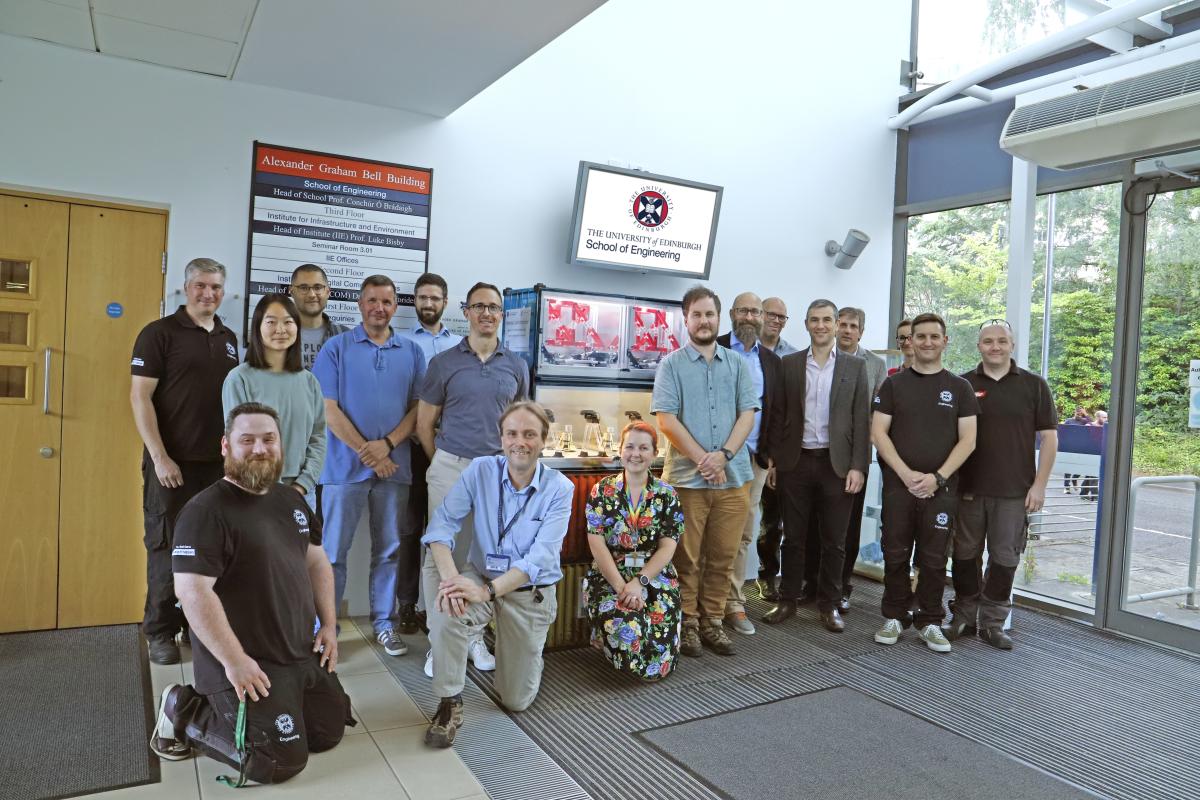 "Using digital transformation thinking, we have developed and deployed remote laboratories to bring about a systemic change to the teaching of Engineering practical work and to underpin curriculum change. Built as open-by-default, they are designed to be highly shareable beyond the University of Edinburgh. 
Like many institutions, we face physical estate limitations within our city-centre campus. Informed by our organisation's culture of digital innovation, we took an approach that goes beyond relying on new buildings to deliver benefits immediately, as well as creating future digital educational opportunities.
Existing remote laboratory solutions did not meet our emerging organisational needs and trends in teaching including offset lecture schedules, adhering to secure IT policies, and estate limitations on campus. Bringing together technical, teaching, IT, buildings, and teaching administration staff, our team successfully turned these limiting factors into productive design constraints for an entirely new system, ensuring that a progressive approach could be adopted, maintained, and grown over the long term. Drawing on the concept of third space professionals, we created new roles and worked together across traditional organisational boundaries. 
Low-cost lab experiments are fabricated in-house and packaged along with cameras in stackable mini shipping containers that bring a science-museum feel to our public spaces, making our teaching visible to students, staff and guests outside of the classroom. 
We have used student and staff feedback to prioritise upgrades, produced peer-reviewed evidence of the improved student experience, and supported major curriculum change by providing practical work that cannot otherwise be scheduled in traditional laboratory facilities."
Learn more about the award winning School of Engineering Remote Laboratories.
The Award for Digital Transformation was awarded in partnership with Jisc. "Jisc is proud to have the opportunity to work with ALT on supporting further and higher education with digital transformation. The UK sector has a well-established reputation for being at the forefront of digital transformation within education and that's in no small part down to the pioneers and innovators that make up the ALT community.
ALT has contributed to the development of the framework for digital transformation and the associated maturity model which will be launched in September. Jisc has valued the contributions of ALT members to these developments to ensure that the framework and model can reflect the requirements of our communities.
We are delighted to have partnered with ALT on the award for digital transformation over the past two years. This award provides an excellent opportunity for members across the country to showcase their work and celebrate outstanding practice.
As we celebrate Jisc's 30th anniversary this year, we are looking forward to joining ALT for this year's annual conference to celebrate its 30th anniversary as well, marking three decades of community-driven technology-enhanced learning" says Sarah Knight, Head of learning and teaching transformation at Jisc.
Thank you to our judges
We give thanks to our 2023 judging panel, chaired by David White, President of ALT. The panel represented expertise from different sectors and countries, bringing together a wealth of experience in Learning Technology:
Award for Individuals panel
Shonagh Douglas, Robert Gordon University

Wayne Gibbons, Galway Mayo Institute of Technology

Patrick Dunn, UFi VocTech Trust

Vicki Dale, University of Glasgow

Amin Neghavati, University of Bath
Award for Institutions or Teams panel
Dave White, President of ALT

John Kerr, University of Glasgow

Dave Ruckley Swansea University

Darron Board, Open University 

Kiran Gawali, Imperial College London
Award for Digital Transformation in partnership with Jisc panel
Anne-Marie Scott, Athabasca University 

Abigail Shaw, University College London

Matt Turner, University of Birmingham

Puiyin Wong, University of the Arts London

Dave White, President of ALT
Award for Case Studies of Ethical EdTech panel
Paul Cave, University of Leeds

Paul Rea, University of Glasgow 

Helen Spittle, University of Cardiff

Kate Lindsay, Higher Ed Partners

Sarah Knight, Jisc

Simon Birkett, Jisc
Award for Leadership in Digital Education panel
Javiera Atenas, University of Suffolk

Sarah Montano, University of Birmingham

Shonagh Douglas, Robert Gordon University
Notes for Editors
ALT (the Association for Learning Technology) is a professional and scholarly association which brings together those with an interest in the use of learning technology. As the UK's leading membership organisation in the Learning Technology field, we work to improve practice, promote research, and influence policy.

You can

explore what we do via our strategy slides

, download the full text in PDF or Google docs. Visual content is available on Flickr.

We have over 3,500 Members across education sectors in the UK and internationally.

If you are writing about, blogging or sharing images and videos about the Awards using tools that support tagging, please use the tag #altc

Association for Learning Technology, Tel: +44 (0)1865 819 009 URL:

http://www.alt.ac.uk/

ALT is a Registered Charity in the UK, number: 1160039
Topic: