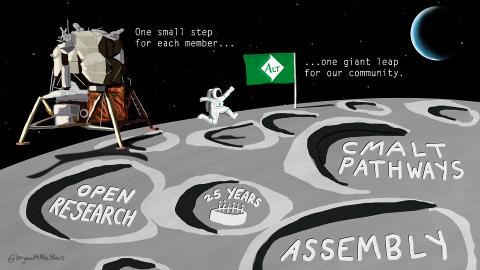 Dear Members
We about to embark on the third and final year of ALT's Strategy 2017-2020. Together we have made strong, strategic progress putting our shared values into practice and meet our aims for Members and for public benefit, too.
We reported to Members and stakeholders from across sectors in ALT's Annual Report and at the AGM in September about the changes to our organisational and governance structures. The transition to an independent, distributed organisation, has allowed us to make huge leaps in terms of meeting our strategic goals. 
Since September,  much has happened and so we are are now sharing  more of what we have been up to in the year that saw ALT celebrate its 25th anniversary:
Open research
A key area for growth has been the Open Access research published in ALT's journal. The full back archive reaching back to 1993 is an invaluable resource for Members at a time when reliable research is increasingly important for efficient use of Learning Technology and informed decision making.
Led by volunteer Editorial Team and Nicola Whitton, Vice-Chair of ALT, who chairs the Editorial Board, the journal has covered a diverse range of topics in recent months including TEL strategies in HE, playful learning, mobile mixed reality, students' perceptions of Twitter and smart learning environments.
GDPR and Learning Technology
Member organisations from industry including Blackboard and Moodle as well as individual experts such as DCU's Head of the Teaching Enhancement Unit, Mark Glynn, have led a series of webinars on GDPR organised by ALT's Chief Innovation, Technology and Community Officer, Martin Hawksey.  Much of this work has been shared with other sector bodies such as ELESIG Scotland and also fed into ALT's recent response to the All-Party Parliamentary Group on Data Analytics inquiry into data and technology ethics.
Enhancing professional recognition
We have also completed the pilots for Associate and Senior CMALT. These two new accreditation pathways for Learning Technology professionals will launch later this month. Led by Operations Manager, Susan Greig, working closely with Certified Members and Lead Assessors, both pathways will be supported by a growing body of community-sourced resources and a baseline of example portfolios that set a robust standard for professionals at different stages of their career and across a broader range of roles than before. We invite you warmly to sign up for the launch webinars for Associate and Senior CMALT to find out more.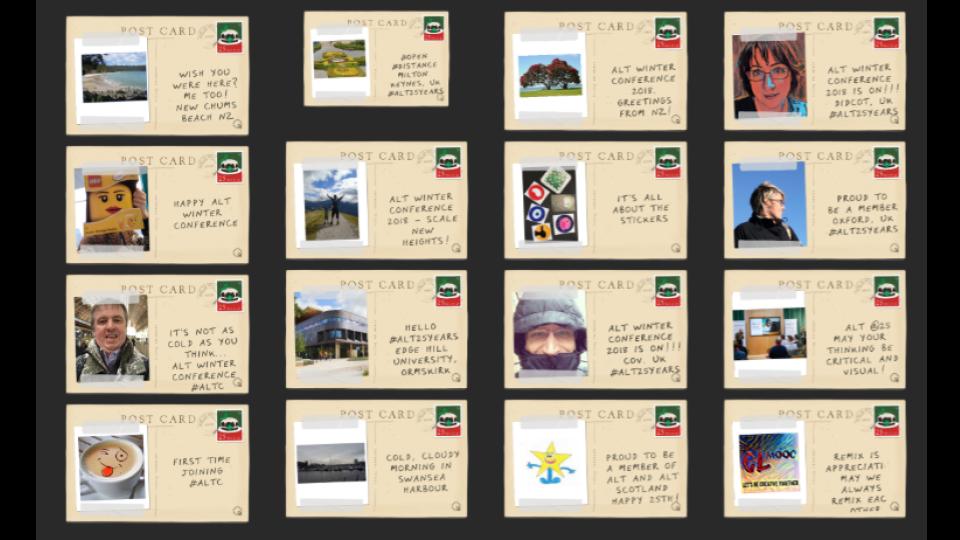 Postcards celebrating ALT@25 remixed by ALT Members
ALT Assembly
ALT's Membership has now grown to over 3,500 Members and as a result many of our activities are now scaling up to support the larger community. Alongside increasing our operational capacity, the Board of Trustees led Members in the effort to update ALT's constitution, bringing it in line with best practice set out by the Charity Commission and also to ensure that in our governance our community is at the heart of everything we do. That is why as part of the updated governance structure the new ALT Assembly committee has been established. The ALT Assembly is the overarching committee advising the Board of Trustees, supported by Tom Palmer, ALT's Membership Manager, it will be bringing together former operational committees, publication and events related groups and boards as well as Members and Special Interest Groups. We hope that the Assembly will help improve communication for Members actively involved in ALT as well as the impact of the work we do together.
ALT marks one year operating as an independent organisation
In our report above we have focused on the work our Members do and with that in mind it seems only fitting to add a final update on developments that have seen us increase our organisational capacity to support Members across the UK. Today's date, 1 February, marks the first anniversary since ALT began to operate as an independent, virtual organisation and employer. Whilst major restructuring and transition have been ongoing for most of the last 18 months, disruption to services for Members have been minimal. In keeping with ALT's commitment to openness, Members have been regularly updated throughout the process and ALT's senior staff have shared the journey informally in a monthly series of blog posts on open leadership. Having successfully weathered the transition, we now look forward to the benefits the more agile and distributed organisation structure will bring. 
Thinking about the year ahead, with the results from ALT's Annual Survey due to be published soon and a packed calendar of activities already planned, we look forward to increasing the impact of what we do as the leading professional body for Learning Technology in the UK. Members will convene the Assembly (both face to face and online) in the next month to work together and this new development inspires and reminds us that each contribution to the work we do makes a real difference to our growing Membership. 
Together, and on behalf of the Trustees and staff, we thank you for helping us making many small steps into one giant leap forward over this past year.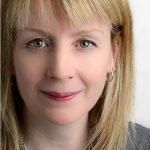 Sheila MacNeill (@sheilmcn), Chair of ALT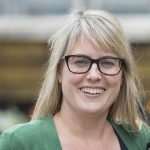 Maren Deepwell (@marendeepwell), chief executive of ALT
Topic: