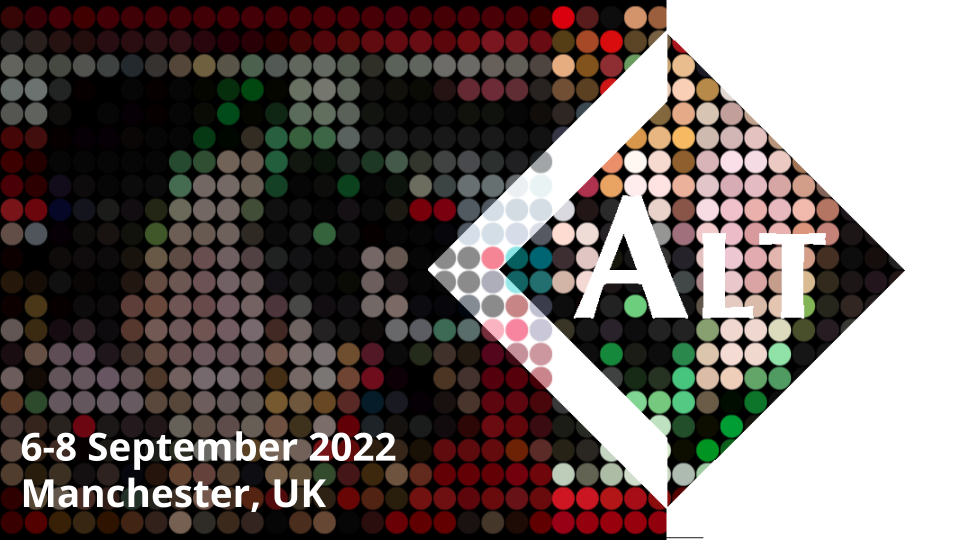 For the return of the Annual Conference to Manchester, UK, from 6-8 September 2022, we will bring together different critical perspectives from across our community that will examine the challenges ahead and question the shape of things to come. 
We are putting our values into practice and Members at the heart of the conference, so in this spirit the event will be chaired collaboratively by the Trustees of ALT.
Conference themes
Digital transformation beyond the crisis: what is your vision for learning, teaching and assessment? This theme is focused on how we are transforming education and training through digital practices in a post-pandemic world.
Co-creation with learners: this theme explores how to use digital technology in partnership with learners to design sustainable approaches that work for everyone. How can we co-create student engagement and enjoyment and make the learning experience more open, inclusive and equitable? 
Emerging leadership for a new strategic vision: we are seeing a growth in more strategic responsibilities in roles with a focus on digital education and training. This theme is dedicated to the work and vision of both emerging and established leaders in both institutional and community roles seeking to share their expertise and learn from like-minded colleagues in a dedicated leadership strand of this year's event. 
Developing Digital Fluency: there has been a big shift in the digital skills and capabilities that we need to develop and recognise in both students and staff: from digital citizenship to critical data literacy and ethical considerations, what does it mean to develop digital fluency? 
AmplifyFE: this conference strand is dedicated to proposals from the FE and Vocational Education sector, and we encourage submissions that share expertise around digital tools and technologies, skills development and collaboration (not competition). 
Creativity wildcard: if your work doesn't fit into the traditional research or practice themes, then this theme enables you to submit research, practice or policy proposals from any sector including Further Education, schools, vocational learning and training, lifelong learning and work-based learning.
Digital Transformation -

a new programme in collaboration with ITN Business
In March 2019, the COVID-19 pandemic changed the educational landscape dramatically as the world saw an acceleration in the adoption of digital technology and remote learning models. A survey conducted by ALT shows that 66% of its members are now using blended and hybrid models in the classroom. "Digital Transformation" will delve into the latest learning technologies and strategies enabling change and will highlight the importance of investment in both the right infrastructure and the people behind the tech.
Anchored by an ITN Business presenter from the ITN London Studios, the programme will provide insight into the role of the learning technologist and the importance of addressing the current skills gap and upskilling staff.  Industry experts will share thoughts on the next stages of digital learning, accessibility to technology for all in education and the impact of Edtech on environmental sustainability.
Combining expert interviews, news items and inspirational reporter led sponsored editorial profiles from leading organisations, "Digital Transformation" will premiere at the ALT Annual Conference on 6th-8th September 2022. The programme will form part of an extensive communications campaign featuring ALT members and networks and ITN Business.
About the Conference
The ALT Annual Conference is the UK's main conference for Learning Technologists and one of the largest conferences of its kind. It is held over three days every September, providing a valuable and practical forum for practitioners, researchers, managers and policy-makers from education and industry to solve problems, explore, reflect, influence and learn.
This year's Annual Conference of the Association for Learning Technology will take place 6-8 September 2022. As the leading professional body for Learning Technology in the UK, ALT brings together professionals to disseminate research, share practice and develop policy since 1993.
This year's event will take place online and we are looking forward to welcoming 450 participants from the UK and 20 countries internationally.
Notes for Editors
ALT (the Association for Learning Technology) is a professional and scholarly association which brings together those with an interest in the use of learning technology. As the UK's leading membership organisation in the Learning Technology field, we work to improve practice, promote research, and influence policy.

We have over 3,500 Members across education sectors in the UK and internationally.

If you are writing about, blogging or sharing images and videos about the conference using tools that support tagging, please use the tag #altc21.

Our Sponsors are listed at https://altc.alt.ac.uk/2022/our-sponsors/.
More information about the conference: https://altc.alt.ac.uk/2022/

.

Association for Learning Technology, Tel:  +44 (0)1865 819 009 URL:

http://www.alt.ac.uk/

ALT is a Charitable Incorporated Organisation and Registered Charity in the UK, number: 1160039
Topic: