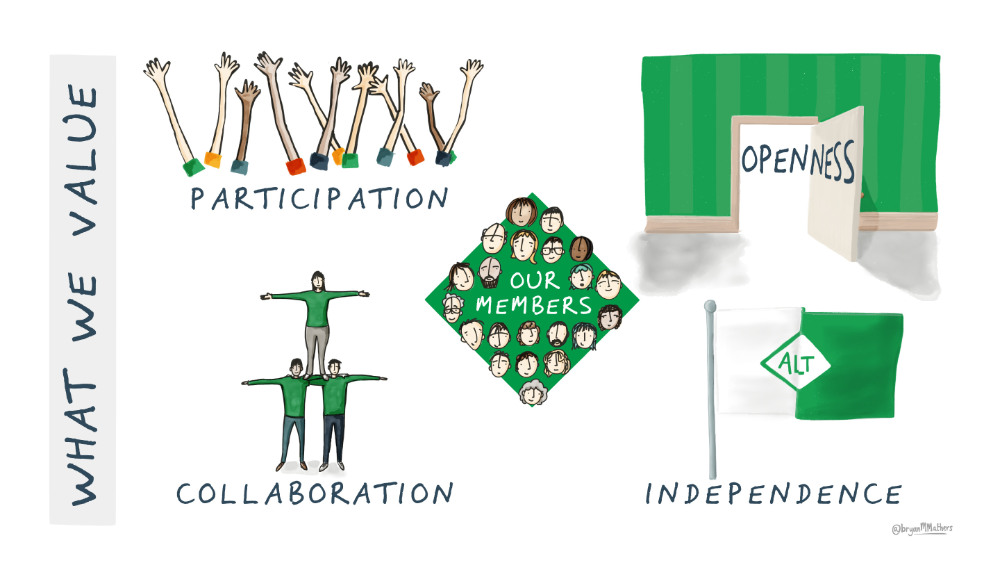 We are looking to recruit an Events Manager to cover for maternity leave within our team from January 2018 for a fixed term period of between 9-12 months.  
The role is part-time and home-based and does require some travel for site visits (to Bristol and Manchester for example) as well as for face to face events. You will be working as part of a small, distributed team working mostly online.
The post holder will lead on ALT's events. As ALT's Events Manager you will be responsible for the logistics of all of ALT's conferences and events, including ALT's annual 3 day international conference and the Open Education conference.
We are looking for someone with a real interest in ALT's aims and values,  hands on experience organising large events working in collaboration with volunteers and someone is able to work independently and who demonstrates initiative and flexibility.
Download the full job description (PDF) or look on our vacancies page.
How to apply
Please apply by sending us your CV together with a cover letter which explains how your skills and experience meet the personal specifications and why you would like to work for ALT.
We review all applications and then invite short-listed candidates to a virtual interview and 1 hour skills test. During the interview you will meet some of the team and have the opportunity to ask questions.
Closing date for applications: 12 January 2018
Interview date: 22 January 2018
Email your application or enquiries to jobs@alt.ac.uk  .
Work for ALT
ALT is governed by a board of elected and coopted trustees, who form the Central Executive Committee. Much of the work of ALT is done on a pro-bono basis by the active members of ALT's committees and groups. Supporting the work of our Members is a small, distributed staff team. 
All recruitment and selection is undertaken in line with ALT's aims and values and in accordance with ALT's policy on equality and diversity.
Topic: