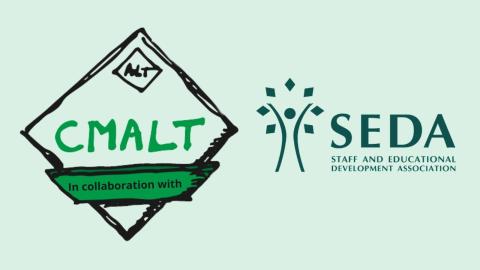 The CMALT framework is mapped to a number of professional competency frameworks, providing practical advice on how to prepare your portfolio if you already have other professional accreditations. 
We are pleased to announce we will be working closely together with SEDA, offering CMALT mappings to SEDA's Awards for Leading and Embedding Technology-Enhanced Learning, and the Awards for Supporting technology-enhanced learning (view mapping and download a PDF). 
The values and core principles of the two frameworks articulate shared values of professional practice. Seda's commitment to understanding how people learn is reflected in ALT's principle of exploring and understanding the interplay between technology and learning. Similarly, there is a joint emphasis on working in collaboration and taking active part in knowledge exchange.  Both frameworks place value on professionalism, reflection and ethical practice. 
About SEDA
SEDA is the professional association for staff and educational developers in the UK,
promoting innovation and good practice in higher education.  SEDA is seen by many as the shaper of thought and initiator of action in staff and educational development, not only in the UK but in the international domain also. SEDA can offer you and your university the opportunity to be part of a national network of people engaged in staff and educational development. This allows you to keep abreast of good practice and policy initiatives, while playing a part in shaping the future and contributing to national debate.
SEDA Supporting Technology-Enhanced Learning
This is one of the named awards available through SEDA's Professional Development Framework. It is relevant to all staff involved in using digital and other educational technologies (including discipline specific technologies) as part of their professional work, where there is a focus on enhancing teaching and student learning, or supporting the development of teachers or other staff.
https://www.seda.ac.uk/leading-and-embedding-technology-enhanced-learning 
CMALT Accreditation Framework
The CMALT Accreditation Framework provides pathways to peer-assessed accreditation for Learning Technology professionals in the UK and internationally.  Find out more at https://www.alt.ac.uk/certified-membership.
What are the key benefits?
gain stronger recognition for Learning Technology skills and experience

demonstrate your commitment to and understanding of the importance of Learning Technology

develop transferable skills which can be applied across all educational sectors and industry

reflect critically upon your practice, achievements and expertise

receive feedback and accreditation from peers

increase the impact of your professional achievements for recruitment or appraisal and use "CMALT" as post-nominal letters
Topic: