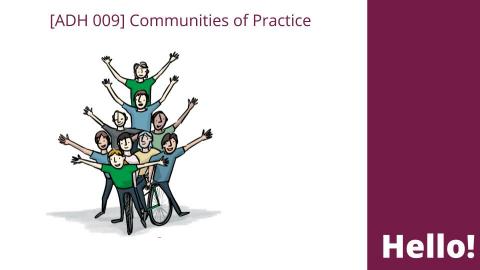 We support our community during this crisis. Our members are under exceptional pressure as institutions plan and implement social distancing measures within learning and teaching. We are regularly updating this page and linked resources to support our community. 
ALT are involved with the Communities of Practice project. The project goal is to establish a successful 'community of practice' (CoP) where vocational teaching staff are able to acquire, develop and share the digital, and digital pedagogical skills they need to thrive in vocational education.
In order to help in the current crisis, we are publishing a list of the Communities of Practice we are auditing, to help you find and connect with communities.
You can access the full list via this Google sheet. 
Other ways ALT is supporting our community during this crisis
We will be holding weekly online Members' Assembly Drop-In's to help members share expertise, ask questions and come together to support each other. These Drop In's will take place in Blackboard Collaborate Ultra and are open to all. To join these no registration is needed. To join follow the weekly drop-in link at the appropriate time (we'll also be adding these sessions to our event calendar so you can subscribe to them). 
Drop in dates - all at 12.30 - 13.30 (UK local time)
Wednesday, 8 April 2020
Thursday, 23 April 2020
Thursday, 30 April 2020
Thursday, 7 May 2020
Thursday, 14 May 2020
Thursday, 21 May 2020
Thursday, 28 May 2020
Thursday, 4 June 2020
To join follow the weekly drop-in link . 
Expert webinars
We are running and supporting webinars, see our event listings for what's coming up. 
Members Directory
We are setting up a directory of consultants and commercial services, connecting those who have expertise with those who need additional input. You can 
add yourself to the directory
 here and access the full list 
here
. 
Community resource list
We are curating a list of resources. To contribute, tag #altc on Twitter or email your link to enquiries@alt.ac.uk . 
Extended deadlines
We have extended the deadline for entries for the Learning Technologist of the Year Awards until 30 April 2020 and will also be accepting late submissions for ALT's Annual Conference 2020. 
Staying connected and informed
Topic: