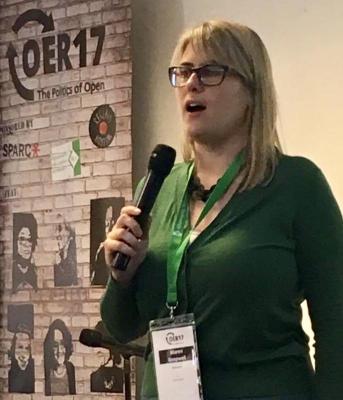 Dear Members of ALT
My report would usually have reached you in February, but to celebrate the launch of the new strategy, it was time for the Trustees of ALT to write to you instead. If you haven't already, do read their announcement of the strategy. You can also explore the strategy slides, download the full text in PDF or Google docs. Visual content is available on Flickr.
Last week at the OER17: The Politics of Open conference I shared some recent milestones with participants in the opening plenary, for example that ALT's journal Research in Learning Technology grew in readership to 112,360 unique visitors - increasing 25% in 2016 (224% since it went Open Access in 2012). While we seek a new publisher for the journal, the full archive of content remains freely available.
Similarly, the number of individuals whose role involves Learning Technology has steadily increased and their professional paths developed and diversified. As the demands we make of technology for learning, teaching and assessment grow, so does our need for those who can effectively manage, implement and govern it. Thus another milestone we can be proud of is the growth in membership we have seen: in February 2008 ALT had 703 Members. In April this year the count is close to 2,500. Year on year as we grow as a membership body, our independent voice becomes more influential.
This is why the work we do for example mapping CMALT to other frameworks, such as the recently launched mapping to Jisc's Digital Capabilities framework and our support for the Campaign to Fix Copyright for Education matters.
Like our Members, we continue to become more efficient and generate great impact for public benefit. Membership fees remain frozen this year and we have also updated membership information on the ALT website, making it easier to find out how to connect with the community and providing a clearer overview of membership types and benefits. We have also updated information about how to promote ALT within your organisation, if you are a member organisation representative.
We have much to do in the coming months to put our new strategy into practice. To make sure we have the necessary resources within the staff team, we have recently appointed a new Events Manager, Jane Marsh, whom we are delighted to welcome to the team! Jane will work alongside Kristina (Communications & Support), Jane (Finance), Tom (Membership), and Martin and myself as senior staff.
Together with my colleagues and the Trustees I look forward to the coming months, and in particular to our Annual Conference and AGM in September. Submissions to the conference have jumped from 145 last year to 228 this year.
Thank you for your continued support and participation #altc
(Image by Josie Fraser, taken at OER17)
Topic: