Gwen Noteborn is heading the Edl@b (education Lab) at Maastricht University (www.edlab.nl) and works with teachers, students and companies to help them implement online tools in class, to share the findings of their experiences and to research the outcomes of these implementations.
The Future of Technology in Education (FOTE) conference on 11 October 2013 was a good platform for her to reflect on how students use webcasts in education, drawing on her research conducted in Belgium and the Netherlands over the last four years.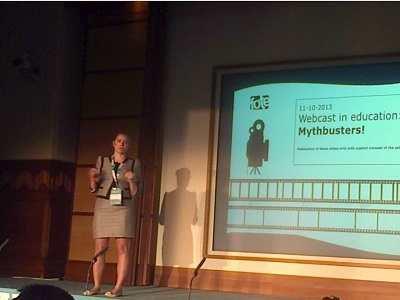 She took several myths most of us assume about webcasts and sequentially busted them open.
The myth that offering lectures online via webcasts will not improve student performance is not true.  On the contrary, offering online lectures increase student grades significantly; there is a 15% increase in passing rate just by adding knowledge clips to the course set up.
As to why this might occur, Gwen says, " Students don't just study from books anymore, offering them online lectures gives them the chance to deal with the material in another way, almost customising education;  however, when implementing weblectures, a vision is essential: Just placing your material online does not work."
What about the belief that knowledge transfer from teacher to student gets reduced when using multi-media streaming? Gwen found that knowledge transfers do not change but the teacher appreciation within the online streaming get slightly lost compared to face-to-face lectures.
But do students really use webcasts intensively? Yes, they are using webcasts and very often.  They are repeating the webcasts, not only to reinforce their learning but also to gain confidence in their own abilities. Especially the day before the exam, viewing rates are booming.
That students won't turn up for class if the teacher's lecture is online is another untrue myth.. Students do not substitute face-to-face learning for online education. Student indicate that going to class has a social aspect that cannot be replaced by online education, hence, students come to class not necessarily for the content of the lecture, but for the context of meeting their professor and fellow students. This is an aspect that cannot be replaced.
For these and other mythbusters, see the recording of her presentation coming soon on http://fote-conference.com/.