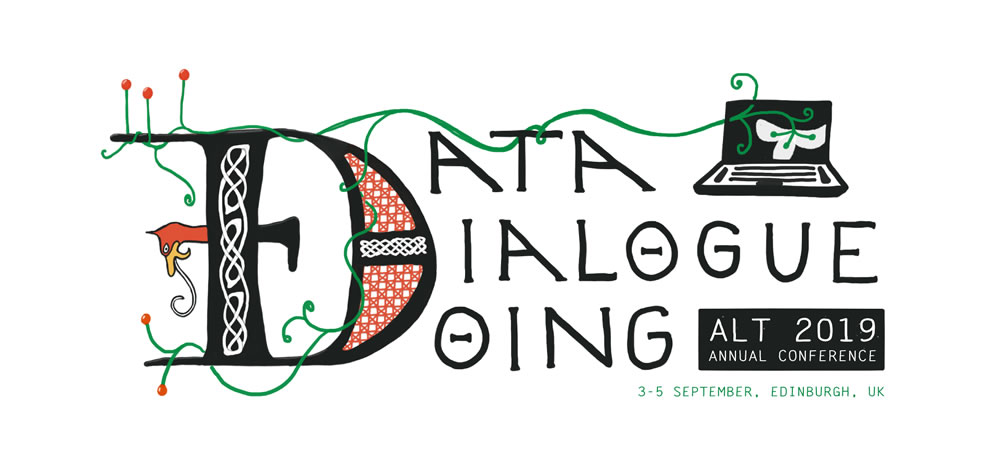 The ALT Annual Conference 2019 will take place at the University of Edinburgh, 3 - 5 September 2019. This year sees the Conference hosted in the historic McEwan Hall and Appleton Tower, both in the heart of the city. 
This is the largest event that we as a Membership body organise each year. It brings together both new and familiar faces, participants from all parts of the UK and internationally to share practice, research and policy in Learning Technology.
Over 100 Members of ALT have worked together to make this year's conference a reality, and over half of the conference participants are actively contributing to the sessions in our peer-reviewed programme. Together we hope to create an inspiring, enjoyable and thought-provoking event here in Edinburgh and online.
The Conference title is Data, Dialogue, Doing. The Conference is seeking to confront and challenge established assumptions, approaches and accepted truths in relation to key dimensions of digital education, and to advancing our practice and thinking through critical dialogue and reflection, closer scrutiny of evidence and theory, and a stronger commitment to values including creativity, community, social good, openness and porosity, and more democratic access to knowledge and learning.
The themes for this year are:
Student data and learning analytics

Creativity across the curriculum

Critical frames of reference

Learning Technology for wider impact
The 2019 Conference is co-chaired by Melissa Highton, Assistant Principal and Director of Learning, Teaching and Web Services, University of Edinburgh, Keith Smyth, Professor of Pedagogy at the University of the Highlands and Islands, and Louise Jones, who is in a new independent role partnering with countries and learning communities across the globe to support transition and transformation.
As Conference Co-Chairs Melissa, Louise and Keith are looking forward to hosting our keynote speakers this year:
Sue Beckingham, National Teaching Fellow and Principal Lecturer in Business Information Systems and Technology at Sheffield Hallam University. Sue's research interests include social media for learning and digital identity, and the use of technology to enhance learning and teaching. Sue co-founded #LTHEchat and the cross-institutional open online course 'Bring Your Own Device for Learning'. With a wealth of experience of working with students and educators to harness social media within institutional and open educational contexts, Sue's keynote is sure to explore a broad spectrum of practice and possibilities.
Ollie Bray, Director, LEGO Foundation leads on the Foundations global work dedicated to education improvement through the use of technology and play. A Scottish Centre for Educational Leadership (SCEL) Fellow Ollie is currently researching 'Digital Technology In Scottish secondary schools: how school leaders can harness its potential to drive both school and system wide improvement'. Ollie brings a refreshing look at the importance and value of playfulness in learning technology. His keynote will be hands-on, be prepared to play!
Jesse Stommel, Executive Director of the Division of Teaching and Learning Technologies at University of Mary Washington. Jesse experiments relentlessly with learning interfaces, both digital and analog, and his research focuses on higher education pedagogy, critical digital pedagogy, and assessment. Jesse is also Co- founder of Digital Pedagogy Lab and the open-access journal Hybrid Pedagogy, and recently co-authored (with Sean Michael Morris) the book 'An Urgency of Teachers: the Work of Critical Digital Pedagogy'. Expect Jesse's to lead us through a rich exploration of the critical and creative then!
The Conference will bring together over 450 participants, who are practitioners, researchers and policy makers from across sectors. There will be many more participating virtually and on social media. It promises to be an exciting three days. This year's programme is packed with over 150 sessions, featuring all aspects of learning technology.
There are plenty of social events scheduled, providing great opportunities for networking and connecting with other Members of the ALT community. We also have an exciting selection of exhibitors for delegates to engage with during the Conference, hoping to inspire with the latest innovations in Learning Technology.
One of the highlights of the conference this year is on the Wednesday evening, as participants will take their seats for the Learning Technologist of the Year Awards Dinner. This event will see all of our winners receive their awards, as well as the announcement of the winner of our Community Choice Award, determined by public vote.
Our community is one that continues to grow in membership numbers and in influence. We actively invite diversity of thought, critical reflection and new theoretical perspectives as well as practical know-how and case studies to shape our dialogue about current and future practice. As an organisation and a wider community, ALT is also committed to the values and practice of equality, inclusivity and participation. To these ends, many of the conference sessions including our keynotes are being streamed online. We are also very pleased to be able to welcome twelve Doug Gowan Fellows to this year's conference, and who are being supported through the Doug Gowan Memorial fund (in memory of Doug Gowan, former President of ALT) to attend this year's conference.
Collectively we are ensuring that this year's conference is providing an international stage for exploring and increasing the impact of Learning Technology, representing our Members and wider community, and enhancing the professional recognition for the work we, and all our members, do. 
Notes for Editors
ALT (the Association for Learning Technology) is a professional and scholarly association which brings together those with an interest in the use of learning technology. As the UK's leading membership organisation in the Learning Technology field, we work to improve practice, promote research, and influence policy.

You can explore what we do via our strategy slides, download the full text in PDF or Google docs. Visual content is available on Flickr.

We have over 3,500 Members across education sectors in the UK and internationally.

If you are writing about, blogging or sharing images and videos about the Annual Conference using tools that support tagging, please use the tag #altc.

Association for Learning Technology, Tel:  +44 (0)1865 819 009 URL: http://www.alt.ac.uk/

ALT is a Registered Charity in the UK, number: 1160039
Topic: