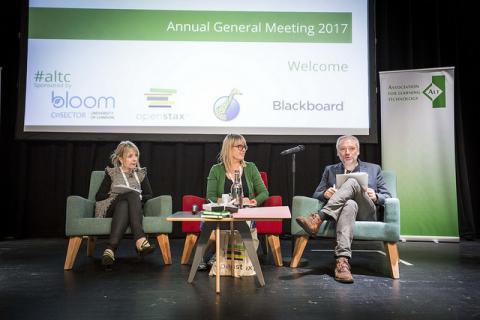 The Annual General Meeting took place on 6 September 2017 at the University of Liverpool, UK during the ALT Annual Conference 2017. 
Even if you were unable to attend we encourage you to have a look at ALT's Annual Report, available via this link: Annual Report and Accounts 2017 [~ 1.5MB PDF] and find out more about the progress we have made this year and how we are putting the new strategy into practice.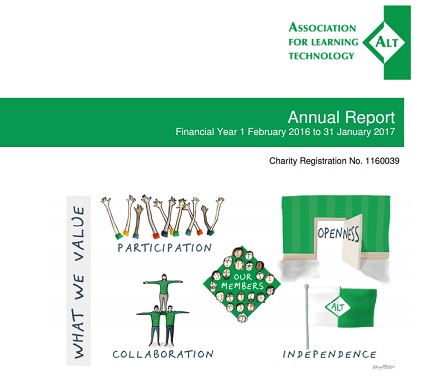 The Association for Learning Technology (ALT) represents individual and organisational Members from all sectors and parts of the UK. Our Membership includes practitioners, researchers and policy makers with an interest in Learning Technology. Our community grows more diverse as Learning Technology has become recognised as a fundamental part of learning, teaching and assessment.
Our charitable objective is "to advance education through increasing, exploring and disseminating knowledge in the field of Learning Technology for the benefit of the general public". We have led professionalisation in Learning Technology since 1993.
Our current strategy sets out our aims for 2017-2020:
Increasing the impact of Learning Technology for the wider community, strengthening recognition and representation for the Membership at a national level and leading professionalisation for individual Learning Technology professionals in a broad range of roles.
How we define Learning Technology
We define Learning Technology as the broad range of communication, information and related technologies that can be used to support learning, teaching and assessment. Our community is made up of people who are actively involved in understanding, managing, researching, supporting or enabling learning with the use of Learning Technology.
We work across the UK and beyond
ALT is a Charitable Incorporated Organisation (CIO), registered with the Charity Commission in the UK, number 1160039. We represent Members from all parts of the UK, including the devolved nations. We work together with other professional bodies and sector organisations in the UK in order to achieve our aims and generate the strongest impact for our Members.
Learning Technology research and practice expands beyond national frontiers, and in order to serve our Membership as effectively as possible we collaborate actively with a global network of partners. We welcome international liaison and always seek new ways to help inform and connect our community more widely.
Annual Report and Accounts 2017 [~ 1.5MB PDF]
Topic: