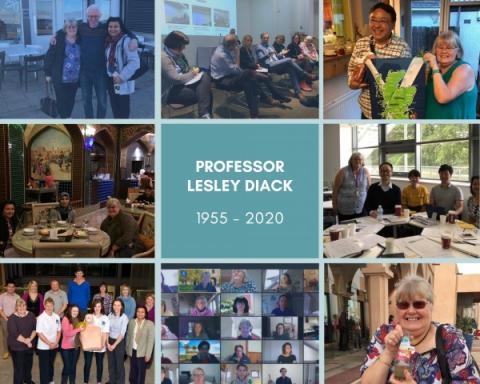 The Learning Technology community was shocked and truly saddened to hear of the passing in December of Lesley Diack, Professor of Transdisciplinary and Technology Enhanced Learning at the School of Pharmacy and Life Sciences at the Robert Gordon University (RGU) in Aberdeen.  Lesley had retired from her position in 2019 but was still active in a variety of academic pursuits including her role as Editor in Chief of ALT's journal, Research in Learning Technology.
While her original disciplines were in pharmacy and public health, she was passionate about interprofessional education and particularly the role technology could play in supporting and enhancing higher education. These varied interests are reflected in her research and publications. Lesley was a frequent participant and presenter at ALT events, including the Annual Conference in Edinburgh in 2019, for which Lesley wrote a guide of things to do in Edinburgh.
Lesley was particularly well known in the learning technology community in Scotland where she was an active and enthusiastic member of ALT Scotland from its inception.  She attended many gatherings of the group across the country, even if it meant catching a very early train from Aberdeen to be in Glasgow or Edinburgh on time and not getting home till late in the evening. Her contributions were always insightful and she was generous in sharing her own local, national and international experiences.  Above all she was friendly and fun, with her sense of humour always shining through. Whatever the topic, Lesley always managed to lighten the mood with an amusing anecdote or comment. 
In recognition of her achievements, Lesley was also awarded a Principal Fellowship of the Higher Education Academy (PFHEA). She was a founding member of the Scottish PFHEA network, again making time to attend meetings and support colleagues, sharing her expertise in learning technology with the wider community. 
There are many ways in which Lesley contributed to ALT, as a Committee Member, a peer-reviewer, peer-assessor and editor. Lesley helped shape the work of the Association for many years and everyone at ALT would like to note their special thanks to acknowledge her contribution.
Lesley was a knowledgeable, respected, generous and kind colleague who will be much missed. Our thoughts and condolences go to her family, and to her many friends and colleagues in Aberdeen and across the world.
We invite you to read the obituary published by The Centre for the Advancement of Interprofessional Education here and contribute messages for Lesley's family. We thank the Centre for kind permission to use the images of Lesley in this post.
Professor Linda Creanor and Dr Maren Deepwell
Topic: