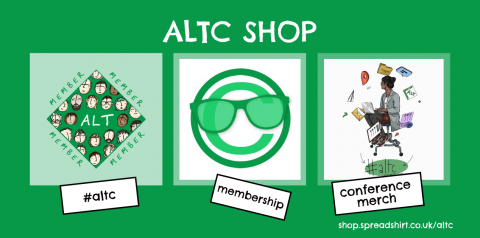 Following popular demand from recent conferences, we have now added some new designs to our
altc shop
.
Available on face masks, t-shirts, jumpers, mugs and lot's of other items, to help celebrate Learning Technologists even more widely. 
Checkout our latest designs in the altc shop;
 
I'm a member of ALT 

ALT's Copyright and Online Learning SIG 

EdTech at the Core

Conference merch 
 
We've even included some of the #altc21visuals, created for us by the winner of our altc artwork competition, Gloria Corra. Gloria's work was selected from a host of artwork specifically created by students at the University of the Arts in London for the Annual Conference. 
Show your #altc21 pride this year by purchasing some special edition merch, with three styles to choose from.
Grab yourself a tshirt in unisex, mens and womens styles. Available with lots of different designs and colours.
Stay Safe with your #altc face coverings with your favorite logos, or you could get yourself a mug for your desk, cushion for your chair or cooking apron to make your lunch while working from home.
 
Share your artwork!
If you are a member of a Special Interest group or members group, and have artwork you would like to include in the ALT shop please get in touch with us at enquiries@alt.ac.uk.
Topic: