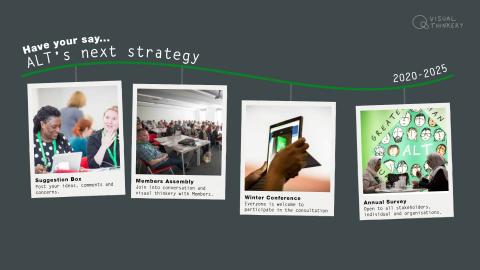 Dear Members
We wrote to you in July 2019 to update you that we will launch the next strategy for ALT and together with the Chair of the Board of Trustees, Sheila MacNeill, I am excited to share an update about how our work is progressing.
As well as the suggestions we are receiving via the Strategy Suggestion Box (which continues to be open for contributions), we hit an important milestone in early September as the formal consultation with Members and the wider community was launched at the ALT Assembly meeting at the Annual Conference and Sheila shared strategic progress with Members at the Annual General Meeting.
The next strategy consultation sessions with Members are on 3 October and 5 November at 12.30 as part of the  Assembly meetings and everyone is welcome to join these sessions. 
Alongside the consultation process we have been working hard to review our impact as a charity; for example how we are reducing our environmental footprint in relation to our events, governance and overall operations: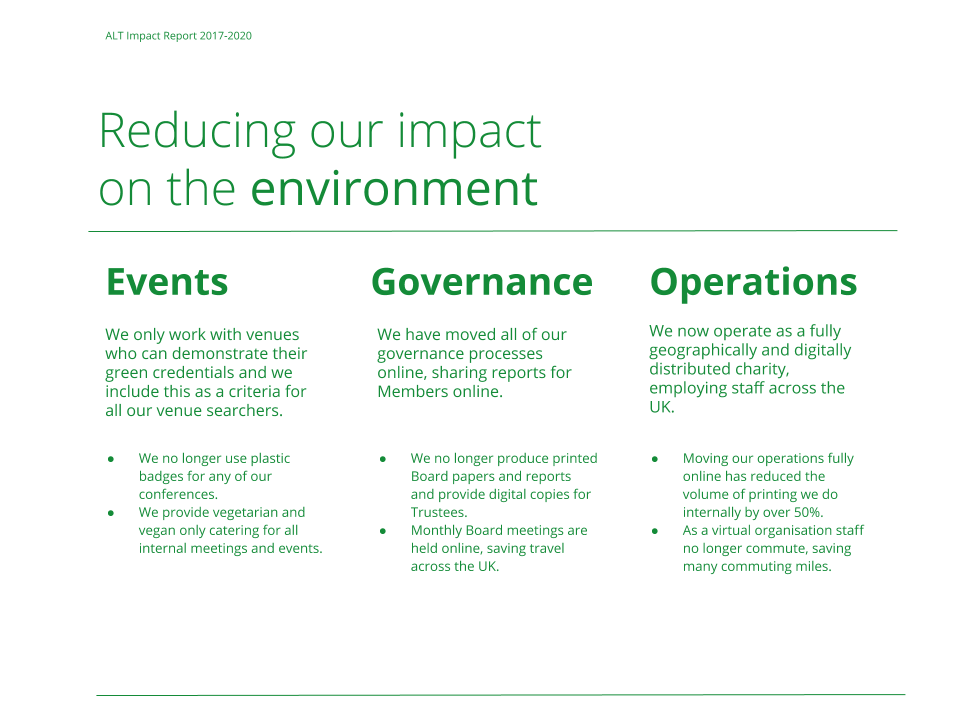 We are also reflecting on some significant milestones that relate directly to our strategic aims and values.  In terms of our strategic aim to increase the impact of learning technology for public benefit, our core value of openness is reflected in across a range of activities that promote and share the work of our members. This has included:  taking full control of our journal, Research in Learning Technology and publishing 79 open access journals, contributing to national and international policy developments around copyright and open policy, as well as integrating Open Education week into our calendar of events and the development of the OER conference. 
In terms of our aim around providing stronger recognition of and representation for Learning Technology professionals at a national level, our CMALT professional recognition and is now mapped to the Jisc Digital Capabilities Framework and the Blended Learning Essentials curriculum, which is of growing significance to the FE sector.  We have also been invited to contribute to a growing number of national and international policy developments.  
In relation to our third strategic aim around leading the professionalisation of research and practice in Learning Technology, our CMALT scheme continues to grow and now has 2 new levels  (Associate and Senior). Our various communication channels provide regular news including job and event listings, and our events and webinars provide increased opportunities for our members to showcase their practice and research. 
Our current strategy has provided the foundation for the Association to mature into a fully independent, distributed organisation that can respond to the needs of our community as well as provide a trusted, informed, independent voice for the learning technology profession at national level.  
As a reminder of where we are in the overall consultation process, here is an overview: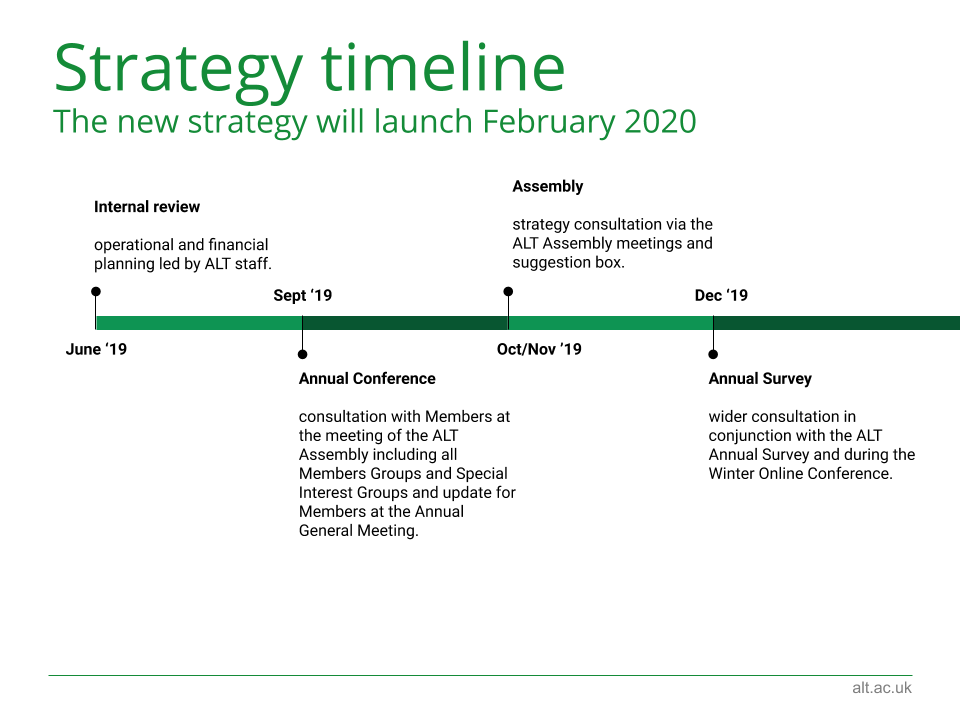 As we mentioned, next strategy consultation sessions are on 3 October and 5 November at 12.30 as part of the  Assembly meetings and everyone is welcome to join these sessions. 
We look forward to hearing your thoughts and ideas for what's in store for ALT 2020-25.
Sheila MacNeill and Maren Deepwell
Topic: