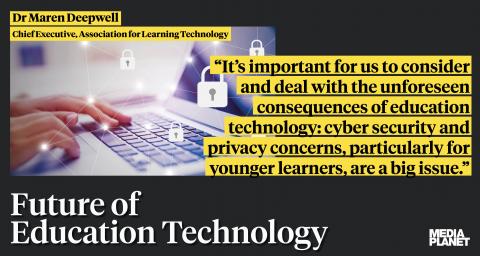 We recently worked with Business and Industry on the 2021 Future of EdTech campaign. A printed publication was enclosed within every copy of the Guardian newspaper and the content is available online.
The campaign featured exclusive content from key thought leaders and industry voices about the current state of education technology, including ALT's Chief Executive, Dr Maren Deepwell. 
The past year has seen use of learning technology on an unprecedented scale across all sectors. Now we must address the challenges that have arisen from it.

Technology has been a hugely positive tool for us in these difficult times. Learners of all ages have been making use of technology to continue to be able to access education.

That said, it's certainly not without its difficulties. It's important for us to consider and deal with the unforeseen consequences of education technology: cyber security and privacy concerns, particularly for younger learners, are a big issue.

Students all over the world have been expressing concerns regarding tools like proctoring software and surveillance, like techniques used to track learning and engagement.

Edtech ethics are growing in importance
Our members have identified a gap between institutional ethical policies and efforts developers and providers are making – calling for an overarching ethical framework that can be used by individuals, institutions and providers.

Ethical codes for the use of learning analytics were established years ago, however, ALT's professional accreditation framework was expanded to include ethical considerations for professional practice and research last year. There is, as yet, no solution for practitioners and professionals for scaling up the use of learning technology.
Topic: