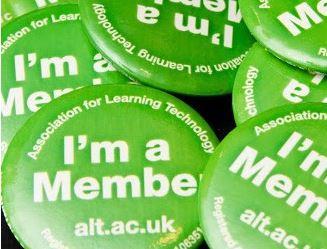 The Association has submitted evidence to the Department for Business, Innovation and Skills in response to a consultation on Fulfilling our Potential: Teaching Excellence, Social Mobility and Student Choice.
The consultation on higher education entitled Fulfilling our Potential: Teaching Excellence, Social Mobility and Student Choice sets out a broad range of proposals to reshape the higher education landscape to have students at its heart.  Its core aims are to raise teaching standards, provide greater focus on graduate employability, widen participation in higher education, and open up the sector to new high-quality entrants.
For full information visit the inquiry webpage. 
You can now access ALT's response in full here and read the Executive Summary below:
Executive summary
ALT is making this submission as a membership body, representing as members over 1750 individuals and 180 organisations, including universities, colleges, government departments, agencies, and software, hardware, and e-learning businesses from across the UK;

Our response is focused on questions that are directly related to ALT's remit as a professional body for Learning Technology and its role in Higher Education, but we note that the wider issues discussed here are likely to have a big impact on many of our members;

For the Teaching Excellence Framework we recommend that thinking around excellence take into account the central role of Learning Technology for learning, teaching, assessment and, increasingly, employment. While we appreciate the need for any standards of excellence to provide flexibility, we feel that in today's conditions it should be a minimum requirement to have considered Learning Technology as a dimension of any practice. This would strengthen the ambition set out and help ensure that all future frameworks are appropriately future-proof;

In common with other professional bodies such as the National Association of Teaching Fellows, we welcome the aim to recognise excellence in teaching and the value of professionalism. In relation to Learning Technology in particular, recognition for professional practice in teaching and assessment is not as strong as we would like to see, and one of ALT's key strategic aims is to further professional recognition and reward. In regard to evidence and how to measure teaching excellence we would like to see the inclusion of professional accreditation schemes such as CMALT;

Within our membership, as in other communities, there is a consistent concern that the metric-based approach proposed will not be appropriate to measure all aspects of teaching excellence, and in relation to use of technology in particular there is great variance in reporting and usage. Our Annual Survey helps underline the broad spectrum of implementation and practice;

If a single regulatory framework were to be introduced we would strongly recommend that acknowledgement of the role of Learning Technology in delivering high quality student experience and outcomes be included in its quality assurance;

We suggest that in order to fulfill its proposed duties the Office for Students would also need to have effective relationships with professional and scholarly bodies across subject areas and include these in its governance. Professional bodies could provide a cost-effective and efficient way for such a body to establish itself quickly and support its aims.
You can view other ALT's consultation responses here. 
Topic: