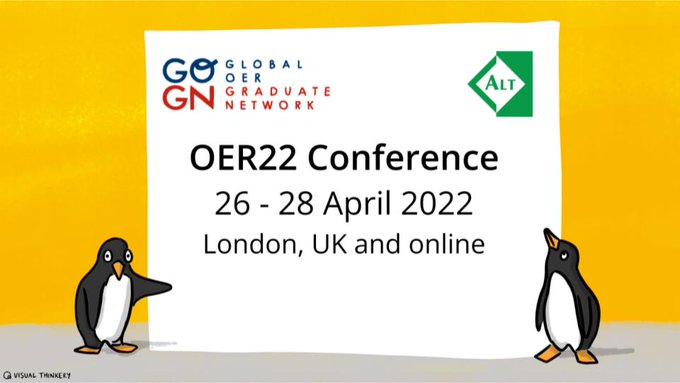 We are proud to announce that the next OER Conference, ALT's annual conference for Open Education research, practice and policy, will be co-chaired by the Global OER Graduate Network. 
The Global OER Graduate Network (GO-GN) is a network of PhD and EdD candidates around the world whose research projects include a focus on open education (i.e. OER, OEP, MOOC). These doctoral researchers are at the core of the network; around them, over two hundred experts, supervisors, mentors and interested parties connect to form a community of practice.
GO-GN aims to raise the profile of research into open education and offers support for its members and alumni. The network also promotes equity and inclusion in the field of open education research and aims to develop openness as process of research. 
The GO-GN team leading on this collaboration are: Rob Farrow, Francisco (Paco) Iniesto, Kylie Matthews, Beck Pitt and Martin Weller.
OER22 will be the first hybrid edition of this much-loved event, taking place over three days, 26-28 April 2022. The first day of the event will take place in London, UK, and the second and third day of the event will take place online.
Register for the conference
Register to attend in person and online, or online only from just £99.00 for members. Find out more
Meet the OER22 Committee
The OER Conference Committee plays a vital role and our volunteers contribute their time and expertise including undertaking peer review, chairing sessions and organising local and social activities during the conference. The Committee meets every month and is chaired by the Conference Co-Chairs.
Call for Proposals
The call for proposals is now closed.
Explore resources from previous OER Conferences
More information about previous OER conferences is available from the conference platforms: