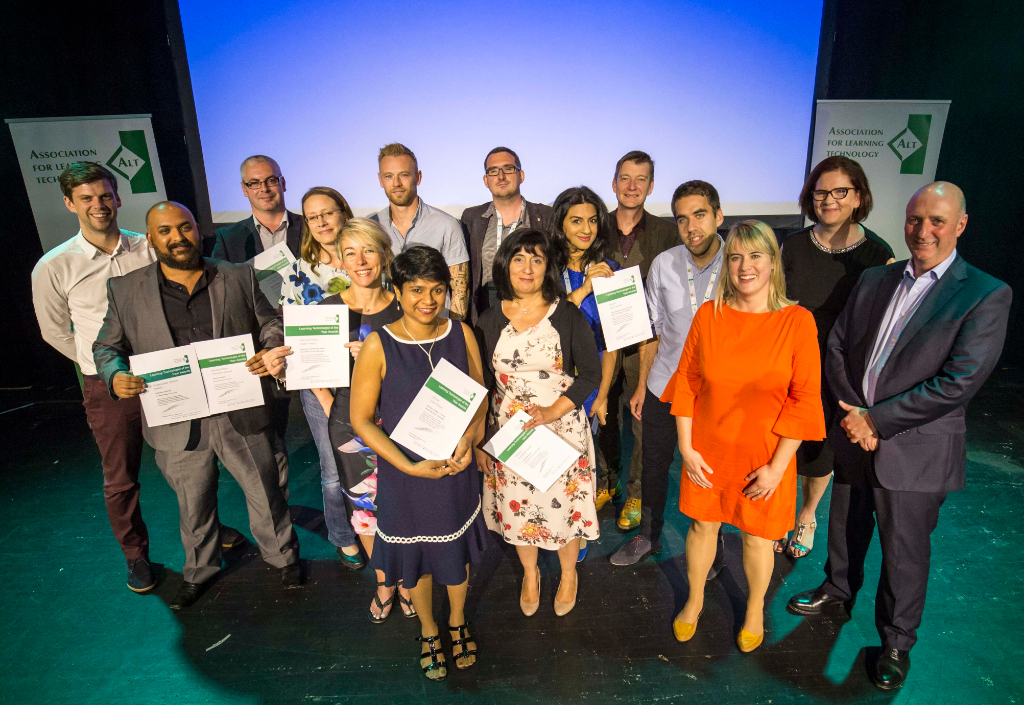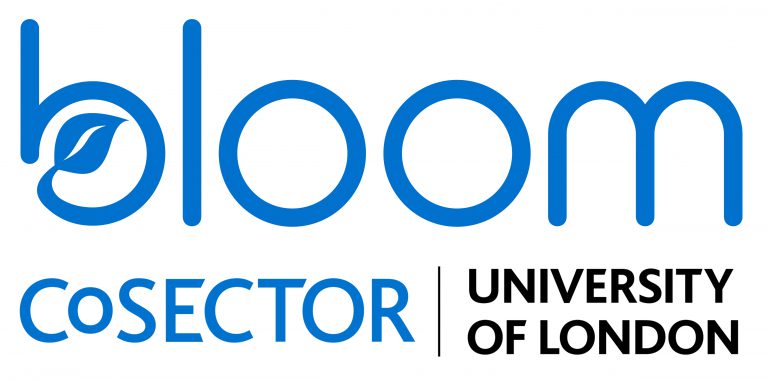 Established in 2007, the ALT Learning Technologist of the Year Awards celebrate and reward excellent practice and outstanding achievement in the learning technology field, and aim to promote intelligent use of Learning Technology on a national scale. The Awards are open to individuals and teams based anywhere in the world. The 2017 Awards were sponsored by Bloom – CoSector, University of London.
Selected by a panel of judges from across sectors chaired by Fiona Harvey, President of ALT and Education Development Manager for the University of Southampton, the finalists compete to be awarded one of the prestigious Learning Technologist of the Year Awards. The Awards were presented by James Silcock, from Bloom - CoSector, and the Conference Co-Chairs Helen O'Sullivan and Pete Alston.
This year's winners are Chrissi Nerantzi from Manchester Metropolitan University, winner of the Individual Award, and the Monash College - Central eLearning Team, Australia, and Technology Enhanced Learning Team, University of Sheffield who are joint winners of the Team Award.
Chrissi Nerantzi said about winning the Award, 'I am over the moon to have been selected by this year's ALT judging panel as the winner of the individual Learning Technologist Award of the Year 2017.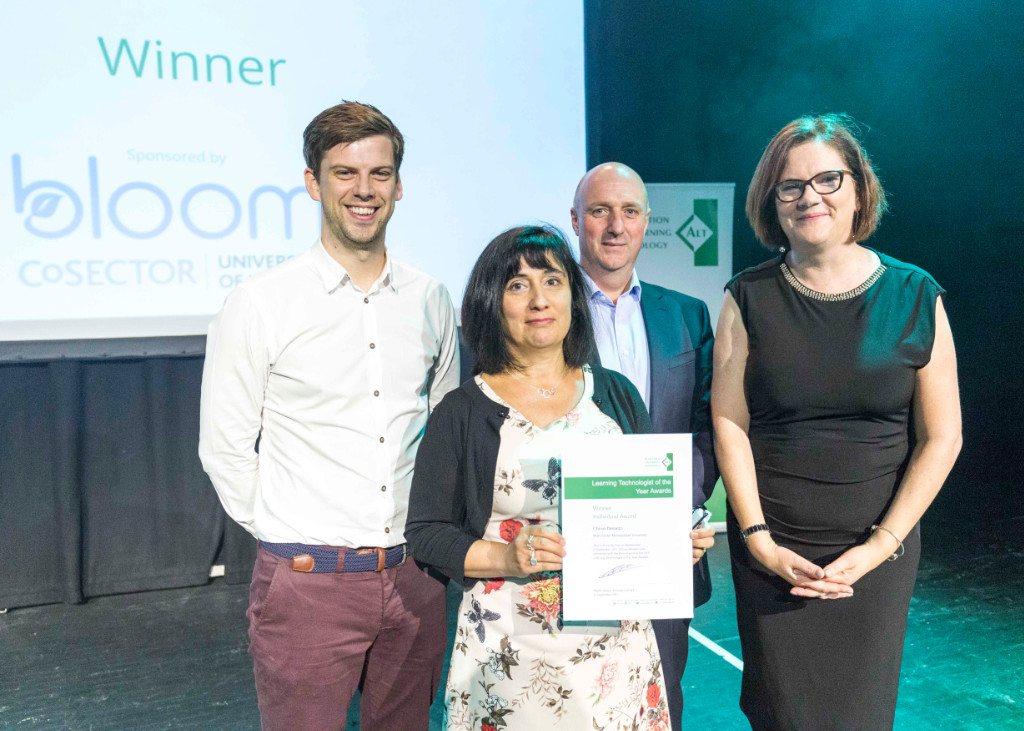 'This award signals a real milestone in my career as an academic developer. I have been working and experimenting with creative, digital and open pedagogical practices across boundaries to create stimulating development opportunities around  learning and teaching for all of us. These are based on collaboration, valuing diverse voices and practices, and create and nurture professional communities of trust. I am looking with real excitement into the future, continuing to work with colleagues in my own institution as well as further afield, supporting ALT and other professional communities and networks.
'Thank you all and especially Dr Cristina Costa, ALT Learning Technologist Award Winner 2010, who encouraged me to apply.'
Ashwin Mehta, who won the second place and also the Community Choice Award, commented, 'It was an honour for my work to be acknowledged by the prestigious ALT panel and wider ALT community by receiving two awards at this year's conference. I have spent the last five years developing Learning Technology ecosystems that support medical research in sub-Saharan Africa. I am privileged that the esteemed Learning Technology community recognised the impact of my work as comparable to best practices in the field.'
Richard Beggs, who was awarded third place, said, 'I felt honoured and privileged to be a shortlisted finalist for the Learning Technologist of the Year awards 2017 and to be representing Ulster University. I was even more delighted when I received third place on the night.
'Leading up to the ALT conference I was overwhelmed by the kind words I received from my peers internally from across the Island of Ireland, UK and further afield for being shortlisted. I was also flabbergasted by the support I received for the Community Choice Award and would like to take this opportunity to thank everyone who voted, not just for me, but for all the finalists. On a personal note, I have recently been appointed Curriculum Design Consultant within Ulster University and I have no doubt that being shortlisted for the Learning Technologist of the Year contributed to this.
'Being a shortlisted finalist has helped raise the profile and awareness of ALT locally which hopefully the ALTNI members group can build upon going forward this year. Over the last number of years, I have benefited professionally from being a member of ALT and would encourage anyone who works in Learning Technology to consider joining ALT - it will open up opportunities for you, enhance your practice and increase your professional network.'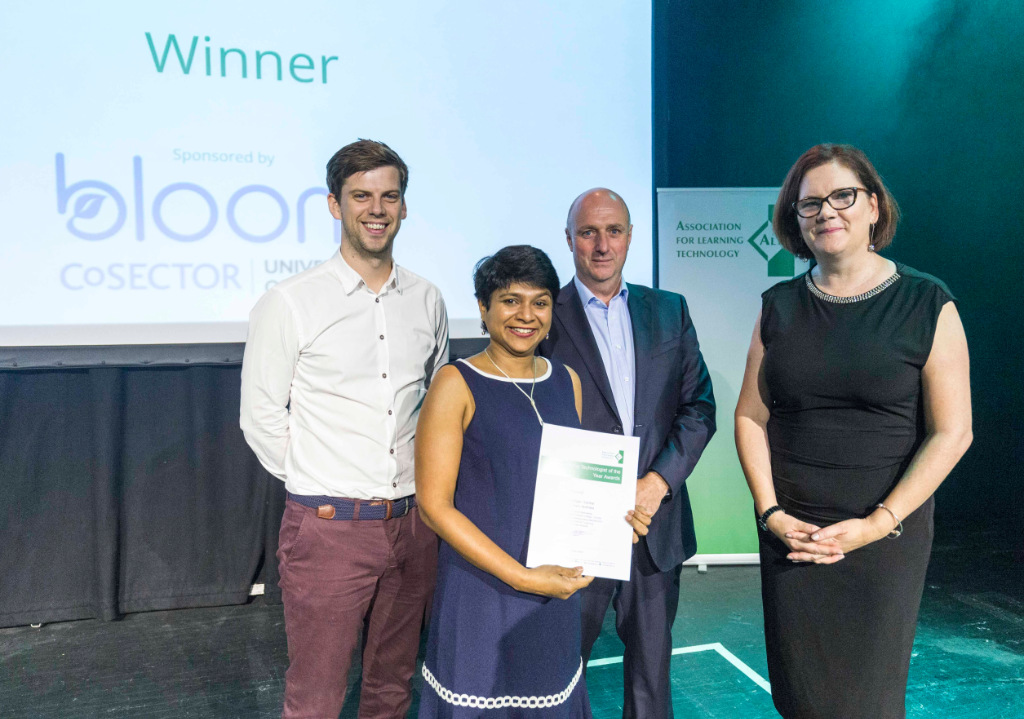 Kulari Lokuge, Associate Director, eLearning, who came all the way from Australia to represent Monash College and receive the winning Team Award, said, 'The Award recognises the hard work that the Central eLearning Team does with the support of everyone else at the college. I take this great opportunity to thank teaching staff, central services teams, senior leadership team, and the board of directors.
'This is a truly Monash College team award. If it were not for the support of the Senior Leadership Team, all our teaching teams, central services teams as well as the Board, there would be no CeLT and we would not have the resources to do the work we do.'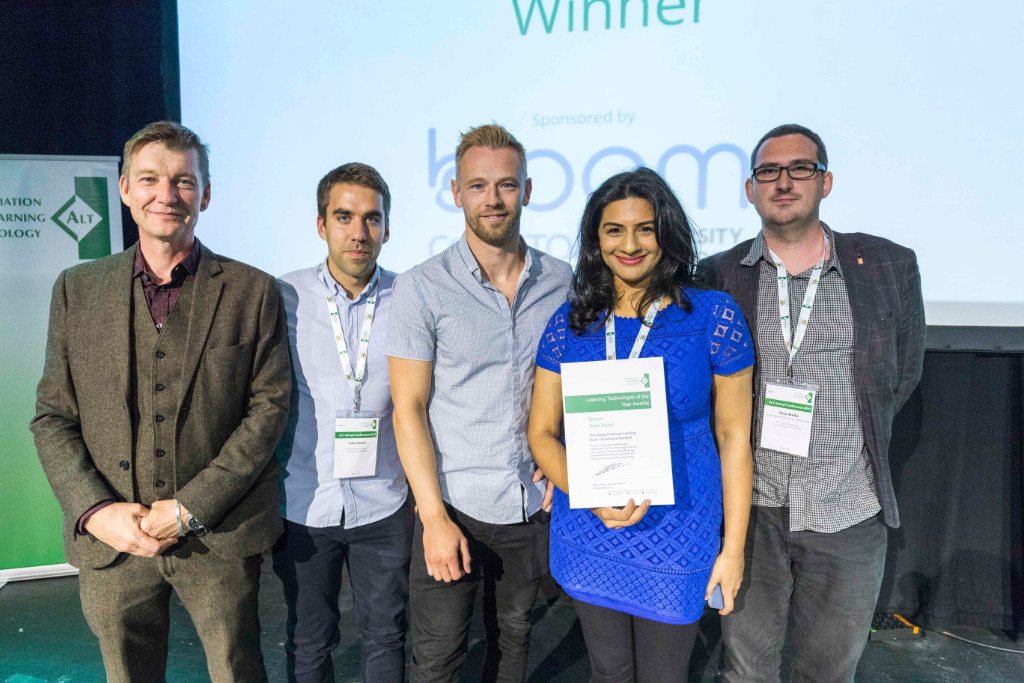 The University of Sheffield's TEL team is a relatively new team. They said, 'We are honoured to have received this prestigious award in recognition of the community of practice that we have been instrumental in developing at TUoS. We have challenged ourselves to develop new and inclusive ways of engaging with all staff and our students, at the university, and this award reflects both our success in this as well as the ongoing hard work and enthusiasm of our academic colleagues.' 
Rob Howe, Head of Learning Technology at the Learning Technology Team, University of Northampton, who won second place in the Team Award, said, 'This award recognised the incredible work and progress made by the team over the past few years and the contribution which they have made to the environment within Northampton in addition to advancing the Learning Technology field more generally.'
Simon Kear, Head of TEL, Tavistock and Portman NHS Foundation Trust, said, 'Being shortlisted and then receiving a highly commended from the judging panel has been a tremendous fillip for our relatively new TEL team, the further development of Learning Technologies and for the Trust generally. It's tremendously important to us that our work has been recognised by our peers. And we were in illustrious company on the shortlist. While the NHS and higher and further education have a long and rich history of collaboration, this isn't really the case with TEL, although recent progress has been promising. We hope this award will raise the profile of both TEL and ALT within the NHS as there is much knowledge and experience that can be utilised.' 
You can read blog posts by some of the finalists:
We celebrate the achievements of all the finalists, who are each outstanding Learning Technologists. They are:
Individual Awards
Third place:

Richard Beggs, Ulster University

Second Place:

Ashwin Mehta, Medical Research Council

Winner:

Chrissi Nerantzi from Manchester Metropolitan University
Team Awards
Highly commended entries:

Tavistock & Portman TEL Unit

Second place:

Learning Technology Team, University of Northampton

Joint Winners:

Monash College - Central eLearning Team, Australia
Technology Enhanced Learning Team, University of Sheffield
Community Choice Award
Community Choice Award, determined through an open voting process, was awarded to Ashwin Mehta.
The Awards were judged by a panel chaired by Fiona Harvey, President of ALT and Education Development Manager for the University of Southampton. The panel consisted of the following:
Darren Moon, Senior Learning Technologist, London School of Economics and Political Science, representing the Team Winner 2016

Daniel Scott, Digital Learning Specialist and Individual Winner 2016

Lorna Campbell, Trustee of ALT and OER Liaison – Open Scotland, LTW, University of Edinburgh

Lynne Downey, Dean, Online Education, University College of Estate Management

Josie Fraser, OER17 Co-Chair and Trustee of Wikimedia UK.
The 2017 Awards were sponsored by Bloom – CoSector, University of London. Bloom VLE, developed and supported by the software services team at CoSector – University of London (formally ULCC), has been offering customers Moodle & Mahara hosting and support solutions since 2006. We continually invest in research and development to better understand our customers and users, we then offer flexible cost-effective solutions to meet those needs. As part of the University of London we are able to leverage our knowledge and expertise to support learning technologists in their aims to provide the best student experience.
Notes for Editors
ALT (the Association for Learning Technology) is a professional and scholarly association which brings together those with an interest in the use of learning technology. As the UK's leading membership organisation in the Learning Technology field, we work to improve practice, promote research, and influence policy.

You can explore what we do via our strategy slides, download the full text in PDF or Google docs. Visual content is available on Flickr.

We have 2,500 Members across education sectors in the UK and internationally.

If you are writing about, blogging or sharing images and videos about the Annual Conference using tools that support tagging, please use the tag #altc.

For information about the Learning Technologist of the Year Awards go to https://altc.alt.ac.uk/2017/awards/ and use #altc on social media.

Our Sponsors are listed at https://altc.alt.ac.uk/2017/our-sponsors/.

More information about the conference: https://altc.alt.ac.uk/2017/.

Association for Learning Technology, Gipsy Lane, Headington, Oxford, OX3 0BP Tel: +44 (0)1865 484 125 URL: http://www.alt.ac.uk/

ALT is a Registered Charity in the UK, number: 1160039