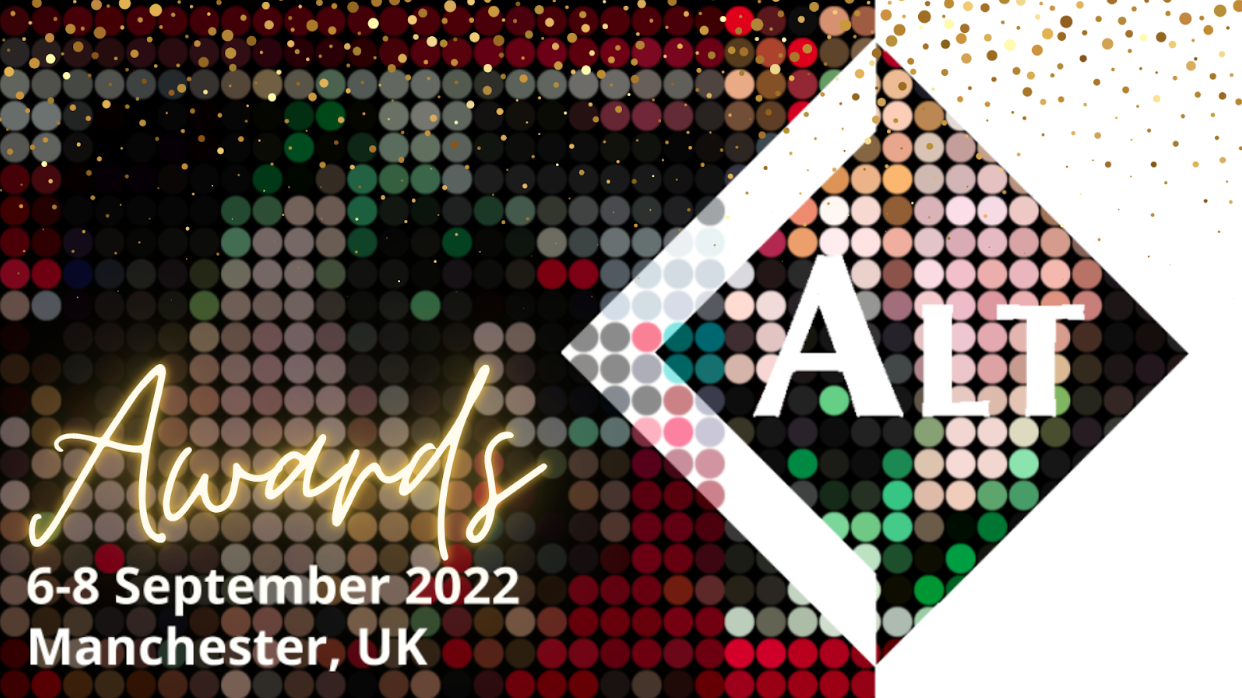 The ALT Awards celebrate and reward excellent research and practice and outstanding achievement in Learning Technology. Now in their 15th year, the Awards have set a benchmark for outstanding achievement in Learning Technology on a national scale and attract competitive entries from the UK and internationally. All entries are reviewed by an independent judging panel chaired by the President of ALT.  This year's Awards Ceremony took place as part of the ALT Annual Conference in Manchester, on 6 September 2022, with 5 new categories introduced. You can have a detailed look at our award winners and watch their showcase videos over on our Awards Showcase page. 
"The ALT awards are a celebration of the amazing work being undertaken in Digital Education by individuals, teams and institutions. This year have launched three new awards which reflect the increasing importance of digital technology and practices in the learning journey. In partnership with Jisc, we have the Digital Transformation award for projects which have significant impact and reach across complex organisations. The Ethical Edtech award celebrates sustainable developments which choose care and human-centredness over solutionism. The final new award is in Digital Leadership, this recognises the work of those who are at the forefront of planning, strategy and culture change", David White, President of ALT and Chair of the Judging Panel for 2022.
Meet the Award winners for 2022:
Award for Individuals
Winner: Wayne Gibbons, Lecturer in Civil Engineering at Atlantic Technological University, Galway. Wayne has designed, implemented, and reviewed an open badge intervention to increase student motivation and engagement in engineering.
Highly Commended: Dave Ruckley, Learning Technologist at Swansea University Medical School. Dave has worked to introduce new and innovative methods of incorporating technology into teaching, including the development of fully interactive online versions of labs and experiments that students could use via a VLE, as well as developing the Diabetes Clinic@Home web app. 
Award for Teams/Institutions
Winner: The University of Glasgow Learning Innovation Support Unit who have harnessed the latest step and attitude change to online delivery by developing a range of offerings that academic and support staff can depend on to develop their skill set and approach-based knowledge.
Highly Commended: University of Falmouth Digital Learning Team, who have implemented new approaches, digital tools and re-imagining delivery. Their extensive project covered three areas; procurement and development of a learning environment customised for creative online learning. 
Award for Ethical EdTech
Winner: Sustainability Impact Assessment for Online Events, University of Falmouth. Digital Intern Caragh King, conducted a sustainability audit and impact assessment with Digital Events at Falmouth University and has created a process to evaluate digital events with an ethical focus.  
Award for Leadership
Winner: Anne-Marie Scott, Deputy Provost of Athabasca University, Canada.
Highly Commended: Louise Drumm, Digital Support Partnership Lead, Edinburgh Napier University.
Award for Digital Transformation 
Winner: The Minerva Upgrade Project, University of Leeds. Initiated in 2018 to upgrade the institution's Blackboard virtual learning environment (VLE), known as Minerva. Substantial improvements to service reliability, accessibility, functionality and security were delivered during this major internal transformation project.
The Award for Digital Transformation was awarded in partnership with Jisc. "The University of Leeds is a great example of how digital transformation can open up a new world of resources and routes into learning," says Heidi Fraser-Krauss, Jisc's CEO. "Jisc is proud to be helping the university realise its vision for improving learning, teaching and assessment through technology. Integrating digital transformation into the university's core strategy provides a solid base for building and maintaining that momentum for the future".
A big thank you to our judges
We give thanks to our 2022 judging panel, chaired by David White, President of ALT. The panel represented expertise from different sectors and countries, bringing together a wealth of experience in Learning Technology:
Award for Individuals
David White, Chair of ALT 
Phil Anthony, University of Kent
Award for Institutions or Teams
Mahreen Ferdous, UFi Trust
Andrew Beggan, University of Lincoln
Award for Digital Transformation in partnership with Jisc
Sarah Knight, Jisc
David Walker, Brighton University
Award for Case Studies of Ethical EdTech
David White, President of ALT
Kate Lindsay, University of Estate Management
Santanu Vasant, University of West London
Award for Leadership in Digital Education
Julie Voce, City, University of London
Dr. Teeroumanee Nadan
David Hopkins, Warwick Business School
Notes for Editors
ALT (the Association for Learning Technology) is a professional and scholarly association which brings together those with an interest in the use of learning technology. As the UK's leading membership organisation in the Learning Technology field, we work to improve practice, promote research, and influence policy.
You can explore what we do via our strategy slides, download the full text in PDF or Google docs. Visual content is available on Flickr.
We have over 3,500 Members across education sectors in the UK and internationally.
If you are writing about, blogging or sharing images and videos about the Awards using tools that support tagging, please use the tag #altc
Association for Learning Technology, Tel:  +44 (0)1865 819 009 URL: http://www.alt.ac.uk/
ALT is a Registered Charity in the UK, number: 1160039
Topic: