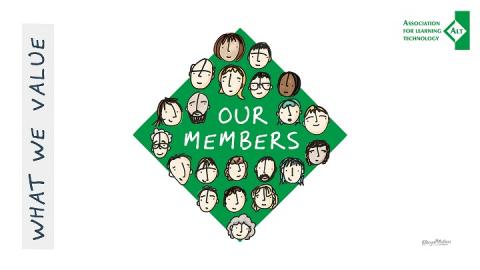 Voting to elect two new Trustees will open on 1 August 2017. The election will be carried out by the Electoral Reform Service. Eligible Members will receive voting instructions via email and any members eligible to vote twice, as individual members and representatives of member organisations, will receive two emails. Voting closes at 12:00 noon on Wednesday 30 August 2017. Members who hold Individual, Certified or Honorary Life Membership or represent organisational members will be eligible to vote. 
The ballot process will ratify the unopposed election of Nicola Whitton as the next Vice-Chair of ALT and will determine the election of two new Trustees, with Peter Bryant, Elizabeth Charles and John Couperthewaite standing for election. Each candidate's full election statement is available from the voting site. 
The Annual General Meeting will take place on 6 September 2017 at the University of Liverpool, UK. Members who are not attending the Annual Conference are encouraged to participate in the AGM either remotely or face to face. 
To find out more about being a Trustee of ALT, see http://go.alt.ac.uk/1jiG6eC and information about how ALT is governed is available via this website. 
Candidates and election statements
Candidate for Vice-Chair vacancy
Professor Nicola Whitton
Professor of Professional Learning 
Manchester Metropolitan University
I am standing for election as Vice-Chair of ALT because I want to actively contribute to the governance of an organisation that I have been part of for fifteen years, both as a member and trustee. I believe that ALT has a unique position as a membership organisation and continues to make a real difference to research, practice and policy in the field. My background as a learning technologist, lecturer, and researcher ideally positions me to relate to the needs of members in different roles and institutions. If elected, I will ensure that ALT maintains its reputation as a supportive environment for members new and old, and increases its engagement with practitioners across the sector. In an increasingly complex and uncertain higher education landscape, I am keen to ensure that learning technology is high on the agenda and that the issues that affect members are at the heart of activities.
Candidates for 2 Trustee vacancies
Peter Bryant
Head of Learning Technology and Innovation
London School of Economics and Political Science
I am Head of Learning Technology and Innovation at the London School of Economics.  I lead the team that was last year's Learning Technology Team of the Year.  For the last 25 years in Australia and UK, I have been leading the strategic use of learning technology as a Head of Department, educational developer, academic and researcher. For the last seven years, I have been leading change at an institutional level at the LSE and the University of Greenwich.  I am standing for election because learning technology is a critical juncture between potential and transformation.  ALT is a critical player in supporting its members to lead and participate in that change.  I want to be able to offer the experiences I have had at the intersection of teaching, learning and technology to ensure that our voice as an association continues to be a strong, supportive and proactive one.     
Elizabeth Charles
Assistant Director:  E-Services and Systems
Library Services, Birkbeck, University of London
My career background is in the higher education sector having worked in Library and Information for more than 15 years. My areas of interest are technology enhanced learning, digital/information literacy and widening access. All of which are ideally suited and employed in my current post as Assistant Director of Library Services at Birkbeck, University of London. One of my remits in my current post is to ensure that we adapt and adopt relevant systems and technologies to provide flexible access to our Library services and resources: from face to face teaching to running a webinar drop-in session for our users be they academic/professional services staff or students. I have been  involved with the Association for Learning Technology since 2013, when I first participated in the MOOC Open Course in Technology Enhanced Learning (ocTEL). In 2014 I was invited to be a critical friend as ocTEL was redesigned for a second iteration and did so by making suggestions and giving feedback; and when the course went live I was actively involved as a support tutor providing advice and responding to queries and posts in the various forums. I became a Certified Member of ALT (CMALT) in 2015, and have been actively promoting ALT to other learning technologists and those who use technology in their work; as well as to librarians and academics alike at CPD events. I am now also a CMALT assessor. My practice experience and involvement in TEL in my institution, working with academics and the Bloomsbury Learning Environment Consortium, will inform the contribution I make as a Trustee.
John Couperthwaite 
Solutions Engineer
Echo360 | EMEA
As an education professional for over 20 years, with experience of working in private and public organisations across the higher education sector, I believe I have much to contribute as Trustee for ALT. I have significant experience defining and leading digital strategies, managing digital technology teams, running consultancy projects, leading day-to-day services, and publishing research into the adoption of digital tools by staff and students. This experience has been gained through working as an educational technology manager in a world-leading HEI, The University of Birmingham, for 15 years, and more recently,  as an educational consultant with two international e-learning companies, PebblePad and Echo360. This extensive experience has given me valuable insights into sector-wide educational trends and the key challenges and opportunities for educational technological developments in HE. Becoming an ALT Trustee would allow me to continue my commitment for promoting the wide scale adoption of digital technologies in education, such as through the community networking schemes I have initiated in each of my professional roles, and also as co-lead the West Midlands regional ALT group, as a member of the Membership Development Committee, and as a dedicated CMALT holder and assessor.
Topic: