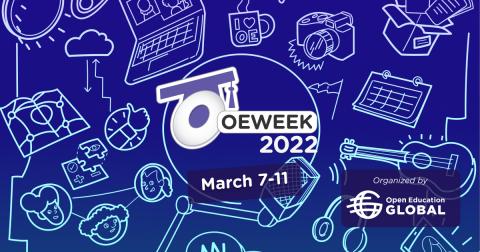 2022 marks the 10th year of Open Education Week.
Over the course of this week, 07 - 11 March, we come together with the global community to advocate for openness in education and to celebrate the success of the Open Education movement in improving access to and quality of education worldwide.
What is Open Education Week?
Open Education Week was launched in 2012 by Open Education Global as a collaborative, community-built open forum. Every year OE Week raises awareness and highlights innovative open education successes worldwide. OE Week provides practitioners, educators, and students with an opportunity to build a greater understanding of open educational practices and be inspired by the wonderful work being developed by the community around the world. 
ALT values openness 
ALT's 2020-25 Strategy sets out openness as one of the Association's core values. Openness informs our aim to 'increase the impact of Learning Technology for public benefit', and the Open Education movement, which seeks to capitalise on the opportunities afforded by digital technology and communication, is an important driver for the wider and more effective use of Learning Technology. In turn, the expertise of Learning Technology practitioners has a key role to play in enabling and promoting the widespread adoption of open educational resources (OER) and practices.
Throughout the year ALT provides many opportunities for open education including; 
Open Education Conference, 26-28 April 2022. The conference will put the spotlight on both the value and limitations of Open Education in a (post)pandemic world. This year's themes include; Pedagogy in a time of crisis, Open textbook, Open in Action, Open research and Wildcard proposals. ALT also offers fully funded scholarship opportunities for all of our events, to ensure open access for all. Find out more about our OER22 scholarship places. 
CPD Webinars - ALT has a number of CPD webinars coming up, which are free to attend and open to all. In the coming months, these will cover topics including supporting student partnerships, online collaborative learning and online social support for educators. Find out further information and register on our website. 

Open access resources including the #altc blog and RLT journal -  Research in Learning Technology aims to raise the profile of research in learning technology, encouraging research that informs good practice and contributes to the development of policy.  The #altc blog contains a wide range of posts and articles, including news, opinion pieces, project updates, case studies, and book reviews. 
Get social … Open Education Week is a global effort built on everyone's contributions. Follow #OEWeek on social media to get updates!  Learn more about Open Education Week. You can explore the packed programme at https://oeweek.oeglobal.org.
Topic: