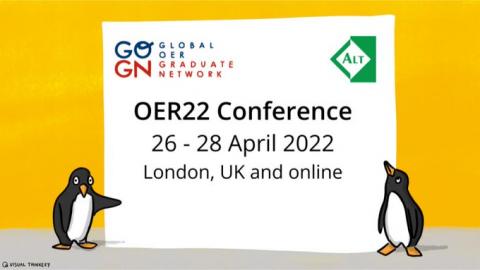 The Call for Proposals

deadline for the 13th annual conference for Open Education research, practice and policy OER22 is approaching on 10 February 2022. 
Submit your proposal

here
OER22 will be co-chaired by the Global OER Graduate Network. The Global OER Graduate Network (GO-GN) is a network of PhD and EdD candidates around the world whose research projects include a focus on open education (i.e. OER, OEP, MOOC). These doctoral researchers are at the core of the network; around them, over two hundred experts, supervisors, mentors and interested parties connect to form a community of practice.
The conference will put the spotlight on both the value and limitations of Open Education in a (post)pandemic world. 
We are particularly keen to hear from people who have an interest in the following indicative areas of practice:
Theme 1: Pedagogy in a time of crisis: what does an 'open' response look like? How has the word of open education changed since we last convened in person in 2019? What role do open approaches play in shaping a (post) pandemic pedagogy? 

Theme 2: Open textbooks: with the crisis for students and institutions deepening in the UK and across the globe, and renewed calls for new policies for open textbooks being issued, this theme is for research, practice and policy submission exploring their potential and impact;

Theme 3: Open in Action: exploring open teaching, educational practices and resources, we are looking for submissions that show openness in action in different contexts and from a range of perspectives. 

Theme 4: Open research; this theme focuses on the importance of open scholarship or research around any aspect of open education; 

Theme 5: Wildcard proposals that demonstrate fun and creative practice in relation to openness are very welcome. 
The submission system is open until 10 February 2022. (23:59 Anywhere on Earth time. Please read the full Call for Proposals which includes submission details before you make a submission. Submit your 500 word abstract via the EasyChair Submission system. 
Will there be a deadline extension? We have pushed the submission deadline to as late a date as possible whilst still ensuring a robust peer review process. Here are our deadlines for OER22: 
10 Feb 2022: Deadline for submissions. (All deadlines at 23:59 Anywhere on Earth time.)

7 March 2022: Deadline for the first round of reviews to be completed

8 March 2022: 1st round decisions to authors will be sent out

16 March 2022: Deadline for authors to revise or update their proposals

24 March 2022: Final 2nd round decisions to authors will be sent out
We will thus not be extending the deadline, and we advise all authors to make a submission by 10 February. In exceptional circumstances we will do our best to accommodate late submissions. 
Scholarship support for authors
The conference will be a paid for event and participants in need will be able to apply for free scholarship places.
 
Will you be joining us in person or online?
OER22 will be the first hybrid edition of this much-loved event, taking place over three days, 26-28 April 2022. The first day of the event will take place in London, UK, and the second and third day of the event will take place online.
During the submission process, we ask that you indicate whether you are making a submission for an in person, live online and recorded online session. We are planning to hold the conference in the following format:
 
| | | |
| --- | --- | --- |
| Day 1 | 26 April 2022 | In person in London, UK, with the sessions live streamed / recorded for online participants. |
| Day 2 | 27 April 2022 | Asynchronous Online programme, with recorded and community sessions |
| Day 3 | 28 April 2022 | Synchronous Online programme |
Learn more about OER22 and submit your abstract  by 10 Feb 2022.