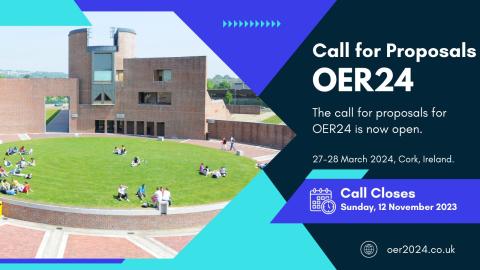 We're delighted to announce that we are now accepting proposals for OER24: Digital Transformation in Open Education, on 27-28 March, hosted by MTU in Cork.
>>> Submit your OER24 proposal now
Submissions are open until Sunday 12 November (midnight anywhere in the world) and we are particularly seeking proposals on the following conference themes:
Open Education Landscape and Transformation: This theme explores Open Education and its transformative potential, with a particular emphasis on key initiatives and developments in the Irish education and training context.
Equity and Inclusion in OER: This theme delves into the role of Open Educational Resources (OER) in serving marginalised groups and in promoting inclusivity, diversity and equity in open education.
Open Source and Scholarly Engagement: This theme focuses on the connection between Open Education, Open Data, the Open-Source movement, and digital scholarship/librarianship, showcasing the collaboration of researchers across these areas.
Ethical Dimensions of Generative AI and OER Creation: This theme highlights the ethical considerations surrounding the use of generative AI for content creation and its potential in making educational content more accessible.
Innovative Pedagogies and Creative Education: This theme explores the intersection of Open Education with instructional design and learning design, examining creative practices and innovative pedagogies that enhance the learning experience. 
Wildcard submissions: submissions that address the wider conference theme, covering practice, research or policy in open education.
Please read the full OER24 Call for Proposals which includes submission details before you make a submission. All submissions are to be made through the EasyChair system.
Topic: