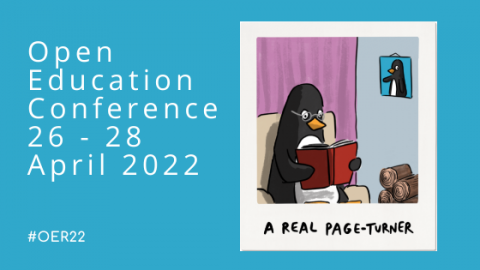 We are excited to share the draft programme for our first ever hybrid Open Education Conference. 
The OER22 programme takes place over three days, 26-28 April 2022. The first day of the event will take place in London, UK, and the second and third day of the event will take place online. 
Organised by the Association for Learning Technology and Co-Chaired by the Global OER Graduate Network. OER22 features over 80 sessions across the 3 days, including workshops, presentations and open spaces, highlighting both the value and limitations of Open Education in a (post) pandemic world. 
The programme showcases proposals submitted by the community looking at research, practice and policy within the following themes; 
Theme 1: Pedagogy in a time of crisis - what does an 'open' response look like? 

Theme 2: Open textbooks: making the most of their potential;

Theme 3: Open in Action: open teaching, educational practises and resources; 

Theme 4: Open research; scholarship or research around any aspect of open education; 

Theme 5: Wildcard proposals that demonstrate fun and creative practice in relation to openness are very welcome. 
*Please note that the conference programme is subject to changes,
This year we are convening three panel/plenary sessions as part of the OER22 programme, fostering discussion around key issues. Please note that the in person plenary and panel discussion will be recorded. 
Here's what's in store:
Opening Plenary Featuring Bryan Mathers

Open Text Book Discussion Panel  featuring Lorna Campbell and Jane Secker

Close of Conference Plenary 
Registration for the OER22 conference 26-28 April is still open! As part of our commitment to openness we are still accepting scholarship sponsors and applications. 
If you are delivering a session as part of the OER22 Conference, please take an opportunity to familiarise yourself with our Guidance for Presenters and get in touch with helpdesk@alt.ac.uk at your earliest opportunity should you have any questions or require assistance.
Topic: