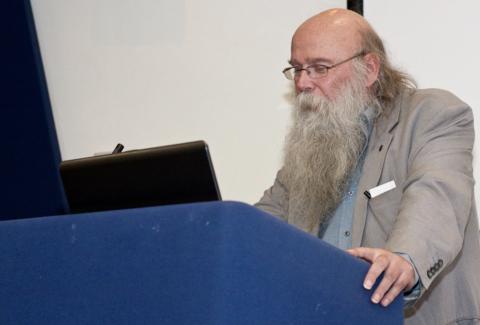 It is with the deepest of sadness that the ALT community learned of the untimely passing of Emeritus Professor Mark Stiles.
Mark was an early pioneer of learning technologies in the Vocational, Further and Higher Education sectors, indeed when appointed Professor of 'e Learning' by Staffordshire University he was one of the very first to carry such a title. He was a strong advocate for the potential technology for good and to improve learning and life chances for all.
Mark possessed great insight, working as he did on numerous innovative technology projects. For many years he was a JISC Committee member and advisor to the JISC e-learning progammes. For over a decade Mark was a very effective Chair of the Centre of Educational Technology and Interoperability Standards (CETIS) and represented the UK on the international IMS advisory board.
Anyone who ever met Mark would remember him, his booming voice, his most impressive beard, probing with his challenge and always respectful and so generous in encouraging and helping others to grow and develop their skills. He adhered, throughout his life, to his staunch socialist beliefs and was still an active, and extremely vocal, member of his local Labour party.
Mark was a kind and loving man with a very dry sense of humor and had recently moved back to his native South West to Torquay, looking forward to enjoying his well-earned retirement. Our community will be emptier without Mark his intellect and larger than life
character.
Our deepest sympathy and thoughts are with his partner Christine and sons Jack and Frank.
Professor Paul Hollins
University of Bolton
Topic: