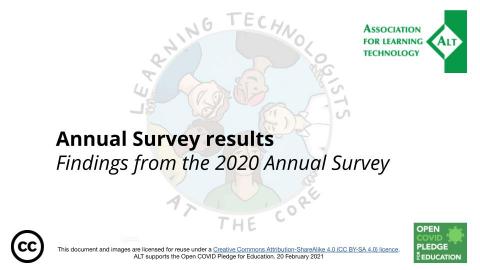 This year's Annual Survey was expanded to examine the impact of the pandemic on the Learning Technology Landscape. 
What were learning technologists' experiences of 2020?
With insights from ALT's annual survey, Maren Deepwell and Helen O'Sullivan make sense of the changing status of learning technology through the pandemic on WonkHE. 
Explore the findings
Below you can download a summary of key findings for each survey section: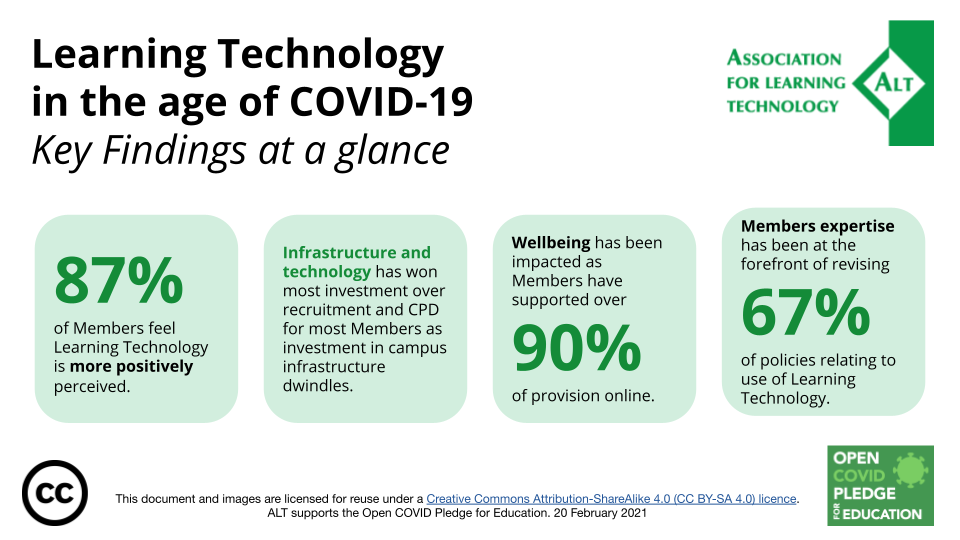 Download Learning Technology in the age of COVID-19
Key Findings at a glance
Download  Trends in Learning Technology
Key Findings at a glance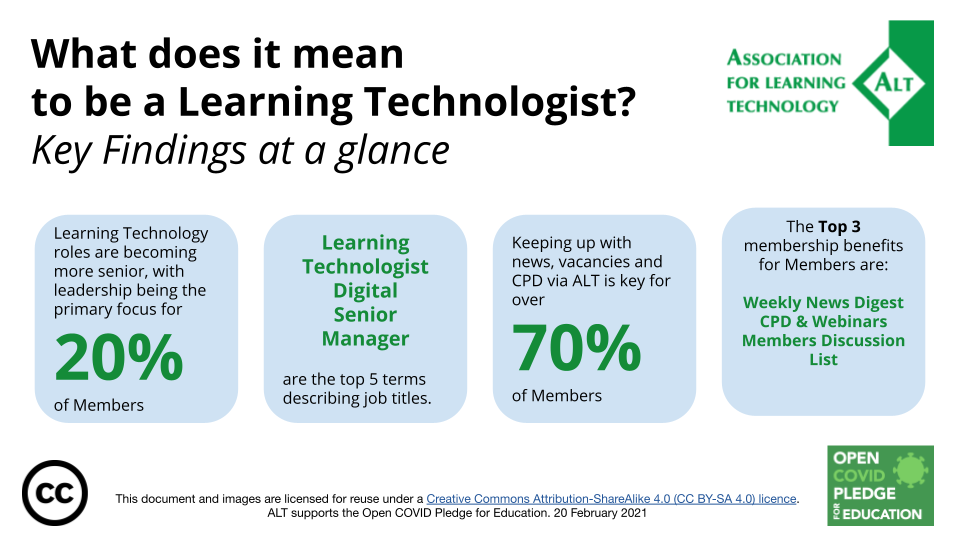 Download What does it mean to be a Learning Technologist?
Key Findings at a glance
About ALT's  Annual Survey
ALT's Annual Survey has now been run since 2014 with a number of the core questions remaining unchanged providing a unique insight into how Learning Technology is used across sectors as well as identifying emerging trends in current and future practice.
The survey has always provided an important insight into how professional practice within the field of Learning Technology is developing. Given the exceptional circumstances under which our Members have been working in response to the COVID pandemic, we are using this year's survey to capture how the sector has adapted and also help inform ALT's priorities to support our community in 2021/22.
Results of the survey are openly published each year in spring. Both the ALT Annual Survey and anonymised survey responses are shared openly in the ALT Repository. You can also read news items and other pages related to the Annual Survey.
The purpose of the survey is to engage with ALT members to:
Help map the ALT strategy to professional practice to better meet the needs of and represent our members
Show how Learning Technology is used across sectors
Understand current and future practice.
What happens to the data we collect?
All data submitted via this survey is analysed and shared openly as part of the Open Covid Pledge for Education in anonymised form and handled in accordance with the ALT Privacy Policy. Results of the survey are openly published each year in spring. The survey forms the basis of important strategic insights for Members, and this past year we have expanded reporting from the survey to include a new gender perspective on professional practice in Learning Technology. Both the ALT Annual Survey and anonymised survey responses are shared openly in the ALT Repository. 
Topic: