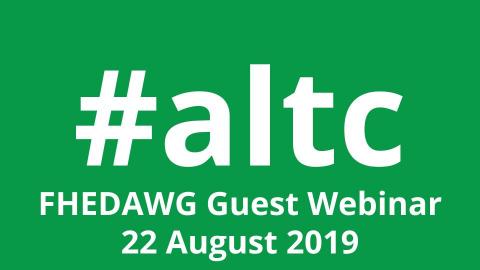 Our webinar series, in collaboration with the Further Higher Education Digital Accessbility Working Group (FHEDAWG), continued on Thursay with a special guest webinar. Greg Gay, IT Accessibility Specialist at Ryerson University, hosted 'Digital Accessbility as a right', a project he shared from the Creative Commons Global Summit.
Digital Accessibility as a right - FHEDAWG guest webinar with Greg Gay
Barriers in digital information can prevent people with disabilities from participating as full members of society. It's surprising that digital accessibility practices are still rarely taught as part of formal education. Digital accessibility is integral to enabling all learners in today's information society. Teaching digital accessibility as part of college and university curriculum is important.
    
To fill the gap, Ryerson University has created five practical online courses and corresponding interactive, modular, and open textbooks aimed at raising awareness of digital accessibility globally. Greg's webinar explores this in detail.
You can view a recording of the session and also download the slides. There are also a number of resources available, relevant to the session:
If you have missed any of the first two instalments in our series of webinars in conjunction with FHEDAWG, a brief summary and the recordings and slides can be found here:
FHEDAWG webinar: find out more about the Web Content Accessibility Guidelines (WCAG)
On 23 September 2018, the government brought the EU Web Accessibility Directive into law with a statutory instrument. Policy Connect and the All-Party Parliamentary Group for Assistive Technology produced to report to shape the implementation of the regulations to promote inclusive teaching in FE and HE. Since the report's publication Robert and his team have continued to engage with the Cabinet Office, the Office for Students and Department for Education, and we are beginning to see some of the recommendations adopted. The FE and HE sectors have also responded to the recommendations in the report, by forming a Digital Accessibility Working Group, of which Robert is a co-chair. This webinar explores what the new regulations and implementation efforts mean for universities and disabled students.
You can view a recording of the session and also download the slides from this session (.pptx). 
 
Inclusivity by design in Virtual Learning Environments
In this webinar Ben Watson and Daniel Clark of the University of Kent present a discussion accessibility and inclusivity in relation to the Web Content Accessibility Guidelines (WCAG) and Virtual Learning Environments. The session will give a brief overview of the regulations and the opportunities they present to embed inclusivity by design in virtual learning environments, and discuss some of the initiatives being explored at Kent (for instance setting up a specific working group, Blackboard Ally, web auditing, collaborating with GDS to create accessibility statements and partnerships with local authorities). The presenters would also like to seek feedback from participants about good practice in their own institutions, and hope this will present a good opportunity for colleagues to discuss the collective challenges we face as a sector and identify opportunities to share good practice and collaborate beyond institutional barriers to help all of our students.
You can view a recording of the session and also download the slides from this session (.pptx).