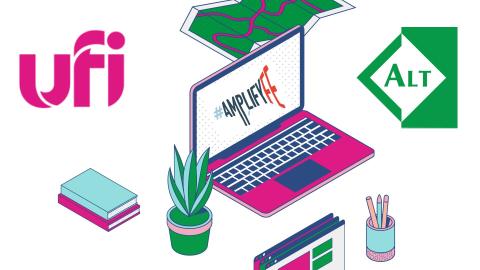 Explore the AmplifyFE Insights Report 2022. This research presents the findings of a 6-month investigation stemming from our strategic partnership between ALT and the Ufi VocTech Trust and builds on Ufi's 2021 White Paper 'Levelling Up Learning', that sets out actions that can be taken to  help improve opportunities for those most impacted by the digital divide to get the skills they need for work. 
Our partnership with ALT is invested in helping vocational educators to discover, share and discuss the resources, training and support they need to best use digital tools in their practice.  We are thrilled to be able to support this important report for the sector, as it helps to build a practical understanding of what needs to happen to develop and deploy inclusive learning technology for adults who are furthest away from learning,

Louise Rowland, Ufi Deputy CEO
The research examines 'what works?' and what barriers, challenges and needs still exist regarding the building of vocational skills using digital tools. It draws on expertise from many established and impactful projects including work from Ufi, Jisc, DfE and the Education and Training Foundation (ETF) as well as community innovation projects. We highlight programmes which focus on specific vocational skills (such as VocTech programmes building expertise for construction and health and care), projects developing essential soft skills for the workplace, and initiatives building the digital skills and pedagogies of vocational educators working with post-compulsory learners.
We were excited to preview the findings of this research at ALT's Annual Conference in September. Our work across sectors and our efforts to foster knowledge sharing across our communities is making real progress thanks to our partnership with Ufi VocTech Trust, enabling us to support practitioners, policy makers and leaders.

Dr Maren Deepwell, ALT's Chief Executive
Now that the full findings have been published, we invite you to explore how vocational educators and digital design project teams can collaborate and co-create effective learning solutions working with vocational learners to help narrow the 'digital divide' for those most in need of workplace skills development.
Join us at the Week of VocTech
Join practitioners from across the vocational learning and tech community for an afternoon of online learning, discussion and debate. As well as a look at some of the fantastic work of the organisations we support, the event will provide an opportunity to engage with sector leaders and future thinkers through interaction and discussion. The event will also include the announcement of Ufi's grant funding calls for 2023.
What works in VocTech for those most impacted by the digital divide?
Findings from ALT's research into overcoming barriers to confidence and engaging vocational learners.
Breakout A will be led by Lynne Taylerson who conducted ALT's recent sixth-month action research project on behalf of Ufi strategic partner ALT (Association for Learning Technology). Supported by several of Ufi's projects, this session will explore the insights that have emerged for how we can all better support learners to engage with digital learning and remain motivated to build their skills. Lynne will share an overview of the research and lead discussions into some of the key findings on how to develop and deploy learning technology successfully; helping learners open doors, create growth spaces and have a clear purpose in their learning.
Topic: