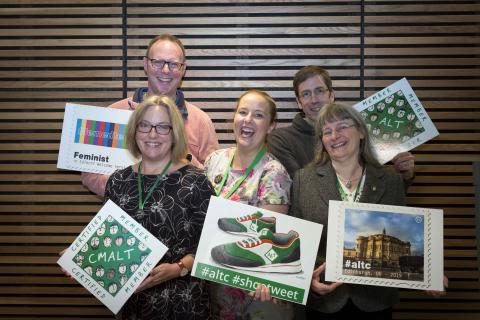 ALT are pleased to announce dates for our upcoming CMALT workshops. 
We recommended our 'Getting Started Webinar' if you are interested in learning more about CMALT and the pathways available. While we recommend attending our 'Accelerator Workshop', for anyone registered for CMALT who is keen to complete their portfolio quicker, or candidates looking for more support or to revise a referred portfolio. 
If you are not already on a CMALT pathway you can find out more information here, including details on how to register for the accreditation process.
Getting Started Webinar - 26 May
This FREE webinar provides an overview of the CMALT Accreditation Framework and will be useful for those either just starting to prepare their portfolio or those thinking of registering as a CMALT portfolio.
26 May 2022 12:30 PM - 1:30 PM Register
 
Accelerator Workshop - 22 June
This 1-day standalone workshop is designed to help CMALT candidates fast-track work on their portfolio in order to submit it to peer review. The workshop will provide tailored support for individuals as well as peer support in a group of CMALT candidates all working towards CMALT accreditation. Candidates can register for this workshop for £149. 
When you register for the workshop, you will be asked to complete a short profile including what accreditation pathway you are on (CMALT, Senior or Associate), which sections of the portfolio you would like specific help with and how far you have progressed overall. 
In the week before the workshop, you will receive pre-workshop activities to complete to start progressing your portfolio. 
The workshop day has both live sessions and asynchronous activities scheduled from 9.30am to 4.30pm and concludes with a social networking opportunity with other candidates. The first half of the day will be focused on strategies for writing specific portfolio sections, including practical examples from accredited portfolios. The afternoon session will provide time for individual support and a peer review exercise. 
Following on from the workshop day, you will receive the workshop materials to support you as you complete your portfolio. 
22 Jun 2022 9:15 AM - 4:00 PM Register
Topic: