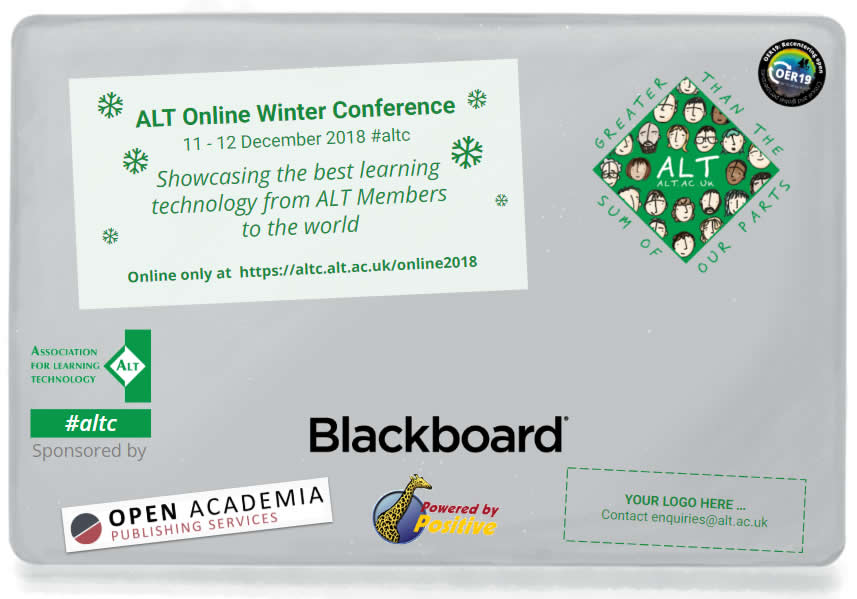 The conference, taking place 11-12 December 2018, is a unique event that celebrates the best work in learning technology from ALT Members across sectors, and allows them to share their expertise with learning technology professionals from across the globe.
This year's conference, which will involve ~400 delegates, has a number of ways to get involved and allow our supporters to reach an international audience.
Conference Sponsor £500
Identify yourself as a key supporter of the Online Winter Conference and the ALT community by becoming a sponsor. Benefit from:
prominent identification as a sponsor in promotional (digital) materials and correspondence during the run-up to and throughout the online conference

your details, including your logo, on the conference platform

a listing in the weekly ALT News Digest (incl. logo) in the week before the conference

access to registration list
Direct e-shot £300
An opportunity to contact the conference participants directly. Speak to an audience that is engaging with our online community and therefore a target audience. We will send out your chosen email to all registered conference participants.
Available to conference sponsors and ALT Member organisations.
Donation
As part of ALTs commitment to sharing learning technology pedagogy we provide this annual event at no cost to delegates. As a registered charity we do accept donations to help us continue our work, and contributions are listed on the conference platform to highlight the support we have been given.
If you would like engage with the ALT community by supporting us in our 5th Online Winter Conference, please get in touch with Maren Deepwell, maren.deepwell@alt.ac.uk, before 23 November 2018.