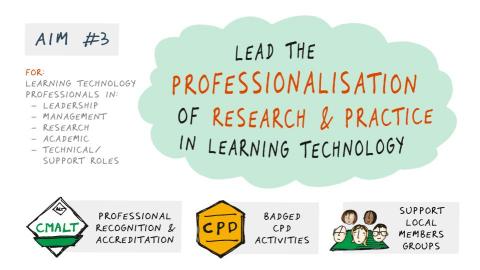 ALT's chief executive, Dr Maren Deepwell, one of the original members of the FELTAG Action Group under Minister Matthew Hancock, will today contribute a special keynote to the Inside Government event FELTAG 2017: Embracing Digital Technology in Further Education . 
Building on the work of the Association that engages Learning Technology professionals from across sectors, Maren Deepwell's talk will focus on workforce development to maximise Learning Technology impact in three ways: first, setting out what questions we need to ask about skills and capabilities, second, exploring how and open online course can support workforce development and third by showcasing how ALT's accreditation scheme, CMALT, can help increase intelligent use of Learning Technology.
You can find a related blog post and other articles about the work ALT does that relate on FE News on Digital Skills development in the workforce and on the Efficiency Exchange in a post called Accreditation fit for a (digital) purpose? . 
More about the event
The organisers describe the forum as providing participants with a valuable opportunity to hear a progress update on the continued transformation of the sector by putting technology at the core of institutions in response to the Further Education Learning and Technology Group (FELTAG) recommendations. Attendees will discover the opportunities afforded by embedding tailored learning technology at all levels of FE and how it can be best applied to the benefit of staff and students alike.
Topic: