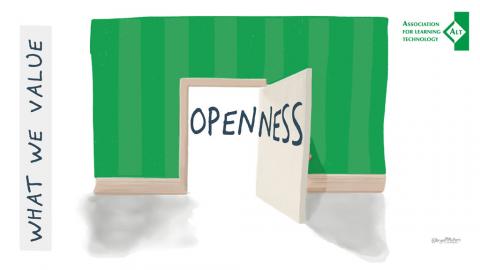 All across our community of Members and beyond we come together to advocate for openness in Education and the important role Learning Technology can play in supporting it. Here are the highlights of what is happening:
#OER 18 Open to all: preview
9 Mar 2018 1:00 PM   to   2:00 PM
Keynote speakers, conference committee Members and the Open Education SIG join together to look ahead at the biggest UK OER Conference this year.
Visit the Open Education SIG
The remit of Open Education SIG is to support, develop, sustain and influence policy in open education.
Share practice #altc
Read and write for the #altc blog and disseminate your practice or research.
Read Open Education and OER - A guide and call to action for policy makers
ALT has produced this call to action to highlight to education policy makers and professionals how Open Education and OER can expand inclusive and equitable access to education and lifelong learning, widen participation, and create new opportunities for the next generation of teachers and learners, preparing them to become fully engaged digital citizens.
https://repository.alt.ac.uk/2425/
Open Access Research
Research in Learning Technology was recently awarded the DOAJ seal. You can access the complete archive of Research in Learning Technology, ALT's Open Access journal.
FInd and share resources in the ALT Open Access Repository
Findings from the ALT Annual Survey
The report and data from the fourth ALT Annual Survey have now been published and shared openly in the ALT Repository. As with previous years the Annual Survey is designed to:
understand current and future practice;

show how Learning Technology is used across sectors; and

help map the ALT strategy to professional practice to better meet the needs of and represent our Members.
Coming up soon after Open Education Week:
OER18: Open to All
9th annual conference for Open Education research, practice and policy
18 – 19 April 2018, Bristol, UK
OER18 turns the focus on one of the often-cited benefits of 'open' – the promise of inclusivity. How do the resources, methods and projects that make up Open Education support making education available to all? As a movement over 15 years old, has Open Education made an impact – on learners, on society and on education? What can we do to to support learning in the open – and how can we use open to support learning?
Topic: