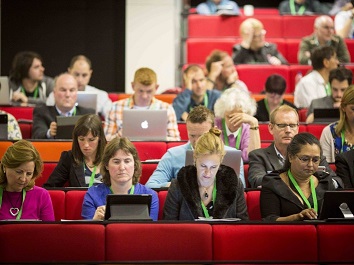 The ALT Annual Conference 2016, "Connect, Collaborate, Create", will be held at the University of Warwick, 6 – 8 September 2016.
The 2016 conference will be chaired by Professor Nicola Whitton, Manchester Metropolitan University, and Alex Moseley, University of Leicester, with the title 'Connect, Collaborate, Create'. The conference provides an international platform for Learning Technology research, practice and policy work from across sectors. The themes for the conference are:
Connecting data and analytics to enhance learning and teaching: exploring possibilities and measuring impact on learner success;

Collaboration and innovation in the open: taking risks, sharing lessons and the importance of open educational practice;

Creating new learning, teaching and assessment opportunities: play, experiment, discover, embed Learning Technology to enhance learner experience;.
Also, the:
Wildcard: Learning Technology is everywhere… you are free to contribute any aspect of your research, practice or policy work.
Your 500 word proposal needs to show clearly how your session is going to address the relevant theme, and should where possible include recent research, case studies, practice or learner perspectives from any learning context including schools, colleges, universities and industry.
Keep in mind that the proposal you submit for review now will, if accepted, also be used for inclusion in the conference programme and is the primary way for participants to choose which session to attend.
Submission system opens in February 2016

Webinars for potential authors: early March 2016

Deadline for submissions is Midnight GMT, Monday 21 March 2016.

Notification of acceptance: May 2016

Register to attend: May 2016

Webinar for accepted authors: May 2016
​You can access the full call at https://altc.alt.ac.uk/2016/call-for-proposals/ or download as PDF [178 KB].
Topic: