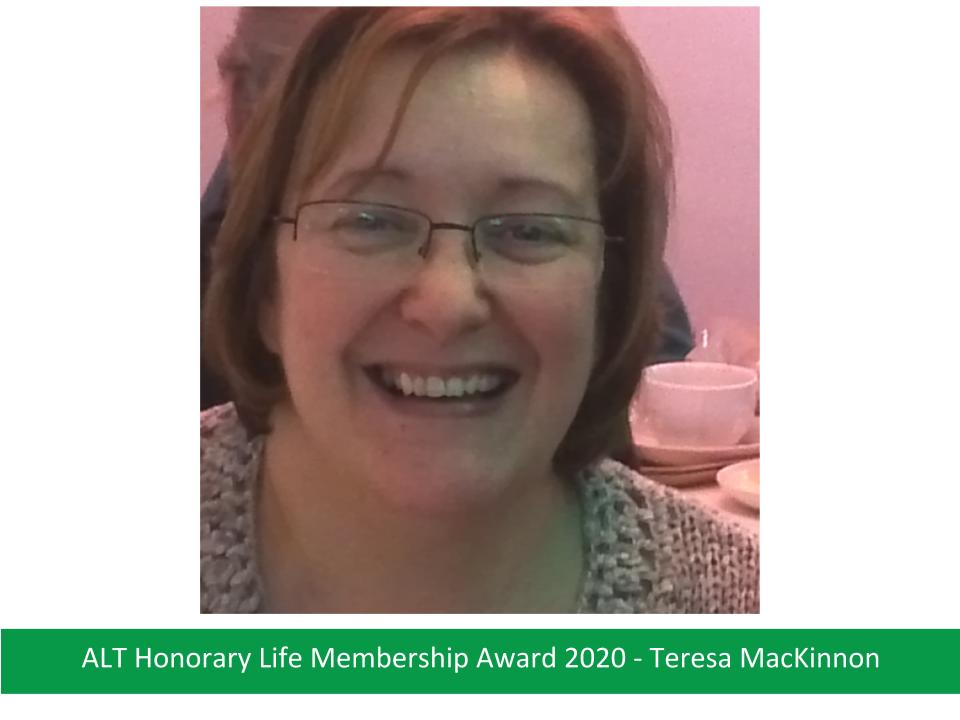 ALT awards Honorary Life Membership to individuals nominated by Members who have made an outstanding and sustained contribution to the advancement of ALT's aims for the development of learning technology in a regional, national or international context through research, practice, policy-development, leadership, or a combination of these.
During this year's Annual General Meeting on 24 June 2020, Teresa MacKinnon was recognised for her outstanding contribution by being awarded an Honorary Life Membership of ALT. 
Teresa has been active in promoting Open Education in ALT, acting as an Chair of the Open Education Special Interest Group with an influential international membership. Teresa has also been instrumental in promoting the Open Education Conference each year, championing community involvement and governance for members in the UK as well as across the world. 
Most recently, Teresa helped the Association build a new strategic relationship with a fellow professional body in Europe, EuroCall. 
Welcoming the award, Sheila MacNeill, Chair of ALT, reflected: 
"I am delighted that Teresa has been awarded Honorary Life Membership. For me, Teresa is the embodiment of ALT values.  She is a champion of open education, supports and nurtures our community with her generosity of time, experience and wisdom and exemplary practice. Teresa is a very worthy recipient of Honorary Life Membership". 
Speaking about the award, Teresa said: 
"I am so honoured to receive this award from a community which has been a lifeline for me during my years working in Higher Education. The #altc community welcomed me from my earliest explorations into learning technology in Higher Education, they provided guidance and good advice through their open practice which inspired and supported my professional development. The leadership creates an inclusive space where diversity is recognised as a strength and where the best in human values are celebrated. I am very grateful to you all and look forward to continued fellowship."
Reflecting on the important contribution Teresa has made to the work of ALT, Dr Maren Deepwell, ALT's Chief Executive added: 
"Every time the Trustees make an award of Honorary Life Membership I am humbled to reflect on how much our Members contribute to the Association. As more individuals and organisations join ALT, our network gets stronger, but individuals like Teresa make things happen with and for others and that is fundamental to our success as a professional body." 
This year we are not able to make this award in person, as we usually would have done. Instead, we are coming together as a community virtually. We invite you to celebrate Teresa's award and all Honorary Life Members of ALT and join us in congratulating Teresa on social media #altc. 
Notes for Editors
ALT (the Association for Learning Technology) is a professional and scholarly association which brings together those with an interest in the use of learning technology. As the UK's leading membership organisation in the Learning Technology field, we work to improve practice, promote research, and influence policy.

We have over 3,500 Members across education sectors in the UK and internationally.

If you are writing about, blogging or sharing images and videos about ALT using tools that support tagging, please use the tag #altc.

Association for Learning Technology, Tel:  +44 (0)1865 819 009 URL: http://www.alt.ac.uk/

ALT is a Registered Charity in the UK, number: 1160039
Topic: