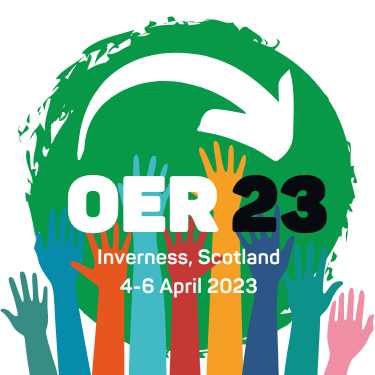 This week the 14th annual conference for Open Education research, practice and policy which is organised by ALT, the Association for Learning Technology, takes place in Inverness, Scotland.
Bringing together 170 researchers and practitioners from 15 countries, OER23 will showcase the strong Scottish Open Education movement and international participants to leverage our shared expertise for change in policy and practice. OER23 is proud to feature a stellar line up of speakers including individual keynotes, panel discussions, a special OER23 GASTA session and GO-GN speakers. Our conference is unusual in that most participants are speakers, too – which makes for a very interactive programme. Head to our programme overview to see the whole programme. 
Chief Executive of ALT, Dr Maren Deepwell, said:
We are delighted to see this important conference take place in person and online, placing a firm focus on Open Education here in the UK. Our Association is proud to host the event for our Members and the wider Open Education community putting our core values into practice for the benefit of our local and global audience.
UHI hosts Scottish Open Education movement
Originally founded in 2001 as UHI Millennium Institute, the University of the Highlands and Islands (UHI) was established in 2011 as the UK's first tertiary university offering FE courses, taught undergraduate and postgraduate programmes, and postgraduate research degrees. UHI is also a federated university, comprised of 12 Academic Partner institutions which include further and higher education colleges and specialist educational and research institutes.
An important part of UHI's mission has been to bring access to higher education to a wide geographic area that did not previously have a dedicated university presence. UHI therefore established a network of campuses and regional study centres located across the Highlands and Islands region. Mainland campuses range from the city of Perth located just above the central belt of Scotland to Thurso in the far North, and from Elgin on the Moray Firth to the east of the region to west coast locations including Oban and Fort William. Northern Isles locations include campuses on Orkney and Shetland, with Western Isles campuses including those on Skye and Lewis. UHI offers a wide range of courses and programmes of study, including those that are linked to the history, culture, industries and economic needs of the region.
OER23 is being co-hosted by UHI through UHI Inverness, which is one of the largest colleges that comprise the university, and UHI's Learning and Teaching Academy which is UHI's central hub for the development of educational practice and educational scholarship and research.
UHI are delighted to be working with the Association for Learning Technology and the GO-GN network to be co-hosting OER23. As a university that is focused on widening access to further and higher education opportunities, and with a strong commitment to the development of the communities we are part of, the ethos and themes of OER23 are very close to our own outlook and ambitions including our commitment to further developing our own open education practices. For those colleagues who are joining us on Inverness Campus, and for those who are joining us online, we extend a very warm welcome to each and all.
Professor Keith Smyth, Dean of Learning and Teaching, UHI
UHI has a unique place and deep roots in its communities, and we are looking forward to bringing OER participants from the UK and across the world to its campus in Inverness in the heart of the Scottish Highlands.
Showcasing emerging researchers
The conference will be co-chaired in partnership with the GO-GN Global OER Graduate Network, connecting emerging researchers and a global perspective with local and national knowledge.
The Global OER Graduate Network (GO-GN) is a network of PhD candidates around the world whose research projects include a focus on open education (i.e. OER, OEP, MOOC). These doctoral researchers are at the core of the network; around them, over two hundred experts, supervisors, mentors and interested parties connect to form a community of practice.
Professor Martin Weller, Director of GO-GN commented:
We are very excited to bring sixteen Doctoral researchers in OER from around the world to Inverness for OER23. We co-chaired the conference last year and it was a great experience for our members. This year with eighteen different talks from GO-GN members in the programme we have an even stronger presence and are looking forward to what will be a very productive few days in beautiful Inverness.
GO-GN is currently funded through the OER programme of The William and Flora Hewlett Foundation and administered by the Open Education Research Hub from the Institute of Educational Technology at The Open University, UK.
Alongside participation in OER23, this week sees the releases of the GO-GN Open Research Handbook, a collaboratively authored guide to conducting high quality research in the open education world. The Handbook draws on the expertise and experience of more than 30 researchers to provide accessible guidance to the aspiring researcher.
It's available on an open licence from https://go-gn.net/gogn_outputs/open-research-handbook/.
Notes for Editors
ALT (the Association for Learning Technology) is a professional and scholarly association which brings together those with an interest in the use of learning technology. As the UK's leading membership organisation in the Learning Technology field, we work to improve practice, promote research, and influence policy.

We have over 3,500 Members across education sectors in the UK and internationally.

If you are writing about, blogging or sharing images and videos about the conference using tools that support tagging, please use the tag #OER23.

Our Partners are listed at

https://altc.alt.ac.uk/oer23/our-partners/

.

More information about the conference:

https://altc.alt.ac.uk/oer23/

.

Please contact us to arrange a media pass. Association for Learning Technology, Tel:  +44 (0)1865 819 009 URL:

http://www.alt.ac.uk/

ALT is a Charitable Incorporated Organisation and Registered Charity in the UK, number: 1160039 
Topic: