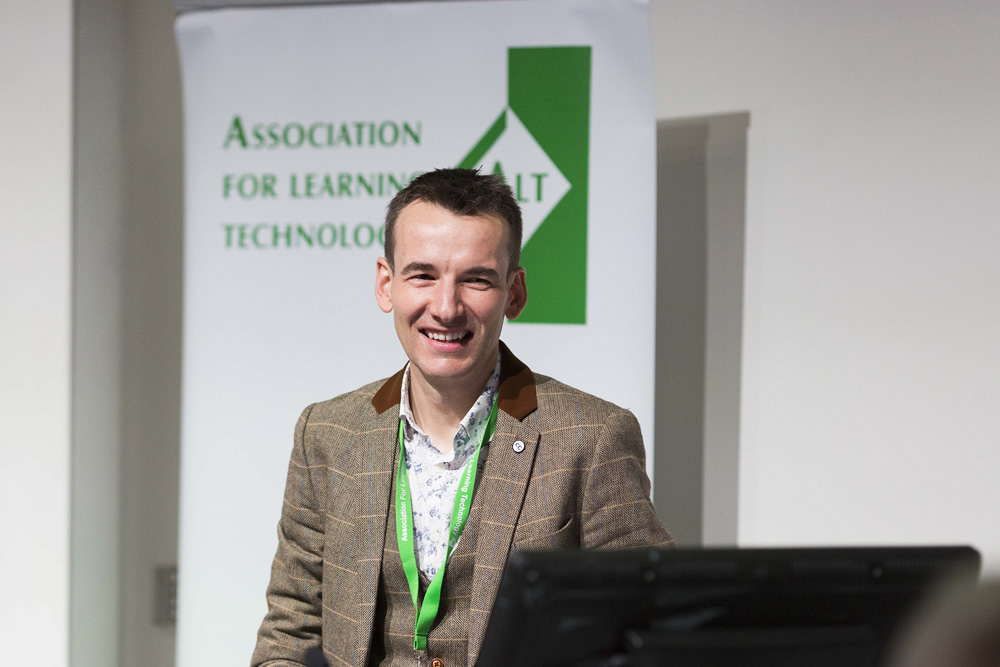 Enhancing the way in which ALT champions professional recognition in Learning Technology, this inaugural Award has been made by the Chair of ALT to honour an individual who has been nominated by ALT Members for having made an exceptional contribution to the work of ALT and specifically to its community of members as Learning Technology professionals on an international scale.
Reflecting on making this inaugural award, Sheila MacNeill, Chair of ALT, comments 'As the current Chair of ALT I am delighted to be able to have awarded the inaugural Chair's award to Martin Hawksey.  As well as developing and managing our ALT IT infrastructure, Martin's open research and developments, particularly TAGSExplorer, have made a significant impact to many other communities across the globe.  Martin is a constant and central presence for our community, though often he is hiding away at the back of a conference room. I am so happy that the ALT community presented such a strong case to bring him and his work centre stage for this award.'
Described in the nomination as genuine, giving, generous and groundbreaking, Martin Hawksey's work spans tools and platforms that enable the community to collaborate and communicate better, empowering others not simply through the development of these tools but also through providing tutorials, guidance and support. Martin's social media analytics and visualisation tools, TAGS and TAGSExplorer, have been widely adopted by many practitioners in the UK and internationally. Martin's open practice extends to his work as a Google Developer Expert, which informed his innovative approach to building a new, open submission and conference review system for ALT, the code for which was released back to the community on GitHub.
Dr Maren Deepwell, chief executive of ALT, said, 'Martin's work as a developer and open practitioner has informed how ALT as an organisations serves its Members and has shaped how we as a professional body innovate and learn. In his work for ALT Martin leads by example and I am proud that he receives this award in recognition of his long-standing, wider contribution to the Learning Technology community and to celebrate the passion and creativity he brings to enabling others to innovate.'
Alongside the recently launched Research Project of the Year Award, the Chair's Award will provide Members of ALT with a new way to give national recognition to individuals who have made exceptional contributions through their professional practice to support ALT's core values of collaboration, participation, openness and Member engagement.
As the inaugural recipient of the Chair's Award, Martin Hawksey, added 'throughout my career I've been very fortunate to have had the opportunity to work with and be inspired by many ALT Members.  The care, thought and passion I see from the ALT community is a continual inspiration and has fundamentally informed my own approach and understanding of how technology can support learning and teaching for the positive benefit of society. It is a great honour to be recognised as making a contribution to this community particularly as it comes from members of ALT and is affirmation that my contribution to this community is valued by others.'
Notes for Editors
ALT (the Association for Learning Technology) is a professional and scholarly association which brings together those with an interest in the use of learning technology. As the UK's leading membership organisation in the Learning Technology field, we work to improve practice, promote research, and influence policy.

You can explore what we do via our strategy slides, download the full text in PDF or Google docs. Visual content is available on Flickr.

We have over 3,500 Members across education sectors in the UK and internationally.

If you are writing about, blogging or sharing images and videos about the Annual Conference using tools that support tagging, please use the tag #altc.

For information about the Learning Technologist of the Year Awards go to https://altc.alt.ac.uk/2018/2018-awards-finalists/ and use #altc on social media.

Our Sponsors are listed at https://altc.alt.ac.uk/2018/our-sponsors/.

More information about the conference: https://altc.alt.ac.uk/2018/.

Association for Learning Technology, Tel:  +44 (0)1865 819 009 URL: http://www.alt.ac.uk/

ALT is a Registered Charity in the UK, number: 1160039
Topic: