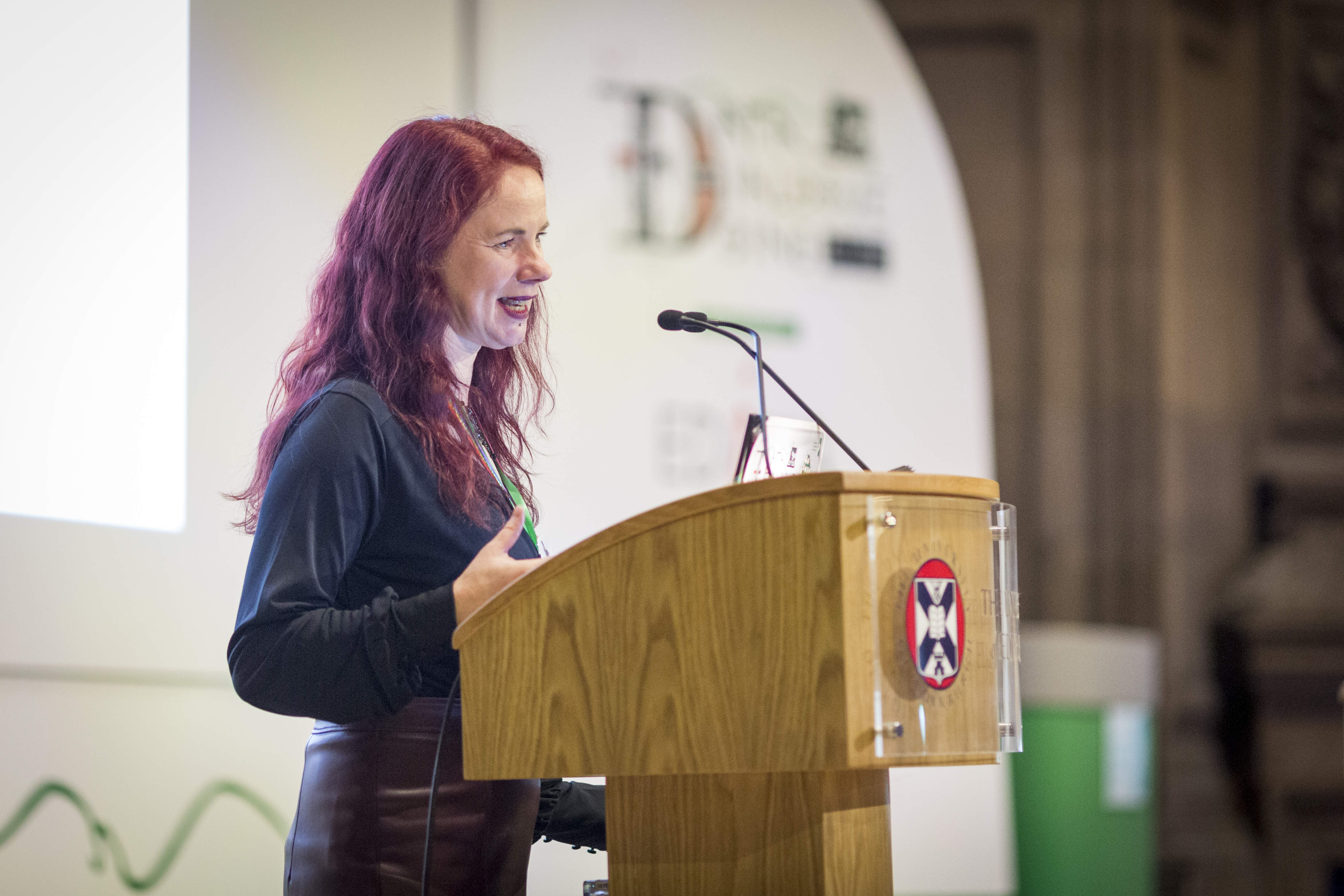 ALT awards Honorary Life Membership to individuals nominated by Members who have made an outstanding and sustained contribution to the advancement of ALT's aims for the development of learning technology in a regional, national or international context through research, practice, policy-development, leadership, or a combination of these.
Lorna Campbell received her award at ALT's 30th Annual Conference Gala, at the University of Warwick, UK, on 6th September 2023. 
Welcoming the award, Helen O'Sullivan, Chair of ALT, reflected: 
"I am absolutely thrilled that ALT is making this award to Lorna; it is a fitting tribute to her work so far and to the regard that she is held in by the learning technology community and beyond. Through her work in open education she is living ALT values and, on a personal note, I really appreciated the warm support that Lorna provided when I became Chair of the Board of Trustees".
For almost three decades Lorna has been a champion of equitable higher education and an open education activist. Lorna 's lifelong commitment to and passion for equality and diversity clearly is evident in her work, yet Lorna tends not to push herself forward and celebrate – or even self-acknowledge – her many achievements. 
Lorna was one of the founder members of the ALT Scotland Special Interest Group. As well as supporting the community within Scotland, Lorna has worked tirelessly to promote open education across the Scottish education sector, notably through the development of the Open Scotland Declaration, which was a point of focus for the OER 2023 conference earlier this year in Inverness.  Lorna also has been a keen supporter of the development and uptake of ALT's Framework for Ethical  Learning Technology. (FELT). Since her term as a Trustee ended in 2022, Lorna has continued to be an active member of the  ALT community openly sharing her experiences and commitment to developing equitable access to education for all.   
Lorna contributed greatly to early JISC, SFC and HEFCE work around the creation and sharing of learning materials from early initiatives through to work on the UKOER programmes.
Speaking about the award, Lorna said: 
"I'm hugely honoured to be awarded an Honorary Life Membership of ALT. Serving on the ALT Board and committees has been immensely rewarding to me on both a personal and professional level. I've learned a huge amount from my fellow trustees and ALT colleagues and appreciated having the opportunity to engage with the learning technology community at a senior level and contribute to sector level strategic initiatives. Perhaps most importantly, working with ALT has given me an opportunity to give something back to the Association in return for their dedicated commitment to openness and ethics in learning technology."
In 2012 Lorna co-founded the Open Scotland movement and shaped the Scottish Open Education Declaration first published in 2013.  The Declaration has gained global recognition with some national adoptions and has flattered a number of imitations.  Lorna  has also contributed to UNESCO work on open educational policy. The battle for a clear policy on Open Education in Scotland has still not been won. Always an active participant, contributor and documenter of any relevant event she attends on Twitter, now Mastodon and through her blog. Lorna models the behaviour of an open practitioner and is a proud #Femedtech pioneer 
However, her most significant contribution has been her passion and drive around the development and adoption of open educational resources, and open education practice in the higher education sector and beyond.  It has been Lorna's drive, commitment and  support for, not only the ALT community, but the whole education sector, in promoting and developing the sharing of  open resources (OER) and practice (OEP) that continues to make her an outstanding educator and genuinely caring human being.  Lorna has been a leading, international champion of  OER and OEP and is known for her tireless work in these areas, accelerating the impact not only of her own work, but also the work of national and international organisations such as CETIS, JISC, the UK funding councils and Wikimedia UK by connecting research with practice. This impact has been significant and it is for this work that we feel the ALT lifetime award should give recognition to Lorna's accomplishments  that have had international impact and have helped shape Digital Higher Education over the past three decades. 
Reflecting on the important contribution Lorna has made to the work of ALT, Billy Smith, ALT's Chief Executive added: 
"It's individuals like Lorna who exemplify the spirit of ALT—driving positive change and shaping the future of learning technology in education. Her role as a founding member of ALT's Scotland Special Interest Group and her instrumental contributions to the Scottish Open Education Declaration are just a few examples of her visionary leadership. Lorna's tireless advocacy for open education and practice has not only enriched our field but also shaped international dialogues. Lorna's journey, marked by unwavering dedication to equitable higher education and an unrelenting commitment to open education activism, has left a lasting mark on our community". 
Notes for Editors
ALT (the Association for Learning Technology) is a professional and scholarly association which brings together those with an interest in the use of learning technology. As the UK's leading membership organisation in the Learning Technology field, we work to improve practice, promote research, and influence policy.

We have over 3,500 Members across education sectors in the UK and internationally.

If you are writing about, blogging or sharing images and videos about ALT using tools that support tagging, please use the tag #altc.

Association for Learning Technology, Tel:  +44 (0)1865 819 009 URL:

http://www.alt.ac.uk/

ALT is a Registered Charity in the UK, number: 1160039
Topic: