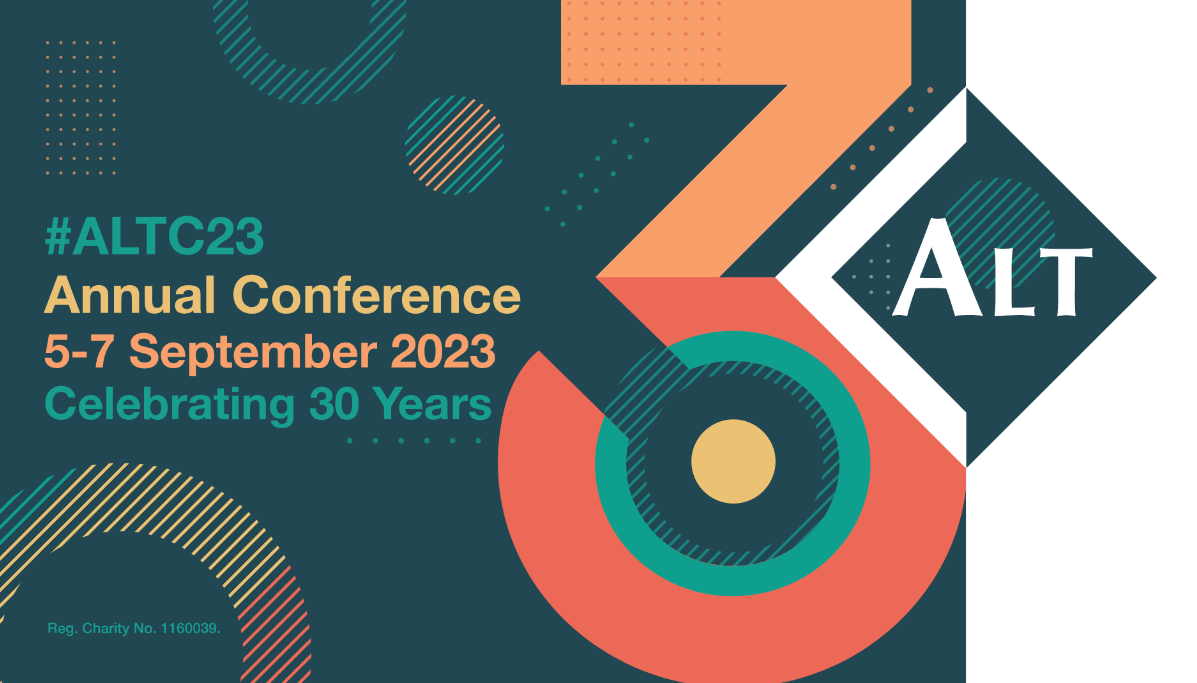 The ALT Annual Conference is back and it's bigger and better than ever! With 350-400 delegates from the UK and 12 countries across the globe we are expecting our biggest in-person audience for ALT's first fully-fledged Annual Conference since 2019. 
ALT's Annual Conference is the UK's foremost conference for Learning Technologists and one of the largest conferences of its kind. This year, we are celebrating three decades since ALT was established in 1993 with our 30th annual conference. This year's conference theme, "Looking through the digital lens: 30 years of Leading People, Digital and Culture", will celebrate our 30th anniversary and the phenomenal changes in the sector over this time.
The conference will critically examine the organisations and practices we work in through a digital lens, fostering a community of future leaders and innovators in the digital space, who come together to exchange ideas, collaborate, and drive change.
Community in this context also means thinking about what expertise is needed – well beyond the educational technology and technical expertise: organisational change leadership and management, business analysis, and the student voice.
This year's conference themes:
Leading People in a time of complexity: How have individuals and teams driven change to solve complex and difficult problems? How have individuals and teams been rewarded and recognised in their institutions for being experts and leaders in digital learning?

Diversity and Inclusion: How are the most precarious and disadvantaged people being supported and empowered through technology? What future exclusions must we fight?

Sustainability and Social Justice: How green is your educational technology? How will we model green and sustainable practices in the field of educational technology and what does it mean for institutions? How do you make decisions about tech that proactively care for the most vulnerable people among us? How should we model practices that account more for the health and well-being of people than that of businesses trying to sell technology to the education sector?

Emerging technologies and behaviours: How are emerging technologies, or new uses for existing technologies changing behaviours and practices? What do emerging technologies mean for learning, teaching and assessment? How do we prepare students and staff to critically face the hype cycles around tools such as Machine Learning, and teach them to sift through what companies are claiming, to find the truth?
The 2023 Conference is co-chaired by Santanu Vasant and Lawrie Phipps. Santanu Vasant is the Head of Educational Development and Digital Education at London Metropolitan University with over 16 years of experience in higher education including 4 years in senior management roles. Lawrie Phipps is the Senior Research Lead at Jisc and a Professor of Digital Education and Leadership at Keele university. Together Santanu and Lawrie chair the Conference Committee, which plays a vital role and our volunteers contribute their time and expertise including undertaking peer review, chairing sessions and organising local and social activities during the conference.
We look forward to hosting inspiring keynote speakers this year:
Anne-Marie Scott: Anne-Marie was Deputy Provost of Athabasca University, Canada's equivalent to the UK Open University until March 2023. Prior to her time in Canada she held a number of roles at the University of Edinburgh, including Deputy Director of Learning, Teaching and Web Services;
Student voices: Shaping the Post-Pandemic Campus: Higher education has been impacted by a host of challenges over the last 10 years. Pandemic disruptions, shifts in government policy and priority, and emerging technologies are just some of the drivers of sector change. The ALT Conference has always sought to centre our discussions around voices of both staff and students, and this year our panel is made up of students who have recent experience of these changing times. The panel will provide first-hand insights into the lived experiences and perspectives of learners experiencing campus life in the UK in 2023.Recognising the importance of the student voice, this panel aims to encourage dialogue and collaboration between policy makers, educators, and learners. The ALT audience brings an important perspective and we hope that this panel will be an engaging learning experience for all involved.
Satwinder Samra: Satwinder was born in Huddersfield to Punjabi parents. His early education was at Deighton High School and Huddersfield New College. After gaining a first class honours degree and distinction at Masters level from Sheffield University he worked with Urban Splash in Liverpool and Proctor & Matthews in London before co-founding his own practice Sauce Architecture. He now collaborates with William Matthews Associates on international design projects.
Alongside a packed academic programme with over 100 sessions, our social events include a special celebration of 30 years of ALT, offering plenty of opportunities for informal networking and connecting via activities across campus.
Notes for Editors
ALT (the Association for Learning Technology) is a professional and scholarly association which brings together those with an interest in the use of learning technology. As the UK's leading membership organisation in the Learning Technology field, we work to improve practice, promote research, and influence policy.

We have 3,500 Members across education sectors in the UK and internationally.

If you are writing about, blogging or sharing images and videos about the conference using tools that support tagging, please use the tag #ALTC23.

Association for Learning Technology, Tel: +44 (0)1865 819 009 URL:

http://www.alt.ac.uk/

ALT is a Charitable Incorporated Organisation and Registered Charity in the UK, number: 1160039
Topic: