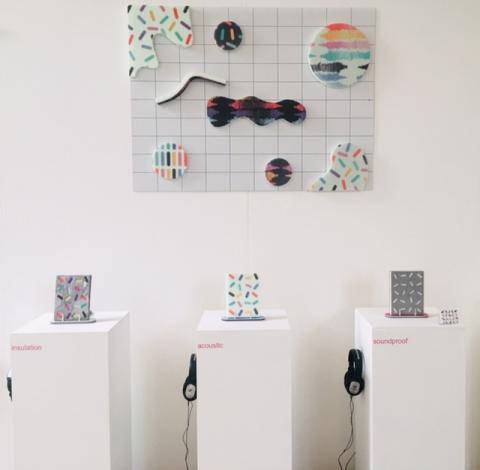 Lisa Mclaughlin is a 2019 graduate from the B.A.(Hons) Textile Design course at Hereford College of Arts. She was delighted to win the ALT award-making competition this year. This article gives you some information about Lisa's work, and hints at what the awards will look like (they are currently under production). To give you a clue about the source of the print on the awards, this short post gives a little bit of information about Lisa's practice.
Lisa is a textile designer with a focus on surface pattern design. In her work she tries to push the boundaries of surface patterns and explore different ways of synergising technological process with natural materials. In this, she balances functionality with a unique aesthetic.
Inspired by authentic Sustainability
Ikerd (2012) argues that Sustainability is more than 'going green'; it must be embedded in design practice if we are to produce innovative solutions. As part of Lisa's work at HCA she researched waste products to see where they could be re-used in an imaginative way; she came up with the idea of using dust.
As in all things, this eureka moment came when she was cleaning out her tumble dryer – she saw the lint in the machine and began to experiment with process to see if she could use it somehow in her practice. Eventually, she came up with the idea of felting the lint, and this worked well, leading her on a local mission to launderettes and dry cleaners to take away their lint. This felted lint formed the heart of her Final Major project, where she re-imagines this 'waste' product and creates a resource; due to its acoustic properties can be used for sound absorption in a wide range of interiors spaces including home, office, restaurants & recording studios.

Pattern-making from unusual sources
The pattern that you'll find on this years ALT awards is…hair. Experimenting with ideas of pattern and waste, Lisa cut up hair gathered from hairdressers in Herefordshire, then cut these up and created a mono-print; the paper was embossed using laser-cut wood and a heatpress, then the hair pattern created randomly. This clever use of technology makes unique and fascinating images which showcase how, if technology is used in conjunction with different materials, the meanings and value of these materials change.
As this blog post is being written, Lisa and the amazing designer-maker Ella Sibley Sparing are hard at work in our workshops at HCA creating the ALT awards. A further blog post will follow.
Lisa is happy to talk further about any aspect of her design practice through email. Email or follow Lisa on Instagram @ lisamclaughlin_design.
For more information on the creation of the award, please see the original news post.
Topic: