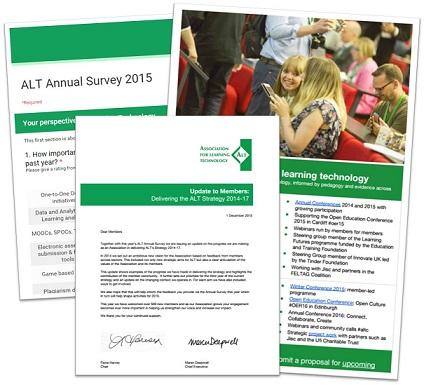 Together with an update on how we are delivering the ALT Strategy 2014-17 at http://go.alt.ac.uk/ALT-StrategyUpdate-2015 we are launching this year's Annual Survey. Following on from its launch in 2014 the survey continues to engage ALT Members and the community to:
Help map the ALT strategy to practice to better meet and represent our members' needs;
Show how Learning Technology is used across sectors;
Understand current and future practice.
While this survey is primarily aimed at ALT members it is open to anyone to complete.
The this year's survey remains largely unchanged from 2014 providing an opportunity to report on emerging trends. Sharing their perspective on the survey, Prof Neil Morris, Trustee of ALT, comments:
In a rapidly changing area such as learning technology, the ALT survey provides an important snapshot for the community to be able to share emerging priorities and new developments, which can help to shape strategy and enhance students' learning
and Daniel Clark, Honorary Treasurer, adds: 
as a member-driven organisation, ALT greatly values the input we receive through the annual survey. It helps to guide Trustees on the changing needs and areas of focus for our membership
The results from last year's survey have helped shape ALT's activities over the year and the Association has supported members in emerging areas such as data and learning analytics with consultation responses, strategic alliances and events. Sheila MacNeill, Trustee of ALT, describes how
the ALT annual survey has been an extremely useful and authentic resource in terms of illustrating the key areas of development and interest in learning technology across the UK education sector from those who are actually using technology for learning and teaching.  The ALT survey has also provided a trusted benchmark  and standard for our internal survey on the use of learning technology.
Results of the survey will be openly published each year in spring.
The survey is open for responses now at http://go.alt.ac.uk/ALT-Survey-2015 and will close on Sunday, 17th January 2016.
Topic: