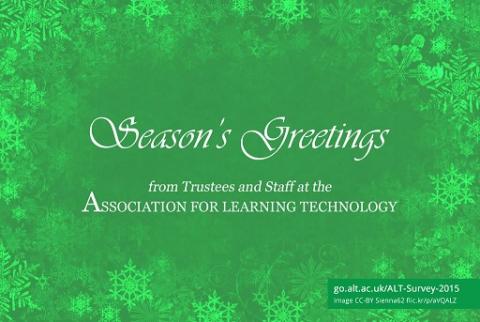 Dear ALT Members,
Season's Greetings from the Trustees and staff of the Association for Learning Technology.
We would like to take this opportunity to thank you for your continued support of the Association. We have welcomed over 500 new members in 2015, and as the Association grows your engagement becomes ever more important in helping us to strengthen our voice and increase our impact. If you haven't already had a look, the 2015 Update for Members celebrates some of our recent achievements at http://go.alt.ac.uk/ALT-StrategyUpdate-2015.
Input and feedback from you as Members is crucial in shaping the direction of ALT. If you haven't already, please do take a moment to complete our Annual Survey http://go.alt.ac.uk/ALT-Survey-2015 .
Looking ahead to the new year we have a full schedule of events, member-led activities and publications planned. You can keep up to date via the email digest, the ALT News section of the website and by following the #altc Twitter hashtag or the  #ALTC Blog.
For now we wish you happy holidays and all the best for 2016!  
Trustees of ALT: Alastair Clark, Daniel Clark, James Clay, Shirley Evans, Doug Gowan, Fiona Harvey, Matt Lingard, Sarah Sherman, Sheila MacNeill, Neil Morris, Malcolm Ryan, Martin Weller
Staff team: Anna Davidge, Maren Deepwell, Jane Frankel, Martin Hawksey and Tom Palmer
Topic: