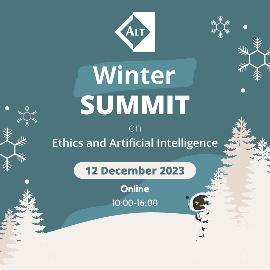 We're thrilled to share the programme for next month's Winter Summit on Ethics and Artificial Intelligence. Co-Chaired by Natalie Lafferty and Sharon Flynn, the summit is fully online on Tuesday 12 December 10:00-16:00 GMT.
Our expert speakers will delve into this critical topic, leading interactive discussions and providing insights that will help shape the future of AI in learning. Here's a glimpse of what's in store:
Opening keynote - Whose ethics? Whose AI? A relational approach to the generative AI challenge - Helen Beetham, Researcher and Consultant
Developing resilience in an ever-changing AI landscape - Mary Jacob, Aberystwyth University
Achieving Inclusive education using AI - Olatunde Durowoju, Liverpool Business School
Case study - Current applications of AI within teaching practice
Panel discussion - GenAI and the student experience - Sue Beckenham, Sheffield Hallam University, Peter Hartley, Independent Education Consultant
The Winter Summit is a unique opportunity to engage with leading experts in the field, discover practical applications of AI in education, and explore the ethical considerations that underpin this transformative technology. Don't miss out on this chance to enhance your understanding of AI in education, network with peers, and contribute to the conversation on shaping the future of learning.
We can't wait to see you there!