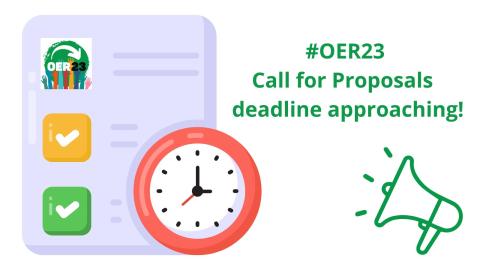 The Call for Proposals deadline for the 14th annual conference for Open Education research, practice and policy OER23 is approaching on 10 January 2023. 
OER23 will bring together the strong Scottish Open Education movement and international participants to leverage our shared expertise for change in policy and practice. Taking place from 4 – 6 April 2023 in Inverness, Scotland and organised by the Association for Learning Technology in partnership with GO-GN and hosted by UHI. 
Taking place in person, and also offering opportunities to present online, we are particularly keen to hear from people who have an interest in the following indicative areas of practice:
 
Celebrating the impact of Open Education and OER;

Open Education research and policy around the globe;

Open Education in Scotland – celebrating 10 years of the Scottish Open Education Declaration;

Embedding and supporting Open Education through curriculum design;

Wildcard. Creative practice in relation to openness.
The submission system is open until 10 January 2023. (23:59 Anywhere on Earth time. Please read the full Call for Proposals which includes submission details before you make a submission.  Submit your 500-word abstract via the EasyChair Submission system. 
Submission criteria
The maximum word count is 500 words and you need to state the word count. Submissions under 350 words or over 525 words will not be accepted or reviewed.

Your submission should include two or three references and six at most. References should follow the Harvard System (parenthetical referencing – see

http://en.wikipedia.org/wiki/Parenthetical_referencing

).

Submissions should not include the names or affiliations of the authors within the text.

Contributions should not have appeared elsewhere in their entirety, although it is understood that earlier versions or portions of the contributions may have been openly published prior to the conference.

To ensure a suitably diverse programme, no individual can be named as the main author or presenter of more than one proposal, though they may be named as co-authors. 
Scholarship support for authors
The conference will be a paid-for event and participants in need will be able to apply for free scholarship places. 
Learn more about OER23 and submit your abstract by 10 Jan 2023. 
Topic: