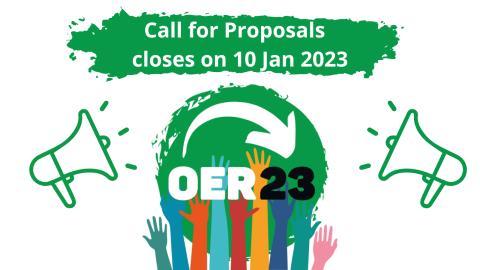 The Call for Proposals for OER23: Advancing Open Education Practices is now open. We welcome submissions for our 14th annual conference for Open Education research, practice and policy until 10 January 2023. 
OER23, 4-6 April 2023, Inverness, Scotland, UK, will bring together the strong Scottish Open Education movement and international participants to leverage our shared expertise for change in policy and practice. OER23 is proud to work in partnership with the GO-GN Global OER Graduate Network, connecting emerging researchers and a global perspective with local and national knowledge. 
We invite you to submit under one of five themes, putting the spotlight on Advancing Open Education Practices through:
Celebrating the impact of Open Education and OER;

Open Education research and policy around the globe;

Open Education in Scotland – celebrating 10 years of the Scottish Open Education Declaration;

Embedding and supporting Open Education through curriculum design;

Wildcard. Creative practice in relation to openness.
The submission system is open until 10 January 2023. (23:59 Anywhere on Earth time. Please read the full Call for Proposals which includes submission details before you make a submission.  Submit your 500-word abstract via the EasyChair Submission system. 
If you would be interested in reviewing proposals as part of the OER23 committee, sign up by 3 January 2023.
Topic: